"…I can't believe you guys would stoop so low!"
"Migrant Mom" has got it going on! Huh???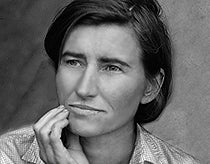 Let's get this out of the way up front so there's no more confusion here: This was an April Fool's joke. And, depending on who you ask, it was either our best, or our worst.
In our April 2005 issue, we published an April Fool's spoof which generated more responses than anything we've done in years. It was a parody of our regular feature, "The Fix." We took three classic photos by Dorothea Lange, Edward "Doc" Edgerton, and Walker Evans, pretended to be clueless, mindless Photoshop-shootin' androids, and proceeded to deface them all. And we gave away the joke with type on the top of the page that said, "Can these shots be saved? Yes, but only on the first of this month." On the bottom of the page, it said "April 2005"!
Most of our readers got the joke. But many didn't. We received hundreds–yes, HUNDREDS–of rants, hate letters, and excommunication threats. Our wanton destruction of Dorothea Lange's "Migrant Mother" generated particularly venomous indignation. Here are some of our favorites (even more will appear in our June issue).
Don't know what all the fuss is about? Get our April 2005 issue and look at pages 40 and 41! And I repeat: IT WAS A JOKE! Now, on to the letters…
—-
Arrogance.
That is the only word I can use to describe your "fix" of the "Migrant Mother"…Give someone image software and suddenly, maybe gradually, they see themselves fit to sit in infallible judgment of the work of others. Alas, I ask of you in vein, for your insatiable ego has surely annihilated all semblances of humbleness and humility which may have at one time occupied your brain, albeit a very small portion thereof. I would hazard a guess that you espouse the same bile that spews forth from John Kerry, Michael Moore, et. al…
Jeff Schaeffer
Reading, PA
…Has your taste left your belfry? If you wanted to show how a sad, tired looking woman could be spruced up, I'm sure you could have found a tired middle-aged model without makeup…
Lucia Deaville
via e-mail
…I do not understand why Debbie Grossman says that the lady in the picture needs a make-over. Obviously the lady is coming to a new country with poor economical resources and 2 kids as well, how do you expect her to be well dressed and have makeup?…
Erick Calderon
Victoria, TX
…The ridicule and malignment of Dorothea Lange's "Migrant Mother" in your April issue is a travesty! In case you didn't know, this photo was chosen by Edward Steichen for "The Family of Man" collection…
William Mohr
St. Louis, Mo
…"Migrant Mother" is a beautiful piece of history and I find your slaps at the hardships shown to be disrespectful and ugly….
Maria Minson
Carman, IL
…downright heresy…
Paul Pushkar
Coos Bay, OR
…You turned an emotional photo into nothing more than a warm and fuzzy studio-like portrait…
Anderson K. Barbosa
Boynton Beach, FL
…a totally insensitive and unappreciative unearthing and reburial of one of many great photographs that helped give the photographic medium (and your magazine) its standing in today's world…
John M. Ducey
Lawrence, KS
(His response when we informed him it was an April Fool's spoof: "Sorry to have flown off the handle like that. All I saw was the picture and the supposed fix, and reacted so fast that I didn't even read the caption at the top. It is a delightfully effective spoof.")
…Digital imaging does not in my opinion give us the right to take a photo that tells a story and the truth about life, and turn it into a pretty picture…
Craig Coupland
Colorado Springs, Colorado
…"Can these shots be saved?" Destroyed is more like it…
Len Kaminsky
via e-mail
…The glib and thoughtless attitude displayed in assessing the photo is totally distressing. I imagine you were trying to make light of just the photo, but I found it totally offensive….
Sandra Dominy
via e-mail
…Regarding your April Fool's spoof of the poor, discouraged young mother of the Dust Bowl era; to me, the dirt and wrinkles look just beautiful. You couldn't edit out the dignity, could you? I wish I could say the same for the staff that worked on this.
Yes I do have a sense of humor, and I do have a life…
Ed Wallace
Roanoke, VA
…Dorothy Lange, Roy Striker and all the great photographers of the Farm Security Administration would turn in their grave if they saw this tasteless joke…
Hein van Maasdijk
Amsterdam, The Netherlands
…What message does this "Fix" convey? Nothing of value…
Lowell F. Padgett
Manassas, VA
…if you thought this picture could use some work, remember that the photographer, Harold "Doc" Edgerton, invented the strobe…
Arron Adams
via email
…if you claim first amendment rights [to justify this "fix"], I suggest you read the Supreme Court's ruling concerning a person yelling "fire" in a crowded theater…
Thomas Vallish
York, PA
…I can't believe you guys would stoop so low!
Matt Davidson
Olympia, WA
…but these guys got it!
Is that big laugh I hear coming from Dorothea´s grave in San Francisco?
Francisco Aparicio
via e-mail
Somewhere there is a twenty-something gear-head consumed with digital technology who has never heard of Dorothea Lange, Walker Evans, or Harold Edgerton! Great April Fools joke!
Stu Gillespie
via e-mail
I learn so much from your "The Fix" column, and always take your advice to heart. This month I was fuming when I finished reading these pages. "How shallow are these idiots?" I asked myself. "Why are they trying to give this poor migrant worker a J. Crew makeover and a Botox treatment? The original image spoke to me; their 'improved' version says nothing." I thought you had lost your creative minds!
"And they think adding a kid's head to the speeding bullet picture exudes more 'drama'? Sick!" I DID like the Bethlehem makeover, however. I'm all for simplicity!
Wondering if you had all lost your marbles, I stewed over how to write and chew you out for your obvious lack of judgment. Then it happened. I realized I had been fooled.
Awesome job. You've done something no one else has ever been able to do–you got me with an April Fools spoof!! You're the best, Pop Photo!
Kelly Lucero
West Henrietta, NY