How to Shoot a Rodeo
Patrick Price explains how not to get trampled by your subjects.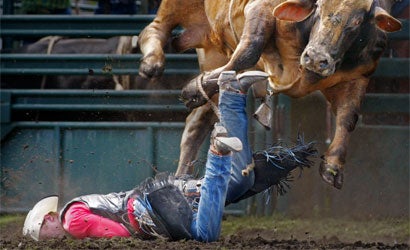 Patrick Price went to school to be a writer. But he soon fell in love with the camera, and despite the fact that he wasn't, by his own account, very good, he was persistent enough to become successful. Now the Alberta, Canada-based Price freelances as a sports shooter for Canadian Reuters.
Q. What are we looking at here?
A. This is the bull riding event at the Dog Pound. It's a small rodeo — one of the oldest in Canada. I remember taking pictures of this same rider in the Little Britches Rodeo when he was 12. Back then he was riding steers. Here, he's probably about 16.
Q. How did you freeze the action?
A. I shot it with the Canon EOS-1D, which has a very fast burst rate, so all these pictures happened in less than 1 second — the actual exposure was 1/1000 sec at f/4, ISO 200. The lens is a 300mm f/2.8, again Canon. When I first started shooting rodeos, I worked with the rodeo writer Duane Erickson. He showed me how to do it properly. He told me that when the cowboys have the spurs on the shoulders of the horses, that's the moment. And now I kind of know when people are gonna get dumped before they get dumped. I don't look for the good rodeo rides anymore — I'll sit waiting for the wreck to happen. It's more dramatic, but the rodeo riders don't like it as much.
Q. What makes this your final image?
A. I have hundreds of pictures of guys nearly hitting the ground. But with the one I selected, the cowboy's face is actually smashed against the dirt and the bull is still in the air. Plus, I think you can see the fury of the bull better.
Q. Was the cowboy okay?
A. He was fine. He didn't get hurt. These guys are tough — he got up in a hurry, actually. If they lose sight of that bull… I know this bull, and this bull's pretty mean. He'll go after the cowboy if the cowboy's in his sight.
Q. Is shooting rodeos dangerous work?
A. I got kicked in the hip by a horse early on. It was coming up along the fence, so I got up on the fence. The horse bucked, and I said, 'That's enough!' I've stayed outside the arena ever since.
The outtakes
1. This shot's pretty dramatic, but the cowboy's neither here nor there.
2. If Price didn't already have a thousand photos like this one, this wreck might have been the winner.
3. Great bull, dull buckaroo: We can't see his face!