How-To Capture the Wonders of Southeast Alaska
Tips for a photography adventure in the Alaskan Panhandle.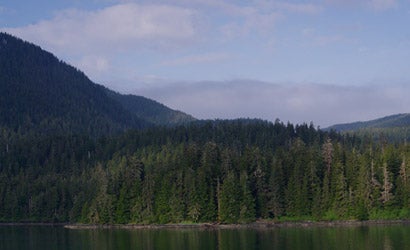 Snow-peaked mountains, dazzling glaciers, historic settlements, plus countless bald eagles, tufted puffins, sea otters, sea lions, porpoises, whales…even rainforest. Southeast Alaska offers a bounty of photo ops for avid photographers.
Spring comes late in this mild climate, with native salmonberry and skunk cabbage blossoming in woodlands in May and fireweed in the meadows in early June. That's when the weather is the most predictable, locals say, but with rain some 250 days a year, you should expect gray skies and wet days for at least some of your stay. Perhaps the best time for spotting wildlife is in July and August, when whales are even more numerous and brown bears feast on spawning salmon. Daylight? With a fast lens, you can shoot outdoors without a flash for at least 18 hours a day.
Forget driving. With just a few miles of local roads for more than 35,000 square miles of land, the only way around is by boat and airplane. Ferries ply the Alaska Marine Highway in and out of Juneau and among the towns and larger villages. Seaplanes (with scheduled air service) reach many towns. (Click here for additional information.)
But the best way to see it all is on a small-ship cruise, like the Whales and Wilderness photo tour Cruise West (www.cruisewest.com) invited me to take aboard its 84-passenger, 166-foot Spirit of Discovery. The Seattle-based cruise line made arrangements with outside tour operators for optional excursions in and out of Juneau (before and after the cruise) and Sitka, an historic town of about 8,600 where we docked for a day. Cruising on this casual and comfortable ship made it particularly easy — and pleasurable — to visit remote spots that have relatively few resources for tourists.
On the Spirit of Discovery we were able to explore myriad coves and inlets that big ships can't reach. Small inflatable boats allowed occasional landings on the wooded shore. We drifted silently as whales sounded around us, mother harbor seals and their new pups floated on glacier-shed ice, and bears foraged at water's edge. Two knowledgeable "exploration leaders" guided our sightseeing and explained the natural world of Southeast Alaska and the Tongass National Forest, the world's largest temperate rainforest. A U.S. Park Service ranger accompanied us through Glacier Bay National Park and Preserve. And visits with members of the Tlinglit tribe of Alaskan Natives, including a stop in the village of Kake helped us understand the traditional culture of the region.
Plus, because the tour was co-sponsored by Pentax, pro photographers Kerrick James and Julie Quarry (who also works for CruiseWest), offered plenty of personal advice on taking better photos. They also brought along DSLRs — the Pentax K20D and K200D — and a wide range of lenses for passengers to borrow and try out. By the end of the weeklong journey, point-and-shooters who had never used a DSLR before were eager to upgrade. Even the most experienced shooters aboard were taking pictures they never thought they'd have gotten before.
What photo equipment should you pack? For a list of suggestions, click here.
I brought a Pentax K20D and three Pentax lenses: an 18-55mm f/3.5-5.6 DA AL II and 50-200mm f/4-5.6 DA, plus a 300mm f/4 DA* ED (IF) SDM. With so much wildlife to see, I rarely took the 300mm off my camera. At more than 4 pounds (including the camera), it's not too heavy. But between the gentle motion of the ship and the hours I spent at a time with the camera in my hand, I couldn't have done without the Manfrotto 695 Magfiber monopod I bought for the trip. (I also kept the camera's Shake Reduction mode engaged pretty much the whole time.)
I also borrowed a 16-50mm f/2.8 DA* ED/AL (IF) SDM, 50-135mm f/2.8 DA* ED (IF), 35mm f/2.8 DA Macro Limited, and 10-17mm f/3.5-3.4 DA ED (IF) fisheye zoom. Was I sorry to have to give them back! Consider me a convert to the fisheye cult.
As for accessories, besides the monopod, I brought circular polarizing filters from Hoya and Tiffen, a Cokin P-series filter holder, and two Cokin graduated neutral-density filters (1- and 2-stop). To capture and store all my pictures, I shot with 8GB SDHC cards from Delkin and SanDisk, and downloaded my images onto an Apple PowerBook G4 notebook computer. (Since I was shooting RAW + JPEG files, my images took up a lot of space.) All of that, and more, fit comfortably into a CaseLogic SLR & Computer Backpack.
Here is a small sample of the nearly 2,000 photos I shot on my adventure, along with tips on how to get the iconic — and creative — shots you'll want show off. View a gallery of Alaska photos with helpful hints.
Traveling in Southeast Alaska
For more information, here are a few places to start:
Southeast Alaska Tourism Council
www.alaskainfo.com
Alaska Marine Highway
www.dotstate.ak.us/amhs
Inter-island Ferry Authority
www.interislandferry.com
Tongass National Forest
www.fs.fed.us.r10/tongass
Glacier Bay National Park and Preserve
www.nps.gov/glba/
Cruise West & Pentax Photo Cruises
www.cruisewest.com/photocruise/default.aspx
PACK YOUR BAG
Gear you'll need for a photo tour of Southeast Alaska
Whether you're taking a photo cruise such as CruiseWest's Whales and Wilderness trip or traveling on your own by plane and ferry, here's what to pack.
Your DSLR and as many lenses as you can manage. You'll need at least: 300mm (420-600mm equivalent, depending on the size of your sensor) or longer telephoto for shooting wildlife and distant glaciers. Zooms covering wide-angle to tele (18-55mm, 55-200mm, etc.) for a variety of subjects, from landscapes to portraits. Macro lens for detailed close-ups of flowers, barnacles, insects, etc. Polarizing and split neutral-density filters. Plenty of memory cards and a back-up storage device (e.g., notebook computer, portable hard drive). Monopod to help steady your camera when using a long lens.
You may also want a tripod for landscapes, stay-dry bags for rainy days and kayaking excursions, teleconverters for extra reach, and fisheye and other specialty lenses to expand your creative possibilities.
Prefer to travel light? Just bring a superzoom electronic-viewfinder camera. For instance, using her Canon PowerShot S5 IS's 12X built-in zoom, a woman standing on deck next to me got pictures of a brown (grizzly) bear and her two cubs foraging on the shore that looked as if they were taken from a few feet away. And for getting fine detail in nearby subjects, compact cameras often allow you to get every bit as close as a macro lens does.