How to Avoid a Wedding Photo Nightmare
Five tips to make sure you get perfect photos of the big day.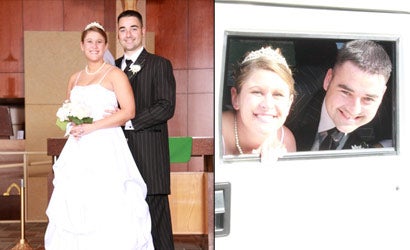 Your wedding was perfect. Everything went as planned, the best man didn't make an embarrassing speech, and your now-husband didn't leave you jilted at the alter. But then the day comes when you receive the proofs of your wedding photos, and suddenly, you're faced with a nuptial nightmare you never saw coming: your wedding photos are awful.
For Pop Photo reader Billi Hughes, this grim nightmare became reality. She didn't just choose her photographer on a whim either – the photographer she worked with she knew very well, and she knew his work. She worked as his assistant before asking him to document her wedding. He shot weddings consistently and had two and a half years of experience, and according to her, he never fell short until he shot her wedding.
The photographer provided her with washed out images that showed no detail in her dress, there are no close ups, many of the images were blurry, there wasn't a single picture of the bride alone, and the photos couldn't be framed because the photographer had placed heads were near the top of the frame in every group shot.
When she confronted the photographer, he said, "Sorry you did not like them, tough."
We asked some of the best wedding photographers in the world how you can prevent this wedding photography nightmare from happening to you.
1. Plan Ahead
It's important to book your wedding photographer at least nine months before your wedding. According to California based wedding photographer Bambi Cantrell, in some areas, like the San Francisco Bay, booking a year in advance is smart. Also, think about when you are having your wedding. If you are getting married in the spring or summer, find your photographer as soon as you've set the date. Cantrell advises, "Don't wait till the last minute. All of the great [photographers] will be gone."
2. Choose the splurge over the steal
When searching for your photographer, keep in mind that when your wedding is all said and done, no one is going to remember what you ate or what music was played, they are going to remember what they see in your spectacular wedding photographs. If you fall in love with a certain photographer's style, but think their rates are steep, remember that your wedding photographer should constitute a substantial amount of your budget.
According to Cantrell, "Your wedding photographs are the only lasting item from your wedding day, and this is not one of the areas you want to cut cost."
She also cautions, "Be wary of 'too good to be true' deals . . . Be curious about hiring any photographer willing to deeply discount his work. Wedding photography is a great deal of work, not to mention pressure. Remember, in this area, you get what you pay for."
3. Sign a contract
According to southern California based wedding photographer Jose Villa, the first thing any wedding photographer should do with a client is sign a contract. If you find a photographer who doesn't ask you to sign a contract, seriously consider choosing another photographer. If you ask a photographer to enter into a contract with you, and he refuses, find someone else to shoot your wedding.
"I always have signed contracts. No questions asked . . . even with my friends. It's just too risky to have these type of issues after the weddings had been shot," said Villa.
According to Cantrell, contracts are incredibly important. "There should be information in it that provides compensation if neglect is found," she said. Hughes didn't sign a contract, and even though she was incredibly displeased with her wedding photos, she has no concrete rights to receive a refund since her and the photographer did not enter into contract. Contracts protect both the client and photographer, and are truly essential when dealing with an event that you can never do over.
4. Do Your Homework
Although it is your photographer's job to have everything running smoothly the day of your wedding, do not assume this will be the case. Leaving everything in the hands of a single person will leave you powerless. In Hughes' situation, she forgot to print out the selected poses she wanted taken at her wedding. Yes, the photographer should have taken care of this, but if she had been able to print out the poses, he would not have been able to use that as an excuse for providing her with poor quality images, which he later did when she confronted him about her photographs. The more leg work you do on your end, the less reason your photographer will have not to live up to his or her work, so stay on top of things – it will ensure that your photographer does as well.
5. Be on time
Although it may sound obvious, Cantrell recommends that you be punctual. If you are on time, the more time your photographer will have to do their job. Cantrell likes that the entire wedding party be ready for photographs three hours before the wedding. While this may sound extreme, the bride is more likely to be relaxed three hours before the wedding, as opposed to one hour before. Wedding photos are not something you that should be rushed, so it is imperative that you make sure things are running according to schedule.
Hopefully, you never find yourself in Hughes' situation. If you're savvy about choosing a wedding photographer, it's likely that you'll have spectacular images to document your wedding day.