How a Photo Can Ruin Your Life
Your family photos could get you arrested. Just ask one New Jersey grandmother.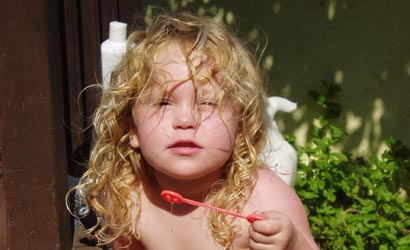 Three-year-old Sarah M. is either a toddler in her birthday suit playing in the garden, or a nude temptress with a sultry look who requires protection from the culprits who took this photograph — her doting parents.
This is the fix we're in, now that computers have opened the barn door on kiddie porn. The FBI has issued blanket requests to photo processing labs and computer repair shops in some cities to be on the lookout for pictures of kids in compromising positions, urging them to call the authorities whether they're sure or not about a picture's legality. The big national chains that have photo processing labs — Costco, CVS, Rite-Aid, and Wal-Mart — have company policies that compel them to notify the police about any criminal activity they see in customers' photos. And when children are involved, they're more than willing to err on the side of caution.
"You can't have a blanket set of guidelines because pictures are subject to interpretation based on community standards," says Mike DeAngelis, a spokesman for CVS Pharmacy, with about 5,400 outlets nationwide. "But the store managers know it's up to law enforcement to decide what's criminal."
Tragically for a number of people all over the country, innocent family photos turned over to the police have led to financial ruin, divorce, debt, public humiliation, and lifelong scorn as a registered sex offender for mothers and fathers.
Some cases involved pictures much less provocative than Sarah M.'s. Based on the way prosecutors interpreted photos in a few of those cases — Marian Rubin, a New Jersey grandmother charged for taking nude photos of her granddaughters, then aged 3 and 8; and Jeffrey B., a New York father who lost custody of his two daughters after he shot pictures of them mooning him — it's possible to spot red flags where our innocence used to be.
Here's how a zealous prosecutor could view Sarah M.'s picture: Smoldering eyes; styled, tousled blond tresses; pouty, parted lips; splayed legs; an engorged navel. And that viscous liquid dripping from the wand onto her thigh? Money shot.
|| |—| | For more see: Your Photos Could Ruin Your Life (Part 2) on the PopPhoto Flash blog. | A blurry line
Just because they didn't shoot the picture for the purpose of sexual stimulation doesn't mean parents who just want to document their child's garden years can't get stuck in the sordid world of pedophilia.
Since there have been documented instances where photo lab employees have kept copies of sexually explicit pictures that were dropped off for development or printing, including from digital sources, imaginative authorities believe that it's possible for child pornography to be inadvertently made and unknowingly distributed. (Adult porn isn't illegal unless it's found to be obscene.)
This has led to a more proactive, better-safe-than-sorry approach to snooping into people's photo archives, which gives civil libertarians the jitters.
The claim has been made that we all have to view innocent photos through the eyes of a pedophile, for the good of the children. But, attorney Andrew McCullough argued before the Utah Supreme Court in a case involving allegedly arousing pictures of underage children, "lots of things are innocent enough and can be misused, but you can't be responsible for everybody's thoughts."
And in Honolulu, after the local FBI office started contacting computer repair shops about what they should be on the lookout for inside customers' computers, the ACLU Hawaii's executive director, Vanessa Chong, was quoted as saying that the G-men's fishing expedition "needlessly violates the privacy rights of honest consumers to find the guilty few."
The question of whether you surrender privacy rights when you hand over a computer full of personal information to a repair shop is still open. Cops say they're sensitive to these issues. Photo labs and computer repair shops "haven't sent us anything that wasn't clearly child pornography, or could reasonably be suspected," remarks Lt. C.L. Williams, in charge of the Crimes Against Children unit of the Dallas, TX, police department.
Lt. Williams acknowledges that there's a gray area when it comes to interpreting photos of children, and often the kids are taking pictures of each other without their parents' knowledge. His unit frequently determines that pictures referred to them are innocent artistic or family photos, "but there's very little artistic value in a crotch shot of a 6-year-old girl." He says his investigators are now seeing pictures of penetration on 2-year-olds.
"We're not trying to pry into people's lives," he says. "I wouldn't want the government sticking its nose into my photography, and I don't want to be the one doing it to someone else. But when a picture crosses the line into child abuse, then it's my business."
In May 2006 in Lackawana, NY, the FBI arrested William D. Baker, 63, for possession of child pornography after getting a tip from a computer repair technician. (His case was still pending as we went to press.) Technicians finding questionable material also have led to arrests in Seattle, WA; Collier County, FL; and Odessa, TX.
It isn't just porn. Also in May 2006, an east Georgia man was arrested when he went to pick up pictures of his marijuana crop at a drugstore photo counter. And the snooping doesn't have to involve anything obviously illegal: In October 2005, a student in North Carolina got a visit from the Secret Service at his high school after the Kitty Hawk Wal-Mart photo lab called the police. As a classroom civics assignment to photographically illustrate the Bill of Rights, he'd cut out a magazine photo of President George W. Bush, tacked it to a wall with a red thumbtack through the head, made a thumb's down sign next to it, and snapped a picture. Lesson learned.
Images of children, though, have the power to stir passionate forces. And the smallest photographic detail can send the shooter into a waking nightmare.
Jeffrey B. (he requested his last name not be printed to protect his daughters) was divorced and had custody of his two girls, then aged 4 and 7, until a Genovese drugstore photo lab in the New York City borough of Queens inserted a note into a packet of his prints that said several shots had been turned over to police. Seven years later — after four weekends in jail, three years on probation, mandated therapy, losing custody of his daughters, contemplating suicide, and incurring about $300,000 in lawyer's fees and loss of income — he's a registered sex offender and has no contact with his children.
He declined an interview, but the lawyer who handled his appeal, Joseph Klempner, who also wrote Irreparable Damage, a novel based on the case, says Jeffrey B. is "destroyed," and has not taken a single picture in seven years. "I'd stake my life on the fact that all he was doing was taking cute photos of his kids," says Klempner, who saw the offending pictures.
According to Klempner, the prosecutor said she found the silk sheets on the bed where the 7-year-old's picture was taken "very telling." The girl had mooned her father, and he snapped a picture from across the room. "It would take the Hubble Telescope" to see her unmentionables, relates Klempner.
In the other offending photo, the girls are shot from below, sans bathing suit bottoms, as they pretend to read books. A crucial fact in Jeffrey's conviction: One girl testified that Daddy posed them.
'Granny Busted'
In early 2000, Marian Rubin's granddaughters, Amy, then 8, and Kayla, then 3, were dancing naked on her bed before bath time, strutting their best Britney and Christina moves. In still photos, they must have looked posed.
Rubin is the basis of an urban legend, the 65-year-old granny taken to jail for snapping innocent bathtub pictures of her beloved grandkids. Except her case was real, and the headlines in the Trentonian screamed, "Granny Busted/Cops Think She's a Perv."
The night that she was arrested, after picking up the nude pictures of the girls at a local MotoPhoto outlet — Rubin, an experienced and award-winning art and children's photographer, insists that she never intended to publish these photos — Montclair, NJ, police went to the girls' home and had their parents wake them up.
"They asked totally inappropriate questions," says Rubin, who is now 72. "'Did Granny get undressed, too? Did Granny touch you? Did Granny touch herself?' They threatened my son and daughter that, if they didn't cooperate, the kids would be taken away."
Rubin wrote a book, Naked Truths (www.naked-truths.com), detailing her outrage at what she calls vigilante film processors, and she excoriates cops and prosecutors for being unable to admit they'd made a mistake.
On her lawyer's advice, she took a deal called a "Pretrial Intervention" that amounted to conditional probation but left her with no criminal record. She now regrets not taking the case to trial. Even though a federal judge later found the pictures to be "totally inoffensive," Rubin is still paying off the $30,000 debt.
"I haven't taken a nude picture since," says Rubin, who has won awards for nude bodyscape photography. "Portraiture was my thing. They took away my innocence, constricted my vision, brainwashed me into seeing things differently. They definitely changed my pictures of children."
For more see Your Photos Could Ruin Your Life (Part 2) on the PopPhoto Flash blog.