How much is your old camera worth?
Here's how to find out.

We may earn revenue from the products available on this page and participate in affiliate programs. Learn more ›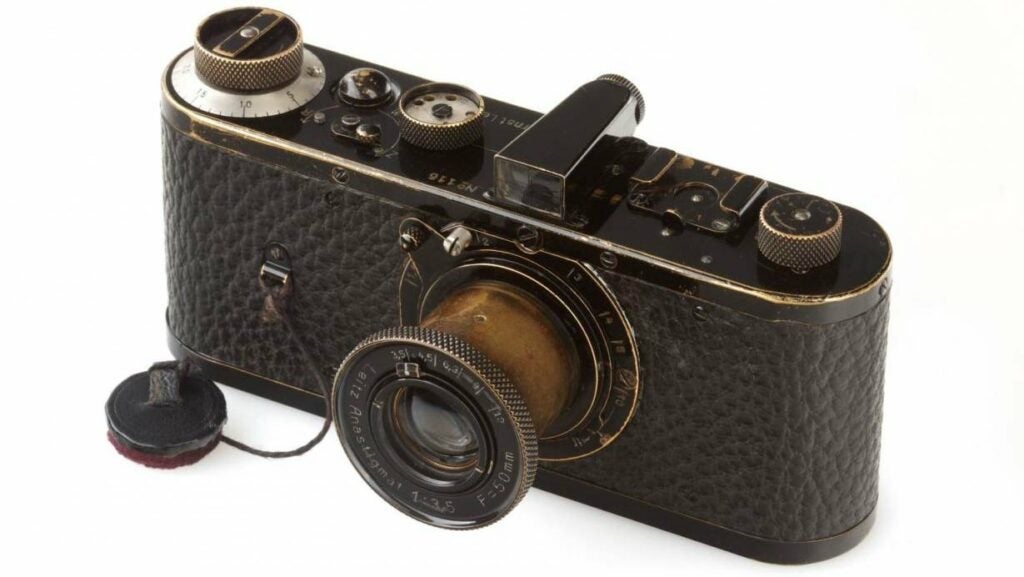 leica
There is no single site you can go to that will give accurate historical data and current values for old cameras. However, in most cases, you can go to any good search engine such as Google and simply type in the name and model of your old camera. This will usually bring up a number of historical sites giving good information on identifying your camera, as well as commercial sites that may give you a fair idea of its market value.
Let's say you have an Exakta VX Iia that is stamped "USSR Occupied" on the bottom. Where do you start?
Searching under Exakta VX IIIa brings up wrotniak.net classic Exakta cameras. You can then click here to view small pictures of classic Exakta models, many of which were made in USSR-occupied East Germany, as well as serial number lists, feature descriptions, and even production numbers. Specifically, you'll find that there were four slightly different models of the Exakta VX IIIa produced from 1956 to 1963, and a total of 181,900 were made during that period. Larger pictures and more tech data can be found by clicking on a second link here.
Unfortunately, few historical sites list camera values, and you have to be wary of prices listed on commercial sites, because the prices asked for classic cameras may be too high, and the prices offered for classic cameras may be wholesale prices and therefore lower than what a collector might be willing to pay. For example, one commercial site on the Google search, manfredschmidt.com, lists an Exakta VX IIa with 50mm f/1.9 Westrocolor lens at $270, and another, cameratrader.com, lists a VX IIa body in "excellent condition" at $219.
Another great source of prices for old cameras is the eBay auction site. If you go to the Cameras and Photo section, and type in Exakta, you can view current auctions for all Exakta items. However, current auction prices can be tantalizingly misleading-such as an Exakta VX IIa for $54 with one day to go on the auction, another for $39.99 with two days to go, and one at an incredible $7.16 with three days to go! As eBayers know well, the real winning bid price may not become evident until the last few minutes-or seconds-of the auction. A much more accurate price indicator is the "Buy Now" price-the price the buyer is willing to accept to stop the auction before any bids are made. In the case of the Exakta VX IIa, the "Buy Now" prices we saw were $199 for a VX IIa with 50mm f/1.9 Westrocolor lens in "great shape" and a thee-lens two-viewfinder VX IIa outfit at $200. You can also go to "Completed Listings" to view, by camera name, actual selling prices for auctions that have ended, but you have to be an eBay member. The good news: eBay easy to join and it doesn't cost anything.
Finally, anyone interested in identifying old cameras and determining their value should consider getting a copy of the latest (12th) edition of McKeown's Price Gude to Antique and Classic Cameras, published by Centennial Photo, 11595 State Road 70, Grantsburg, WI, 54940, Tel# 715-689-2153. This 1,248-page volume is pricey at $125, but it has over 10,000 camera photos, lists many cameras that are hard to find on the Internet, and is an indispensable resource for collectors. The camera values listed in McKeown's are generally accurate too, but understandably not as current as what you can find on the Web. For listings of other camera price guides, go to Google and search under "camera price guides."