How I Shot This: Water Log
Assiged a team picture, photographer Jennifer Taylor captures a spontaneous moment with verve.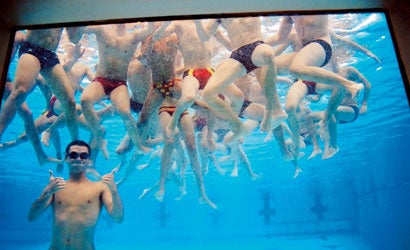 After stints in Boston, where she received a BFA degree in photography from the University of Massachusetts, and Los Angeles, where she got her start doing celebrity portraits, Jennifer Taylor, now 33, settled in New York City in 2004. Applying the spontaneity of a photojournalist to her assignment work, these days Taylor shoots events — including theatrical performances, concerts, and dance — for the New York Times Arts section.
|| |—| | | | | At Top is the selected picture. Middle: The shot with all the faces makes a great portrait of the team, but for Taylor's purposes it wasn't witty enough. Bottom: Gotta love those dangling legs, but without the silly gesture this one gets the thumbs down.| Q. What are we looking at here?
A. This was out in California. The assignment was to take a portrait of a high school water polo team. When I got to the location, I was thrilled to see that there was a window a level below the pool.
Q. Do you usually scout your location in advance?
A. No — I just go into an environment and utilize what's there. In this case, I told them to come down to the window. They were all into it and having a blast. The guy who came down for this one picture — that was totally spontaneous. You never really know what is going to happen or what your subjects are going to do.
Q. What camera did you use?
A. I took this picture before I switched to digital, so it was the Nikon N90S with Fujifilm 800-speed negative film. It was a last-minute assignment.
Q. Was it hard to light?
A. It's an indoor pool and, since I couldn't light under the water, I used only available light. Luckily the pool was in a huge, very well-lit space. There were a lot of windows and skylights.
Q. What makes this your favorite image of the set?
A. The publication I shot it for had a story to tell of their own, and they ran the one that had all the faces in it. But for my portfolio, I love the thumbs-up. There's something about the dangling legs, and that polka-dotted bathing suit really makes it — it's just whimsical and humorous. Although I took the picture maybe three or four years ago, it's stuck with me in my book. It's one of those photographs that I still love.