How I Shot This: Pool Boy
Color or black-and-white? Let the scene decide.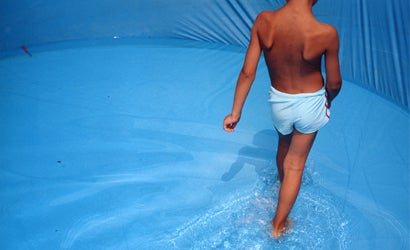 Leasha Overturf, 39, got started as a photographer in high school, when she borrowed a camera from a student who had it on loan for a class. The ticked-off teacher forgave Overturf when he saw her potential. After earning a BA at Southern Illinois University, she moved to Chicago and worked for several photographers, including, for the past 15 years, Paul Elledge. Now she's not only his production assistant, she's also his co-teacher.
Q. What are we looking at in this photo?
A. This is a little boy named Alessio. I was shooting in Italy. Paul and I teach a class there, and this was one of my days off. I was out photographing for myself. I loved Alessio's face.
Q. Is this photo part of a larger project?
A. No. It's just one of the first pictures I took in color that I really like, so it's really exciting for me.
Q. Which of these photos did you shoot first, color or black-and-white?
A. I started out [with black-and white], using the Hasselblad H1. It's a new camera for me, and I wasn't totally comfortable with it yet. Paul encourages me to break out of my box. He says, 'You need to push yourself.' Looking at this beautiful light and this blue pool, I realized I wanted to broaden my scope. I directed Alessio to walk around, and I got out my point-and-shoot, loaded with color film.
Q. Which point-and-shoot do you use?
A. The Olympus Stylus Epic. It lets me focus within 13 inches, and it's a really tiny camera. It's in my bag 24/7. I freak out if I don't have it.
Q. Of the black-and-whites, which is your favorite?
A. The one where he's in his little tube, looking at the camera. I love that picture. The problem is that it's a picture I can make all the time. So I started out having him float, but it felt too dark, emotionally. He was a bit of a handful, but once I gave him an action-to walk-it helped a lot.
Q. Why did you end up showing the one without his face?
A. It's really easy to get into a state where you take the same kind of picture over and over. I like to give myself assignments, and I've been pushing myself to tell a story without photographing the person's eyes. Also, I thought his back was really beautiful.
Q. Are there any self-assignments you'd recommend?
A. Starting about two summers ago, I said to myself: If I shoot someone's portrait, I must also shoot a scene or an object or something else that captures the person without showing their face. Having those other kinds of pictures gives my body of work more breadth-it's not as redundant.
Q. I just have to ask: why film and not digital?
A. I like film because I can touch it and I understand it. For me it's the concept of grabbing a binder of your work and going through it. With digital, you look at images completely differently. I know you can print out digital proof sheets, but I don't know how to do it yet. I actually get razzed on the street for not shooting digital. As long as Kodak's making my two favorite films, Tri-X and Supra, I'll continue to shoot with them.