How I Shot This: Deanne Fitzmaurice
Pulitzer-winner Deanne Fitzmaurice shows how the best shot may be the one behind you.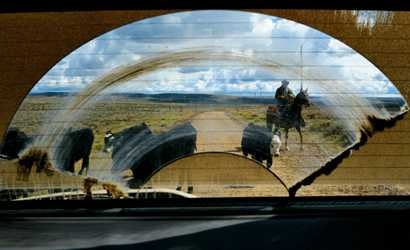 Pulitzer Prize-winner Deanne Fitzmaurice has been shooting, primarily for the San Francisco Chronicle, for more than 20 years. Of her work, she says, "I love going out everyday, figuring out what the story is, and coming up with a strong photo to tell that story." (See more of her pictures at deannefitzmaurice.com.)
Q. What were you shooting?
A. In 2004, I was sent to Wyoming to do a story about underground natural gas. There's a real boom there, with mining and drilling rigs everywhere. A lot of it is on federal land but, on some big ranches, the land underground is owned by the government, even though above-ground it's owned by the ranchers. They call it "split real estate." The government can just come in and bulldoze and set up rigs to drill down into their land.
Q. How did you approach the subject?
A. The writer I was working with and I went to the home of a rancher, John Andrikopoulos. This was a story where you have to photograph something that you can't see — invisible gas underground. For the writer it's great. Visually? It's tough. Then the rancher said, "Tomorrow morning I'm doing a cattle drive."
Q. How did you come up with this angle?
A. I went driving way out on his land in my rental car. He was riding his horse and corralling the cattle. I was shooting straightforward cattle drive pictures and finally I thought, "I've worked this as hard as I can." I started to drive away and looked in my review mirror and saw it framed by my dirty back window. I went, "Wow, that's nice!" I stopped the car, climbed in my back seat, put on my wide-angle lens and started shooting.
Q. What camera did you use? What lens?
A. When I shot this picture I had a Canon EOS-1D Mark II, and now I'm using an EOS-1D Mark III. That would have been my Canon EF 16-35mm f/2.8L lens.
Q. What makes this photo the best of the set?
A. When you get it, you get this feeling like, okay, I'm done. All day long I never got that — I just thought, I gotta keep working this. Once I was in the car, I got a lot of frames where the cows were in the distance. As they got closer it got better. Finally, I found that, compositionally, this one was the best. I liked that the rancher, John, was a little off-center, and you see a group of cows the whole way from the left to the right. I was lucky to have good clouds that day.
| | |
| --- | --- |
| | |
| The Outtakes: Left: Great angle, but the subjects are missing. The shot worked when the cows came closer. Right: Most of the photos from that day are like this — straightforward shots of ranchers at work. Not bad, but not the best. | |