High 5: Creative Inkjet Papers
Specialty papers that will turn your injket prints into works of art.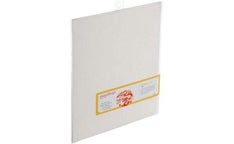 1. Hahnemühle Bamboo
$25, street, for 20 8.5×11-inch sheets
www.hahnemuehle.com
Bamboo is the "it" fiber lately for fans of environmentally friendly products, and this renewable resource turns out to make a great surface for prints. The heavy, matte, Digital Fine Art paper's warm tone suits photos that would be rendered too stark by the optical brighteners that make many mainstream papers extra white.
2. Harman FB Mp Warmtone
$24, street, for 15 8.5×11-inch sheets
www.harman-inkjet.com
Made for black-and-white photos, this fiber-based paper will give you prints that look more like they've just finished a bath in the fixer than a trip through your inkjet printer. And a barium compound in the paper keeps pictures sharp by preventing the bleeding you get with some matte surfaces.
3. Innova FibaPrint
Warm Tone Gloss, $48, street, for 25 8.5×11-inch sheets
www.innovaart.com
Unlike some less-expensive glossy papers that can feel flimsy, this surface really resembles classic fiber-based darkroom paper. With a subtly textured gloss that holds ink well, this premium paper is a great choice when you need to make prints with more presence.
4. Moab Moenkopi Unryu 55
$18, street, for 10 8.27×11.69-inch (A4) sheets
www.moabpaper.com
If you are looking to take your pictures out of the realm of ordinary photographic paper, this textured and slightly translucent surface will do the trick. The traditionally, sustainably produced paper has a slight iridescence and, despite its novelty, retains your picture's sharpness.
5. Adorama ProJet Silver Mirror
$27, direct, for 10 8.5×11-inch sheets
www.adorama.com
This filmy, reflective surface is fun for printing wackier projects, and it gives your images an almost three-dimensional depth. One caveat: To prevent this easily crumpled surface from jamming your printer, stick it to another piece of paper before you send it through.