HDR How To: Dynamic Photo HDR
A step-by-step tutorial and software review of an affordable, powerful High Dynamic Range (HDR) program we've just discovered.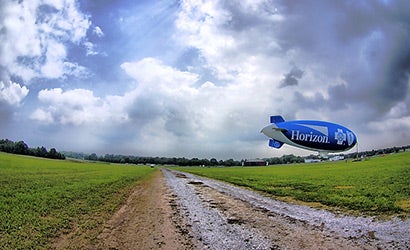 Dynamic Photo HDR (DPHDR) by Mediachance is the sort of Windows-only program that will make Intel-Mac owners want to get BootCamp and run Vista right now. Not only is DPHDR one of the more affordable free-standing High Dynamic Range and Tonemapping titles, it is also powerful enough to warrant serious consideration for the HDRI photographer.
On the HDR-gen side, there's one of the most robust and feature-packed automatic or manual alignment utilities we've seen, with the unique "pin warping" option for really sensitive alignments. Can't get it quite perfect? There's an advanced option for sharper or smoother merging to hide those slight imperfections. Want to tweak the camera response curve? DPHDR features two automatic options as well as one that's user-controlled.
• Check out our step-by-step tutorial of Dynamic Photo HDR • Check out a sample of images created and tonemapped with DPHDR The Competitive Set:• Photomatix Pro: Arguably the most popular standalone HDR program, the most recent build features de-ghosting and lots of image-quality adjustments during tonemapping. • FDRTools:This program is economical and features a unique "separation" deghosting method • Adobe Photoshop CS3: The big dog of image editing has expanded 32-bit support and has activated more image quality controls for HDR imaging Download• Download trial version here and test it with our sample images. • Download our sample images and share your results in the HDR forum! What's Hot:• Robust automatic and manual alignment utility • 6 different Tonemapping algorithms for subtle to surreal 32-bit crunching • Black and White Tonemapping options • Curves, Color Equalizer, and Hue Shift functionality as part of Tonemapping • 10-button "speed rack" for favorite tonemap settings • Slick, easy to use interface • In-program help is actually helpful • Excellent on-line documentation • It's a heck of a lot of program for less than $40 What's Not:• Windows-only program leaves PowerPC Mac users in the dark • Limited RAW support • "Photographic" tonemapper produces some weird artifacts in blue sky in current build
Oh yes, did we forget to mention, there's a way to push and pull the 32-bit histogram before tonemapping? For the control freak DPHDR has lots and lots of buttons and sliders to tweak data at every step of the way. There's also a mask-based de-ghosting option during HDR-gen, which we'll be testing in a three-way de-ghosting shootout in the near future.
And while some other HDR programs have just a couple of Tonemappers, DPHDR has six, including two local, three global, and a feature called "Smooth Compressor," which, as DPHDR describes it, acts as both a local and global operator. (Local and global operators use different algorithms and crunch the data. Generally speaking, Local Operators produce much more dramatic results than Global Operator. If you see a surreal HDR, odds are it's a Local Operator; if it is a subtle photorealistic HDR, it's a good chance it's a Global Tonemapper.)
Apart from DPHDR's whopping six Tonemappers, the program also impresses with its Black and White Filters and Curves and Colors controls that are part of the 32-bit crunch. The curves control can add snap for less post-processing, or can also be used to flatten the tonal range. (The curves can also be used to create ultra-surreal effects, such as HDR "solarizing," which is created by inverting certain tonalities.)
Color Equalizer and Hue Shift can be used alone or in conjunction with Curves for subtle to surreal split-tone style HDRs, to emulate a colored filter in Black and White photography, and even potentially as a means to minimize chromatic aberration fringing.
Like FDRTools, DPHDR does not close out the Tonemapping interface when outputting an image. That means it's quick and simple to apply different Tonemap settings to the 32-bit HDR without having to jump back and reload or rebuild the 32-bit file each time. This is a real time-saver, especially with print-sized source files.
Overall, we are quite impressed with the design, interface, and output images from DP HDR, but there are a couple of areas where MediaChance needs to get itself up to speed in the next build. Right now, DPHDR cannot scrape EXIF data from RAW files. They do have a workaround during the HDR-gen step where EV can be manually input, which, while not the perfect solution, does work. With JPEG images, if it cannot scrape the EXIF data (which happened to us with source images from the Canon EOS 1D Mark III, but not the Pentax K10D), DPHDR will "guess" the EV offset for HDR-gen. Again, it's not the ideal method, but it works well enough. Once DPHDR improves its RAW support, this could very well be the leading standalone HDR program in a very competitive field with such worthy players as Photomatix Pro and FDRTools. As it stands now, it's a pretty amazing program for less than $40, and once they get their RAW issued cooked, it will be even more impressive.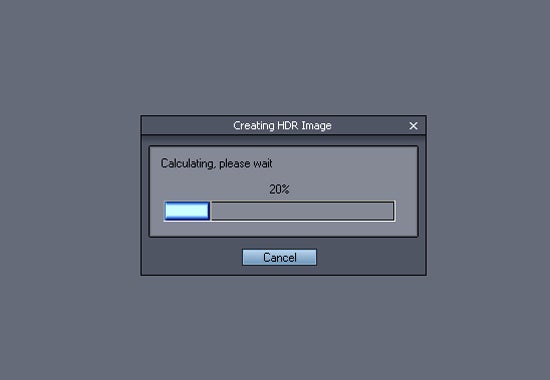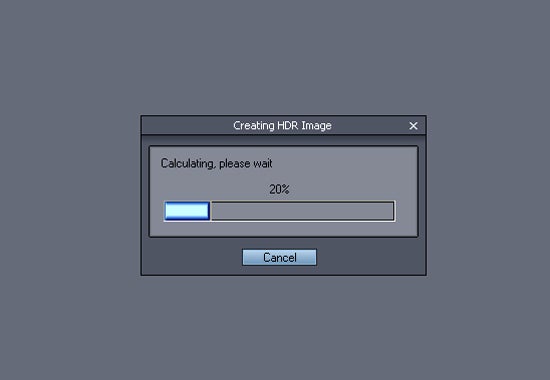 DPHDR-Tutorial-Once-your-LDR-source-images-are-al
Once your LDR source images are aligned and ready for HDR-gen, click OK, and you'll be greeted by this ticker bar. Depending on your hardware configuration and source file size, this could take a while.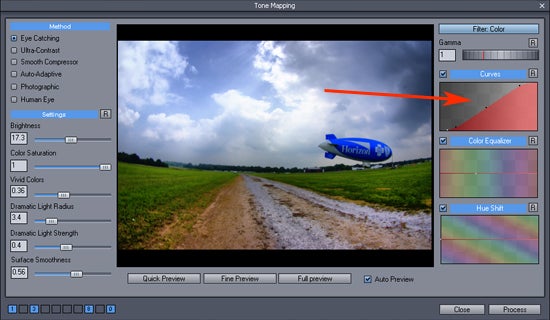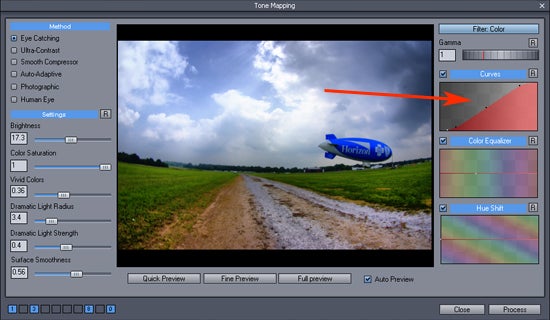 DPHDR-Tutorial-The-Tonemapping-window-also-featur
The Tonemapping window also features a curves control, which can be used to either add snap, like we've done here with a mild S-curve, or can be ultra-tweaked for different effects.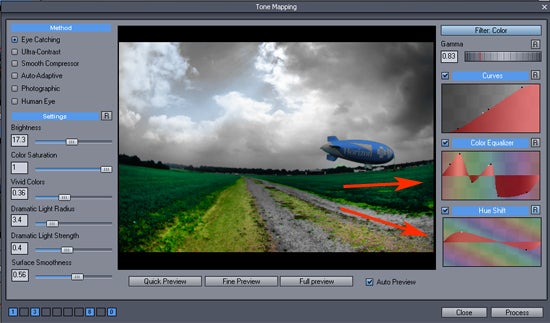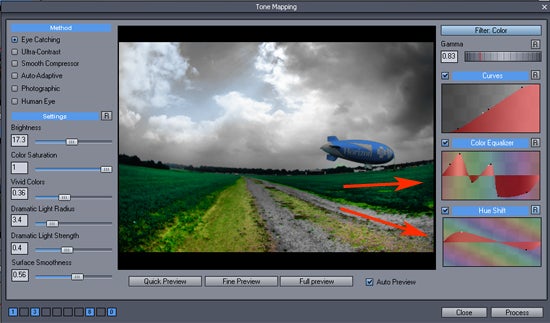 DPHDR-Tutorial-Color-Equalizer-and-Hue-Shift-can
Color Equalizer and Hue Shift can be used to alter color schemes for split-tone style HDRs, or to emulate a color filter, among other things.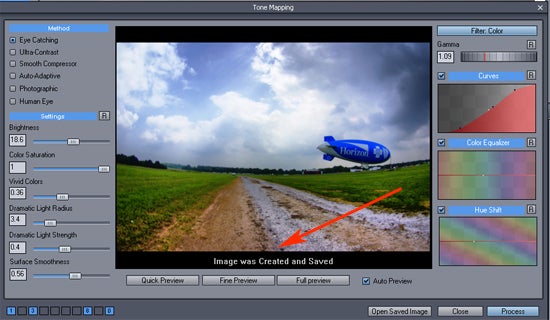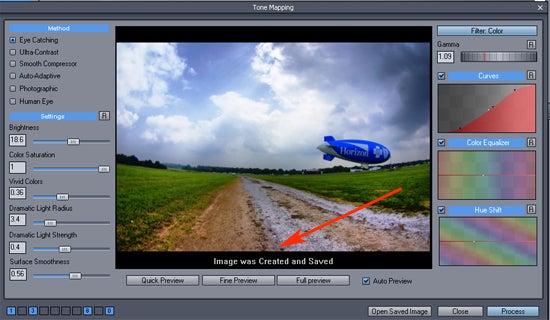 DPHDR-Tutorial-A-blue-progress-bar-will-display-b
A blue progress bar will display beneath the preview and indicate when the file has been processed and saved. But it keeps the Tonemapping window open, if you want to apply a different Tonemapper setting to the same image.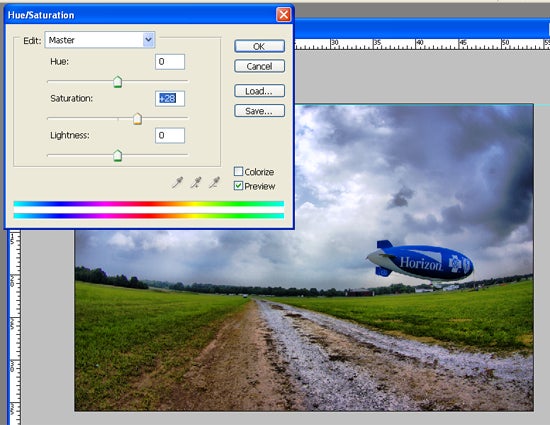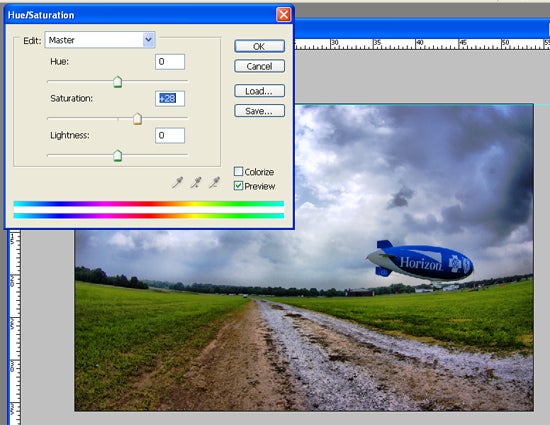 DPHDR-Tutorial-We-re-done-with-working-up-the-pho
We're done with working up the photo in DPHDR, and we'll bring it into Adobe Photoshop CS2 for some final image adjustments including a slight saturation boost, sharpening, and screen-sizing.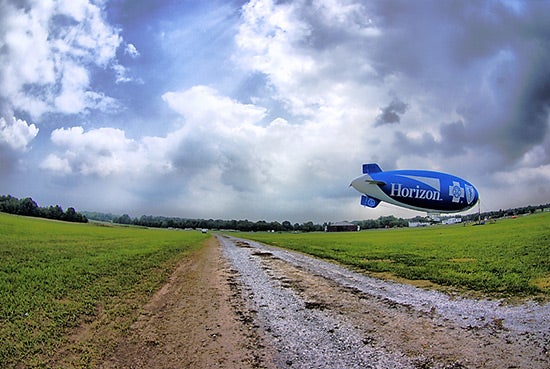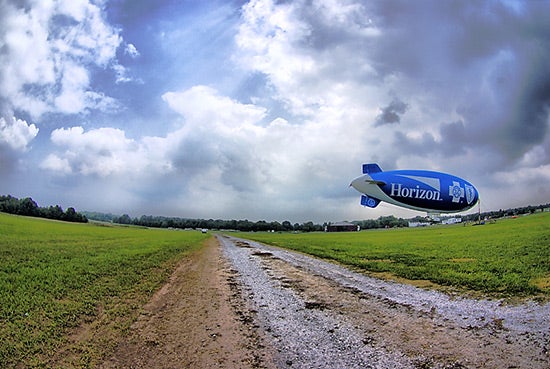 DPHDR-Tutorial-After-some-minor-post-production-t
After some minor post-production tweaks, we've now got a supercool ultrawide angle HDR image of the Horizon blimp, with tons of detail throughout the tonal range!