Happy Mother's Day From Nine Top Photographers
Stories and photos of the women who shaped the art of Platon, Elinor Carucci, Alec Soth, and more.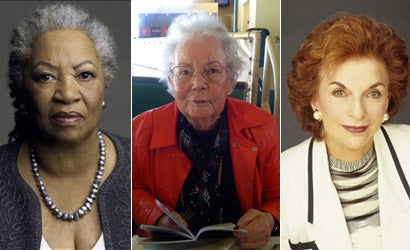 Here at American Photo, Mother's Day got us thinking about all the amazing moms who have helped shape our favorite photographers. In this exclusive story, nine of the best pay homage to their mothers in words and pictures.
Elinor Carucci
My mother was the first person I ever photographed. I was 15 when I picked up my father's camera and intuitively took a picture of my mother; I still take pictures of her obsessively. From my mother, my natural point of beginning, my work began to extend to the rest of my family and my surroundings. My mother was and is my first connection to the world; the relationship we have is a very special and ambivalent one. I used to think that the struggles and reactions from my childhood would eventually go away, and my mother's power over me would dissipate, but I realize as I get older that it is basic and stronger than me. Our relationship is changing all the time, and some things never change. Even to this day I still feel like a small child when my mother is upset.
Only in the last few years, I began to see my mother not only as a strong person, but more as a human being with anxieties, weaknesses, and the natural fear of aging. It scares me. "Mom" has to be total security, the "only" security. Power, beauty, and femininity. Perfect. Still today I feel that her power is unlimited and she can do anything for me, she is invincible. But when she prepared me for the world, she showed me the world through her eyes and taught me that there are things that she cannot do for me. My mother put her lipstick on my lips and hoped that it would protect me.
I have experienced every possible feeling toward my mother, from worship to criticism, support to jealousy, happiness to misery, love to hate. My mother is the base for many characteristics in me, and with the years I see more similarities. She has many faces, and is a source of constant discovery. She is a mother, a daughter, a wife, a sexual woman, a strong Amazon, and a little girl. And I find myself switching roles with her. I once thought that to take pictures of my mom would help me overcome the fear of time passing, but the photography only shows me the cruelty of time, and even the pictures of faces without wrinkles do not comfort me.
My photography became a way to send messages between us, raise questions and start conversations. The dialogue can exist only through the pictures. The camera says for me what I do not even dare to think.
Platon
I was sent to L.A. to shoot Dustin Hoffman and I was warned that he was very difficult and hates having his picture taken. When I met him the atmosphere was quite stern. To diffuse it I said, my mother has always been a big fan of yours, Mr. Hoffman. She thinks you're the greatest actor of your generation, and quite cute. With a twinkle in his eye, he said, "Where does she live?" I told him London. He asked, "Can we call her?" So we all huddled around the phone, and when she answered I said, "Mom, there's someone here who would like to say hi." Dustin got on the phone and said, "I want you to know, my dear, you have a secret American admirer, and next time I'm in town I'm taking you to the Ritz for high tea." She asked who it was and when he said it was Dustin Hoffman she absolutely flipped.
That changed the whole dimension of the shoot. After that it was really warm and personable. After the shoot I took him aside and said, "You don't realize this but my father died one month ago. Tomorrow is my mom's birthday, her first birthday without my dad in 40 years. The fact that someone of your status called her up is really going to make her day." I told him, "As a son and as a man I'd like to thank you." And he gave me a hug and left. Without me knowing, the next day his publicist called up and found my mom's address and sent her a HUGE bouquet of white roses with a card that said, "Happy Birthday from your secret American admirer." She kept the card and dried the flowers and invited her friends in to see her roses from Dustin Hoffman. It really helped her get through a very difficult day. I always say, that's people power and we should never underestimate it.
In fact, my mom as a theme comes up in nearly every picture I take. I mention her to the most difficult personalities I meet. Instead of trying to impress people with my professional achievements, I talk about my mother. The most important thing is to level things out, and it brings everyone onto the same level because we all love mum. She's my guiding light. Everything starts with my mum.
Chris Hondros
I grew up hearing tales of war from my mother. Born into a large German farm family in 1936, Inga Hondros had (and has) a phenomenal memory of the conflict that raged around her when she was a child. When I was growing up in the 1970s, Mom transmitted these memories to me: the sounds of American bombers flying over her village; the feelings of hunger when food ran short; the sight of her older brother Herbert in uniform and sent off to fight the Russians, losing half of a hand in battle. (His three-fingered left hand fascinated and scared me as a child decades later when he would come to visit our home in North Carolina.) Mom remembers columns of German troops marching east in tight formations, and returning west bedraggled and doomed after months on the front. Sometimes these troops occupied their farmhouse. Most painful and clear to her was the summer of 1946, age 10, when, in a little-remembered episode in the aftermath of the war, all the ethnic Germans like my mother were forcibly expelled from the eastern fringe of Germany by revenge-minded Polish troops, who then annexed the lands. To this day my mother's home village remains a part of southwestern Poland, now under a new name with too many consonants strung together.
So when I started covering war as a journalist, she understood what was driving me better than many mothers might. When I showed her pictures of Kosovo refugees packed onto rusty trains, she nodded knowingly and related her own similar experiences. Tales of barbarity from Iraq elicit from her not empty platitudes but rather informed observations of how easily stable societies can come unglued, and how quickly the horrific can become commonplace. My mother, like me, sees war as an abomination but not an aberration; she has no expectations that humanity can ever fully escape the call to arms. We will probably always fight wars, but if we do we should know what war means. Fulfilling that mandate is my main mission as a war photographer.
I like this picture of my mother and me, snapped in a happy accident by a friend of my mother's monkeying around with my camera while we had a casual dinner recently at my apartment in New York. I'm not sure precisely what she was telling me here, but I think it was her expressively telling one of the war stories from her youth ("Ach, mein Gott, you vould not believe the fighting vee heard!"), and I like how I'm looking at her, since it captures my true feelings: a deep and unending interest in these tales. They are such a precious resource to me: searing first-person accounts from the greatest war in history from my own mother who was there. I could never have maintained the strength to continue in war photography without my mother's inexhaustible well of understanding and love. I've met and photographed so many saddened souls who have lost their mothers; that I've had mine for as long as I have is my life's greatest blessing.
Mom has had a huge impact on my creative life. It has always seemed important to me that she is an interior decorator. I remember when I was a little kid I would "redecorate" my room about every month. One time I made a sort of scarecrow figure that I hung from my bedroom ceiling. Mom didn't mind. She even seemed proud.
That is the most important thing. She (and Dad) always supported my bizarre experiments. I had to stumble around a lot to find my path as an artist. Our basement became a painting studio, then later a darkroom. I made a lot of rubbish. But I was always met with support and even pride.
I'm notorious in our family for not taking family pictures. It is a little hard to explain, but I guess it is a case of "the cobbler's kids have no shoes." But every now and then I experiment with photographing someone in my family. About ten years ago I took a picture of mom. I put her in the couch with all of the family photographs behind her (that is me on the lower right). Looking at it now, I guess you could say that this is a picture of an interior decorator and the influence she had on her photographer son.
George Steinmetz
My parents were divorced when I was very little and I grew up with my mom. She wasn't keen on me becoming a photographer. She told me that all photographers had bad breath and B.O. I told her then maybe I could be successful. I started my photography career by hitchhiking through Africa for two and a half years. I grew up in Beverly Hills and dropped out of Stanford for the trip. Mom refused to let me go, but the trip was funded with my own hard-earned money, so I went anyway. I mailed rolls of film back to her from post offices in various African capitals. Mom then dutifully processed the slides at the local camera shop and then stamped and sent me detailed reviews. She was my first and greatest fan. Now that I'm a successful photographer with over 20 stories in National Geographic Magazine, she does a lot of bragging. My first book is coming out this fall, a compilation of aerial photos from Africa, and it's dedicated to her (and, of course, my wife).
I don't photograph Mom much. She is a bit stiff when I pull out a camera, and I never was in the habit of taking photos of my parents or siblings. But as I've three kids of my own now, I have gotten into the habit of taking more family photos. This photo is one of mom from a visit to Pasadena, California, just after Christmas.
Timothy Greenfield-Sanders
I am quite lucky to have a mother who always encouraged me to pursue whatever I was interested in. The arts were a big part of my family's life growing up … my mother is a pianist and a Charles Ives specialist, with a doctorate in Musical Arts. I didn't inherit my mother's music gene, but when I got interested in film and photography in my teens, both of my parents were enthusiastically supportive.
It's ironic how much my mother has had an impact on the project that I have been focusing on for the last two years. In 1951, my mother founded The Fine Arts Conservatory, the first integrated school in the South for music, art, and dance. This was courageous and controversial, as blacks and whites were totally segregated then, and especially in Miami, Florida. Because of her little music school, both of my parents were blacklisted and labeled communists. Today, 56 years later, I've directed and co-produced The Black List Project … a film, book, and museum portrait exhibition tour that examines race, culture and the seeds of success among African Americans in America.
I've taken a number of portraits of my mother over the years, but my favorite image is of the two of us. I shot it for the cover of the now defunct Marquee Magazine in Miami. It was for their mother's day issue and I was asked to photograph prominent Miamians in the arts … with their mothers!
Lynn Goldsmith
I dedicated one of my books, PhotoDiary, to my mom because as the daughter of a single mother in the 1950's, I feel very fortunate to have been brought up knowing that not all women were meant to get married and have children. There are choices. She told me to "live, live, live."
Mary Ellen Mark
My mother died at the very beginning of my life as a photographer. I didn't actually photograph her, but [this] is a photograph of her as a young woman that I really love.
Alessandra Sanguinetti
My mother's coffee table was crucial to my discovering photography. I was 9 years old, just starting to pay attention to books, and on that table and the lowest bookshelves where I could reach, she had books by Dorothea Lange, Chim, Lartigue, Wisconsin Death Trip, a book of The Best of Life, and Boticelli and Caravaggio postcard books. I was enthralled by them, especially Wisconsin Death Trip, which my aunt had given her. Those books incited me to ask for my first camera, which she gave me for Christmas. I haven't really photographed my mother aside from the usual family snapshots. There is one photograph which I have lost, but treasure. I am four years old I think, and we're standing on the street in Buenos Aires and I'm clinging to her leg and she has her hand on my head in a very loving and gentle gesture.