The Future of Leica
An Exclusive Interview with Leica CEO Andreas Kaufmann at RIT's Leica Day.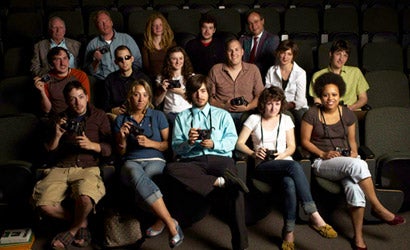 We may earn revenue from the products available on this page and participate in affiliate programs. Learn more ›
Rochester Institute of Technology, and Leica Camera, proclaimed May 6, 2008 as Leica Day. The daylong event, hosted by RIT, was celebrated with speeches, lectures, tours, slide shows, seminars and parties. Andreas Kaufmann, the CEO of Leica Camera in Solms, Germany was there do donate 20 classic Leica M4-2 and M4-P cameras, each fitted with a brand new Leica Summarit-M lens (valued at $50,000), to RIT's School of Photographic Arts and Sciences "to assure that analog photography continues to be a key element of photographic education at the highest levels." Eastman Kodak Company also donated 400 rolls of their new Portra 400NC film to help support the program.
At the event, Kaufmann took the time to give us some insight about what's happening at Leica:
PopPhoto: There's been a persistent rumor on the Internet that there will be a future Leica M rangefinder camera with a full-frame (24x36mm) sensor. Indeed, some Leica fans have speculated that it will be a CMOS sensor rather than the CCD sensor as in the M8. Can you comment on either of these conjectures?
Kaufmann: The Kodak CCD sensor presently used in the Leica M8 is of exceptionally high quality and using a CMOS sensor would be problematic for us because the firmware and software to support it would have to be completely redesigned. From an engineering point of view it doesn't make sense for us, and neither does using a full-frame CCD sensor.
The reason we settled on a slightly smaller sensor with a 1.33 conversion factor is due to the short back-focus of Leica M lenses. By using micro lenses and a very thin sensor cover glass we get excellent off-axis performance with this system without resorting to extensive software.
PopPhoto: In testing the Leica M8, I found its performance to be outstanding at ISO 320 and very good at ISO 640, but with noticeable noise at ISO 1250. Many late-model DSLRs from other leading makers now claim to deliver topnotch performance in the ISO 1600-3200 range. Will Leica do anything to provide enhanced performance at higher ISOs in a future M model?
Kaufmann: The fundamental concept of the Leica M is delivering the pure image captured by the lens, and this is not possible if you adopt the philosophy of using extensive software to massage an imperfect image. When you take such images and drill down into them, you may find certain things you don't like. We are committed to enhancing the performance of all Leica cameras at higher ISOs, but we will do so very gradually.
Basically we provide Leica M photographers with professional caliber low-light performance the traditional Leica way, with our outstanding line of f/2 Summicron and f/1.4 Summilux lenses and the f/1.0 Noctilux. And there will be more to come!
PopPhoto: You have recently announced a smoother shutter release, quieter-firing shutter, and a scratch resistant sapphire glass on the LCD as part of an upgrade program for M8 owners, who can retrofit all these items into their present cameras at a cost of around $1,500 starting in August.
Do you also foresee the possibility of upgrading the M8 with an improved image-capture sensor when one becomes available as has been suggested by some experts?
Kaufmann: So long as the architecture of the M8 is retained in a future model, it is theoretically possible to upgrade the CCD, but that would have to include the whole sensor board and supporting electronics package, not just the sensor itself. The big question is whether it would be economically feasible to do so given our relatively low production numbers that do not permit economies of scale.
Our goal, particularly with the digital M is to create a system with a longer life cycle, and the limits we bump up against are often economic rather than technical. I doubt whether this will be possible with the M8, but if we can do this at a viable cost with a future M camera, we will consider it.
PopPhoto: Do you have any definite plans on expanding the Leica M camera or lens line in the near future and if so can you say anything specific about it?
Kaufmann: We definitely will expand and enhance the Leica M lens line in the near future and there will be some very exciting things shown at the Photokina exposition in Cologne this fall. We will make more detailed announcements on this later this summer, but for the time being all I can tell you is what you already know — high performance wide-angle and ultra speed lenses are a longstanding Leica tradition, and we have been expanding our M line with lenses delivering high performance at more moderate prices to extend the reach of the entire M system. Incidentally we will show something else significant for the M system at Photokina, not just lenses.
PopPhoto: Leica already has a digital SLR, the Digilux 3 that uses the Four Thirds system and is made in cooperation with Panasonic. Will there be a new Leica DSLR shown at Photokina? And if so will it use the Four Thirds system, or are you planning to get into the APS-C (consumer DSLR) or full-frame (24x36mm pro DSLR) arena?
Kaufmann: Again, I cannot say anything very specific until July, but I can tell you we are seriously investigating the possibility of producing one or more true Leica DSLR cameras, possibly in a format other than Four Thirds. Nikon rumors aside, Leica is the only company that now offers both DSLR and digital rangefinder systems, and we know the market wants DSLRs with autofocus lenses. So if this is going to happen we know that our engineers and design partners definitely have their work cut out for them.
PopPhoto: Are there any forthcoming Leica digital point-and-shoot cameras you can talk about?
Kaufmann: As you know Leica point-and-shoot cameras are a joint venture of Panasonic and Leica, and we plan to expand the range going forward to satisfy the demands of the market. I am flattered that this giant world-class electronics manufacturer chose us to partner with, but we have also helped Panasonic achieve its distinctive brand identification by using Leica lenses. The compact Leica D-Lux 3 is a nearly perfect design — you could add a hot shoe or maybe improve the already good lens.
Personally I don't think that cramming, say, 12 megapixels into the sensor and then tweaking the image with software is the way to go. We want to deliver a pure image to the sensor and let the photographer decide. That's why you may see some exciting point-and-shoot developments by the end of next year that reflect the Leica tradition. I'm sorry I can't say more about it now.
PopPhoto: Is there anything else that Leica is working on you can talk about, or any overarching goal for the future of the company under your direction?
Kaufmann: Overall, Leica is presently operating in four distinct imaging sectors, the M system, digital SLRs, lenses, and digital image capture, and our plan over the next few years is to expand substantially in all these sectors at once. It's an ambitions goal that will involve spending more than 30 million euros, which is a lot of money for a medium-sized company.
We are also working on developing high-resolution products for the professional imaging market and we're rediscovering a few traditional product categories that Leica was famous for. To say that all this is challenging is an understatement, and things never roll out as rapidly as one would wish. However with an R&D staff of 90 dedicated people, and a firm commitment to realizing our full potential, we believe we can do it all, and do it to the Leica standard of excellence.