The Fix: How to Tame Midday Contrast
How to tame the harsh contrast of midday and restore a child's youthful glow.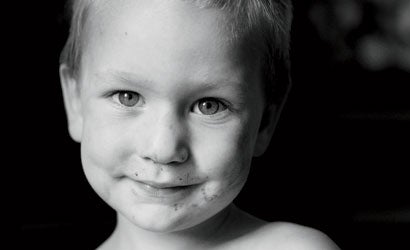 Contrast Falls
Jonas Fields
Menlo Park, CA
The problem: Hooboy, that midday contrast! With the sun nearly overhead in a cloudless sky, an already-contrasty scene gets very harsh. The rocks are losing detail because of all the hot highlights. And the waterfall spray gets completely blown out — which would be okay for spectral highlights, but not for the whole stream of water.
What now? We made a duplicate layer in Adobe Photoshop CS3, then used one of our favorite fix-it tools, the Multiply Blend mode, to tame the contrast and get more detail. Multiply works something like a contrast mask sandwich from back in the film days, if you remember such ephemera. The advantage of the newfangled digital version of the technique is that it can also increase density in predominating colors.
We cropped slightly from the top to get rid of the brightly lit rock above the falls, which we deemed distracting, and to concentrate the view a little more on the falls. This also gets the falls a little more off-center (Rule of Thirds and all that), and reduces the dark area on the righthand side.
Next time: As Pop Photo's frequent Nature columnist Tim Fitzharris keeps telling us, early and late in the day are the best times for scenic shooting. This not only throws more light into the shadows, but the light, even when it's direct, is often softer and warmer. It can add extra dimension, too. Aside from shooting at a different time of day, you can wait for different weather — midday shooting can work with overcast and mist — or wait for a cloud to move overhead. Barring that, you might also try using a polarizer. By reducing reflections, it can sometimes deepen the tone of rocks.
Tech info: Minolta Maxxum 7000 with 35-70mm f/4 Minolta AF lens, exposure unrecorded, probably 1/125 sec at f/8 on Fujifilm Fujicolor Pro 160S. Negative later scanned.
||| |—|—| | Before| After| |
Face Time
Samuel Clint Harris
Brandon, MS
The problem: Photographer Harris notes that his son Gabriel's face "is constantly dirty." That's not a problem for us — in fact, it's quite endearing. We just think this picture is too dark for a child's portrait.
What now? The in-camera monochrome conversion Harris used was okay, but when we tried to adjust contrast/brightness, the tones would get unnatural — the lips would get too light, for example. So we went to a color version from a RAW file he had captured simultaneously, normalized its color balance with Curves in Adobe Photoshop CS3, subtracted a little red and yellow, as it was overly warm, then went back to monochrome with CS3's B&W converter. (We sometimes insist on doing things the hard way.) We then brought up the highlights.
Next time: This comes under the heading of aesthetic decision. Both versions could be considered valid, but we think kids should have, well, a youthful glow. What do you think?
Tech info: Canon EOS 30D, 50mm f/1.8 Canon EF lens, 1/160 sec at f/3.5, -0.3 EV at ISO 800. Camera B&W mode with green filter effect.