Fish-Eye View
How to turn a dead fish into a thing of beauty.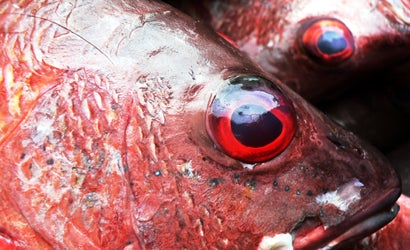 "If you can get over the fact that they're dead fish," Deborah Lattimore says, "they're really beautiful." Maybe it's from growing up on the water in Louisiana and a general fascination with the "transition to death process," but Lattimore has never been squeamish about the glittering bodies. Which is good for her — this enchantment helped launch her career.
Although the 51-year-old San Francisco resident has been shooting since her grandfather gave her a Polaroid camera when she was four years old, until October 2004, her photography was limited to pictures of her family. That changed when her kids bought her an Olympus D-540.
Walking on the beach shortly after, Lattimore saw a dead fish that she thought was "gorgeous" and pulled out her new digicam. "I took about a hundred shots of just that one fish," she says.
The fascination graduated to a full-blown project a few months later, when she ran across online photo community Flickr.com and signed up for an account. Within weeks, Lattimore had built up a network and, to her surprise, was getting requests from other members to buy her work.
Deborah Lattimore
>
Fish-Eye Gallery
>
Homepage
Within two years, she has gone from an amateur point-and-shooter to a pro, selling images and prints both locally and online, as well as participating frequently in local art shows and working as an active member of the Bay Area Photographers Collective.
"Flickr gave me the confidence" to pursue the fish project, which, Lattimore says, is one of her biggest sellers. Looking for subjects on terrain outside the beach, she began to take her Olympus to the local farmers' market, where she uses the camera's Super Macro mode on the fish being sold at booths.
Working with a digital compact, Lattimore's biggest challenge is lighting, which is hard to control under vendors' awnings. To get around this, she says, "I become friends with the vendors. They let me borrow fish and take them into the daylight, and I give them photographs."
One of the merchants was so impressed that he bought 11 prints and has them framed in his downtown fish store.
Other times, she'll buy the fish and bring them home, freeze them, and shoot the transition as they thaw out, to record the way the melting ice crystals change the levels of the light and the depths of color. The fish eyes she's posted on Flickr have captured an audience around the world.
Though Lattimore is now turning toward other projects (cemeteries and dead flowers — "notice a trend?" she asks — along with water reflections and anything macro), she is also constantly looking for new fish eyes. Even on vacation, she's scouting.
"I'm forever looking for fish now," Lattimore jokes. "I'd love to go around the world and shoot. Travel and shoot fish. That's kind of weird, right?" Not with shots like these.