Find the Perfect Wedding Photographer
Tips from a professional planner for finding your perfect wedding photographer.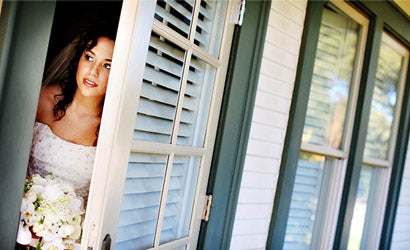 Take a look at the television, magazine newsstands, or the Internet, and you'll see that weddings have become big business. In 2005 the Fairchild Bridal Group reported that the average wedding cost around $30,000. The fastest growing cost was photography, which had shot up 103 percent since 1999. The group found that the average cost for wedding photography then was $2,500; just three years later many couples pay double or triple that.
For that kind of investment, you want to get the most for your money, but where do you start? With digital cameras so cheap and easy to use, anyone can call himself or herself a wedding photographer, so how do you know who will do the best job? We decided to tackle those questions by bringing together a recently engaged New York City couple and professional wedding planner Lindsay Landman, whose Lindsay Landman Events is also based in the city.
Ted and Margaret got engaged in January and are planning their wedding for mid July. They want to keep the event casual, because they have a limited amount of time to plan and because they're both in their late 30s and have relatively down-to-earth expectations. They think they'll get about 100 adults and 25 kids at Cipriani on 23rd in New York City, where they'll have the ceremony, a cocktail hour, and then buffet dinner.
After getting the basics out of the way, Landman asked Ted and Margaret how far they've gotten with photographers. "We looked through some Websites and got kind of overwhelmed," Ted says. But they know what they want and don't want, and as Landman points out, that's the most important thing. What they don't want are a bunch of the traditional shots showing the rings and the dress and the bouquet. Instead they are looking for a photographer who will "be in the background" and who has a more documentary or photojournalistic approach.
Style and personality should be a large part of the equation when you're choosing a wedding photographer, but Landman says there are two other big consideration. The first is time. Decide how much of it you want to dedicate to having a photographer snap away and when you want him or her to it: before the ceremony or during cocktail hour. Margaret and Ted want to keep things simple, but Landman advises that even if formal family portraits don't appeal to them, they should get a few just to satisfy the parents and grandparents.
Last but not least, there's the price. Landman always pushes couples to make a budget, but Margaret and Ted admit they don't have one. She suggests that when they have one, they should calculate about 10 percent for the photographer. Prices for wedding photographs can vary widely, so Landman suggests focusing on the end product. "When the wedding is over, what do you want to see?" she asks. If you want a beautiful album with many prints created by the photographer, you're looking at $1,000 bare minimum per album. But if you're a motivated, crafty kind of person who will edit images yourself and create your own album, you might be able to cut costs by just getting a DVD from the photographer. Just remember that if you think you'll change your mind and want an album later, it's better to order it up front, since you're likely to get a better deal.
If you're honest with yourself about what you want in these three categories, you'll end up with the right photographer, Landman says. The next step is to start looking. It's best to find someone through a recommendation from a recently wedded friend or from your other wedding vendors. (Just be aware that if your venue has "recommended photographers," they have paid to be on that list.) But when those options are exhausted, check out online wedding destinations such as TheKnot.com, WeddingChannel.com, and Brides.com, which have photographer listings.
So they don't get overwhelmed again, Landman has a couple tips to help Ted and Margaret narrow their Web searches. First, look for wide-ranging portfolios that feature at least six-to-ten different brides. Second, it is important that you see images in a photographer's portfolio that are similar to ones you'll expect from your wedding. For Margaret and Ted, that means looking for great and also shots made inside dark venues with little natural light, since that will be the situation at Cipriani.
Landman suggests that once Ted and Margaret find a handful of potential photographers, they immediately call to check availability. Two months out is pretty late to be scheduling a photographer, so it's best not to get their heart set on someone only to find out they're booked into next year.
It's never a good idea to book a photographer off a Website, though, Landman reminds couples. The photographer is the vendor who you will be interacting with more than any other, and the last thing you want is for them to add to the natural stress of the day. You also want to be really comfortable with them, because that way they'll be able to capture the intimate moments you want to see when you look back on your wedding. Margaret and Ted should plan to meet face-to-face with two-to-three photographers, and it's good to take notes or get quotes in writing to remember what each one offers.
A few (of many) good questions to ask during the interview:
• How many weddings have you shot? Not how long have you been shooting, since they could have shot one wedding 20 years ago and none since.
• Can we see a completed album or a whole take from one wedding? After all, anyone can find 20 great photos to put on a Website; you're looking for consistency over time.
• Who will own the images and for how long?
• Will the images be available online for friends and family to view and possibly order? Pictage.com and Collages.net are popular.
• Will you be working with an assistant, and, if so, will that be an additional charge?
• How much equipment do you usually bring to a shoot? Landman points out that a photographer who travels with seven suitcases full of lights and lenses will significantly affect the flow of the wedding.
Once you've settled on a photographer, take a look at this article from TheKnot.com to make sure your contract in order. With these tips and a little planning, you'll have all your wedding photo details squared away in advance and the only thing you'll have to do on the big day is… smile!