Emerging Service: Outsourced Editing
New online editing models let photographers hand off post-processing while keeping creative control.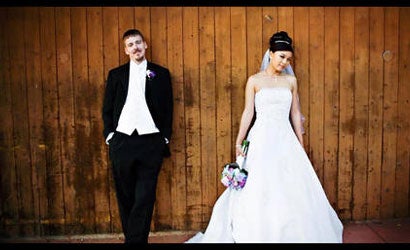 Digital imaging has taken huge steps forward in recent years — making photos easier, faster, and cheaper to produce. But many professional photographers feel like they've taken one step forward and two steps back. More images mean more time in front of a computer and less time behind the camera.
"Digital is a necessary evil, but it's robbing people of their lives," says Jared Bauman, a cofounder of the online outsourced editing company ShootDotEdit.com.
High-volume shooters, especially wedding photographers, need help selecting, editing, and archiving images. But they are understandably hesitant to hand over so much creative control. Now a new generation of companies is making outsourced editing more palatable with a generous helping of personalization.
The leaders in this field, ShootDotEdit and Mylavalu.com, were both started by wedding photographers who wanted to outsource postproduction but were uneasy about existing online options such as Mpix and Printroom. According to Bauman, he and his friends used to be "bummed out and bogged down" with the hours of digital postproduction they found themselves caught up in. So in early 2007 when his company started offering services that lightened that load while retaining creative control, the response was overwhelming.
"We haven't done any advertising whatsoever, but as soon as we opened our door, in March, we had clients," Bauman says. "There's definitely a demand for this, and the response we're getting is almost consistently amazed, incredulous, and 'Thank God you're around.'"
ShootDotEdit, in particular, goes to great lengths to capture an individual photographer's style. Each client creates a personal profile including preferences for color temperature, artistic vision, style of edits (classic vs. avant-garde), black-and-white values, brightness, and organization. Michael Connell from Lavalu says his company also uses "less scientific methods," such as browsing the photographer's Website and blog, to key in personal style.
When photographers submit images via flash drive or DVD, ShootDotEdit and Lavalu use these profiles to perform a range of functions, from rough edits, which glean the best photos of the bunch, to more complicated Photoshop enhancements. Within a matter of days, images are returned to the photographer on a DVD or uploaded to a specified server. Because both companies also recognize the importance of continuity, they guarantee that only one editor works on an entire project. And ShootDotEdit takes it a step further by striving to have each client work consistently with only one editor.
"Our editor gets to know the photographer that much better," Bauman says. "It will be a process to get the photos exactly the way you want them, but we want to hear constructive criticism, so the next ones will come back even better."
Dane Sanders, a well-known California wedding photographer, couldn't agree more. Sanders is so pleased with his outsourcing to ShootDotEdit, he believes the industry will see more of this type of service in the future.
"I knew there were other editing houses out there, but where I get nervous is if they don't treat you with any customization," Sanders says. "Without it, you're dead in the water."
ShootDotEdit offers package deals from $295 to $595, while Lavalu charges per photo for rough edits, RAW processing, and color correction, plus an hourly fee for Photoshop enhancements beyond simple color correction ($55 for the first hour, $40 thereafter). Despite the cost, Bauman believes that photographers can actually save while spending, since the time that would have been spent editing — ten to 20 hours per wedding, according to ShootDotEdit's informal survey — can now go toward shooting.
"We've found that our service costs about a fifth to an eighth of what the photographer was paid for the event," Bauman says. "You make up for it if you can get more work during that saved time."
But there is one catch: The demand for these personalized services is so high that both ShootDotEdit and Lavalu have waiting lists. According to Bauman, his company can only gradually increase capacity to avoid compromising quality. So if a new client expresses interest, both sites will provide an approximate date for when they can be welcomed into the fold — which was more than two months for ShootDotEdit and about four weeks for Lavalu at time of print.
With this kind of demand, it seems inevitable that personalized editing houses like these will spring up more and more — and the photographers who are relying on them will shoot more than just weddings.