Emerging Artists 2007
These 15 trailblazing imagemakers can help us find a clear path through today's uncharted photographic wilderness.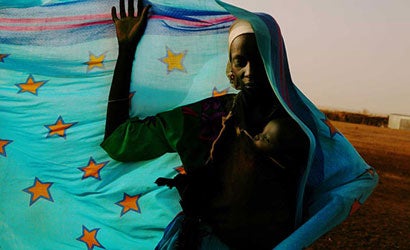 Sometimes a question is so difficult it can only be answered by consensus. So when we set out to find today's top emerging photographers, we knew we'd better cast our net as wide as possible.
First we tapped dozens of photography professionals — including photographers, curators, educators, editors, and agents — to give us their suggestions. Then our staff scoured photographers' Websites and called in additional art. From an initial list of approximately 100 nominees, we chose 28 finalists, each of whom was asked to submit 15 images.
Those portfolios were considered by our five judges: Michelle Bogre, chair of the photography department at Parsons The New School for Design; Brian Paul Clamp, owner of the ClampArt gallery in New York; David Maloney, a top representative at the Art Department agency; Deborah Mauro, American Photo's art director; and noted commercial and editorial photographer Platon. From their selections came the 15 photographers featured in the following pages.
Throughout this process, we repeatedly encountered one obvious but difficult question: What makes a photographer "emerging"? We weren't satisfied to answer with the usual set of strictures about age or years on the job or number of books published. Instead, we wanted to make the classification more active, speaking to where a photographer was headed rather than what was already on his or her résumé. "Emerge," after all, is a verb, meaning "to come forth into view or knowledge." Accordingly, we looked for talented photographers who are poised to reshape the industry landscape. By highlighting them in the following portfolio, we hope to help them take the next step.
Emerging Artists 2007Jehad Nga Nicolai Howalt and Trine Søndergaard Donald Weber Shen Wei Amy Stein Carlos and Jason Sanchez Camille Seaman Mikhael Subotzky Matt Eich Alexandra Catiere Michael Christopher Brown Lyric Cabral Steven Laxton
And what do their images say about the path ahead of us? For one thing, there is strong work coming from the photojournalism camp. Despite pervasive grumblings that documentary photography is dead, the access and honesty achieved in the work of Lyric Cabral, Matt Eich, Jehad Nga, Mikhael Subotzky, and Donald Weber suggest otherwise. Portraiture, on the other hand, is widely considered to be in a state of revival. Looking at Nicolai Howalt and Trine Søndergaard's before-and-after shots of teenage boxers and Shen Wei's serene Almost Naked series, it's easy to see why.
And in an age of perpetually blurring lines, it's not surprising that this generation of photographers is eager to explore the questions that flourish in the gray areas between previously discrete worlds. In Camille Seaman's epic glacier images, in which she tries to find the individuality in each island of ice, and Steven Laxton's abstracted nudes, where bodies take on the appearance of landscapes, we sense the growing public sentiment that man and nature are indivisible.
Perhaps most telling are the photographers who address the dissolving distinctions between artistic "platforms" and genres. Alexandra Catiere's patinaed fashion work recalls 19th-century tintypes. Michael Christopher Brown's images of China's capitalistic metamorphosis come from a documentary tradition but read like paintings with their bright colors and skewed perspectives. The Sanchez brothers evoke a narrative outside their images by employing cinematic staging in their photographic tableau. And Amy Stein challenges the notion of immediacy by re-creating news stories of animal-human encounters.
Together, these 15 photographers serve as a weather vane for the industry — pointing toward a future where images, through their pervasive impact and sheer versatility, are increasingly capable of addressing today's most difficult questions. — Miki Johnson