Emerging Agencies: Noor, Atlas Press and Vaughan Hannigan
In an industry where the clouds are perpetually gathering, these three new agencies are lighting the way forward.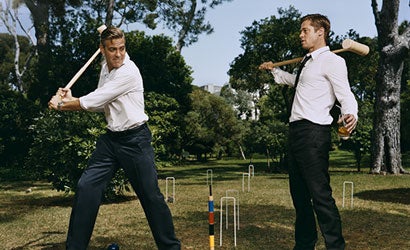 While the photo industry has seen unprecedented consolidation in recent years, a small number of creative professionals have emerged from the pepper mill of Corbis and Getty armed with intimate knowledge of how the big agencies work and new ideas to improve on their models.
Vaughan Hannigan/August
In a recently renovated office in Manhattan's East Village, just across from Grace Church on Broadway and 10th Street, Bill Hannigan and Thea Vaughan are building a business that should make the giants of the photo industry quite nervous.
Their two new ventures — the artist representation agency that bears their names and August, a celebrity-portraiture syndication business — utilize the skills they gained while working for top agencies Corbis and MediaVast, but add a new twist.
While the demise of Getty and Corbis is certainly a long way off, a bit of unraveling has already begun. Corbis recently decided to shut down the rep business Vaughan started, and in June Getty shook up the management of Orchard, its boutique assignment division.
"It doesn't seem like the big companies have been able to get their hands around the representation side [of the business]," Vaughan says. "They're also less patient with letting things grow and develop." It's true that artist representation is a relationship-based business, and one built on customer service. Big guys like Getty and Corbis sometimes seem better equipped for the mass-distribution game.
Vaughan and Hannigan aren't doing anything revolutionary, just providing good customer service in a timely manner. Vaughan Hannigan launched with just four photographers: Martin Schoeller, Jill Greenberg, Brad Harris, and Giles Revell. The photographer-to-agent ratio is an unusually high two to one, and Vaughan says she wants to cap it at six to eight photographers to keep the emphasis on quality. August, meanwhile, should be syndicating around 25 celebrity-portrait photographers within the next year. Both Vaughan and Hannigan plan to be in the business for the long haul, so they want to attract photographers with career longevity.
"I think clients really latch on to photographers who are constantly evolving and pursuing personal work, constantly bringing new ideas to the table," Vaughan says. "Money jobs come and go but that longevity is going to come from what they're doing on their own time."
The main thing Hannigan learned from his tenure at Corbis was the importance of a strong technology foundation, and on a recent office visit he proudly showed off the state-of-the-art digital asset management system used to power August. Built to their specifications in less than three weeks by Los Angeles firm DigitalFusion, the system is 100 percent Web-based and built for speed. Hannigan says the institution of a Web-based publicist approval process has sped up the turn-around time on images considerably, so the process from capture to posting to the Website can now take less than a week.
"This would have been so cost-prohibitive, five years ago, we could never have done it," says Hannigan, who is confident August's technology-fueled speed will give it an advantage in today's media-driven climate.
Both Vaughan and Hannigan studied photography at art school, so to be executives at a major company took them awhile to get used to. Now that they're out of the corporate world, both say they're spending more time doing what they love. "I don't think I've launched my PowerPoint once since we started this," Hannigan jokes.
In Arabic, the word "noor" means "light," or "the act of moving towards the light." It's also the name taken by a new agency comprising nine of the world's top photojournalists: Samantha Appleton (United States), Jodi Bieber (South Africa), Philip Blenkinsop (Australia), Pep Bonet (Spain), Jan Grarup (Denmark), Stanley Greene (United States), Yuri Kozyrev (Russia), Kadir van Lohuizen (The Netherlands), and Francesco Zizola (Italy).
As Greene sees it, the name Noor fits with the group's mission to "shed light on the cockroaches," the dark places many would rather not see — genocide in Darfur, war in Iraq and Chechnya, pollution and Third World conditions in China.
Similar in principle to collectives such as Magnum and VII, Noor is owned and operated by its member photographers, each of whom lends a distinct visual style to documentary photography. Although van Lohuizen and Greene helped spearhead the initial formation, each member, including managing director Claudia Hinterseer, has an equal say in the agency's affairs, and future additions to the group must be approved unanimously.
"We feel we have an advantage by starting an agency now," says van Lohuizen. "Lots of old agencies struggle with their part — digitizing archives, having too big a staff and overhead. Being new is actually an asset."
Although most of Noor's photographers still work primarily with magazines, the group recognizes that collaborations with NGOs and nonprofits also will be vital to its success. Frustrated with the mainstream media's lack of commitment to issue-driven photojournalism, Greene says, Noor's photographers have no choice but to turn to NGOs to help fund the stories they are passionate about.
For Greene, Noor is as close as it gets to the ideal agency Robert Capa envisioned when he helped found Magnum 60 years ago.
"Each of us brings something to the table," Greene says. "The people in power, they're going to give us the jobs because they know we can get it done. There's not one person in our group who can't rise to the occasion and get the job done. That's what Capa wanted, a group of people ready at a moment's notice to go to hot spots and get the story."
Atlas Press
Atlas Press, founded by James McGrath and Korean photojournalist Sungsu Cho, hark back to the glory days of the 1980s and early '90s when agencies like Sygma, Sipa, and Gamma dispatched photographers to news events around the world.
McGrath, the director of the new venture, learned from industry legends Eliane Laffont at Sygma and JP Pappis at Gamma and Polaris that in the agency business, success derives from hard work and determination.
"You have to be passionate about this business and probably a bit crazy," McGrath says, explaining his 24-7 approach to the business. "It's not uncommon for my wife to wake me up at 3 in the morning and tell me the phone is ringing."
Atlas is built around a core group of photojournalists who have already helped establish the agency's identity as a scrappy upstart. In addition to co-founder Cho, Atlas's current roster includes Aaron Huey, Patrick Andrade, David Y. Lee, Steve Hebert, Dave Yoder, and Donald Weber, winner of a 2007 Guggenheim Fellowship, who is featured in our Emerging Photographers portfolio.
"We also rely heavily on contributing photographers to fill in the blanks when news breaks in an area where we do not have a photographer," McGrath says.
Atlas also distinguishes itself by setting its prices with regard to external factors, such as what a photographer went through to get a picture. If a photographer risks his life for a picture — as Huey did recently for a story on poppy eradication in Afghanistan — it shouldn't sell for $50. To help support this policy, Atlas has structured its positions to include aspects of both production and sales. "It makes you a better salesperson if you have an intimate knowledge of what the photographer went though," McGrath says. "And it's even better if you actually care about the photographer."