Edward Burtynsky's Silent Persuasion
Edward Burtynsky puts environmental impact in perspective.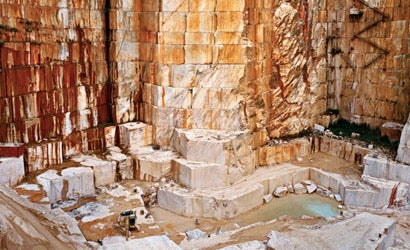 Although Edward Burtynsky routinely eschews polemics about environmental issues, the impact of his oversize images on the conservation debate is undeniable.
With his large-format photographs of city-size tailings fields or mammoth mountains of tires, Burtynsky makes images that are both beautiful and disturbing. They draw us in with their careful composition and brilliant colors, then force us to confront the overwhelming impact our continuous consumption has had on the earth's surface.
And although the Canadian photographer has donated his pictures to run as ads for WorldChanging.org, a positive-reinforcement Website for conservation efforts, he still refuses to tell people what they "should" take away from his work. "That may allow them to look at something they've never looked at before," he contends.
Burtynsky's most recent book looks back at a project that returned him to this kind of work after a hiatus to set up his photo lab and studio, Toronto Image Works. Quarries (Steidl, $80), compiled from images made over the last 15 years, began as his attempt to capture the negative-space equivalent of a skyscraper and prompted his first shoots in countries where he didn't speak the language.
"It made me realize I can overcome the challenges of working internationally," says Burtynsky, who is now known for his work around the world. For his 2006 book, China, he gained incredible access to the country that will increasingly define humanity's global impact. And this year filmmaker Jennifer Baichwal gained access to Burtynsky's own creative process, creating the acclaimed documentary Manufactured Landscapes, named after another of the photographer's popular books.