Editor's Choice 2008: Tripods and Camera Supports
Manufacturers are using image stabilization to attack camera shake and the blur it causes, but when it comes to sharpness, camera support is your best bet.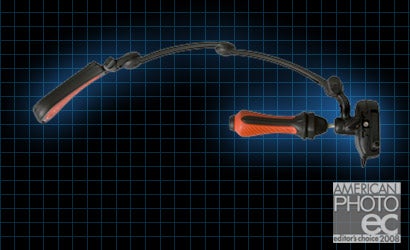 We may earn revenue from the products available on this page and participate in affiliate programs. Learn more ›
D-SLR image stabilization is a photographic blessing, but there's still no substitute for a physical support to keep your camera steady. If anything, the technology has broadened the scope of tripods and other kinds of camera supports, as this year's very mixed group of Editor's Choice picks demonstrates. It's important to note, too, that these products reflect still photographers' increasing interest in and use of video: Many of them will do just as good a job holding a camcorder.
Camera Support of the Year: Manfrotto Modosteady
If you shoot both stills and video, don't leave home without this ingenious support system. The Modosteady is actually three stabilizing devices in one, including a poor man's SteadyShot: Mount your camcorder, grab the handle so that the counterweight hangs below it (as shown here), and your tracking shots will be Goodfellas-smooth. If you need a less langorous support (for following fast-moving subjects), just turn and twist a few sections and the Modosteady converts into a gunstock-style shoulder brace. The brace's mounting platform is set forward from your face, since it's designed for composition on a camcorder's flip-out LCD screen, but there's no reason it can't steady a D-SLR in live view mode. The device also converts to a tabletop tripod, serving both still and video purposes. About $185.
Other Top Tripods and Camera Supports
Gitzo Traveler 1550T
Crunching a tripod to a reasonable size and weight for footloose travel usually means compromising its stability. This model is the rare exception. Its five leg sections and unique folding design — which permits the head to swing 180 degrees so that it nestles between the legs — reduces its closed length to a remarkable 14 inches. Yet it's exceptionally stable for its size, safely and securely supporting camera-and-lens combinations up to ten pounds thanks partly to the rigidity of its carbon-fiber composition and Gitzo's knurled leg-locking collars. (The collars now incorporate an anti-rotation system that allows you to loosen them all at once, for leg extension in one continuous pull.) Carbon fiber also keeps the tripod light, at just over two pounds. The new tripod's maximum height is 58 inches, and by removing the reversible center column and screwing its removable camera platform straight into the top of the legs, you can spread it wide enough to get your camera less than nine inches from the ground. About $640.
Kirk Fat Bag
It may resemble your grandmother's overstuffed chair, but this is actually the most versatile beanbag we've seen. Like any other beanbag, it can be used to steady a camera on an available surface when there's no time to set up a tripod. But its unusual shape features an inverted V at the bottom that allows it to sit securely on the sill of an open car window — letting you shoot on the fly without decamping from the car and offloading your gear. A concave, foam-backed leather top surface is the perfect seat for a big telephoto. Despite its dowdy looks, the Fat Bag is made of double-stitched cordura nylon with a water-resistant backing. You can get it empty and stuff it yourself, or Kirk will do it for you — with crushed walnut shells, not beans. About $43.
Gorillapod SLR-Zoom
Call it the Gumby of the tripod world. This quirky tool has three articulated legs, each a series of rubber-ringed ball joints that allow them to be wrapped around almost anything — turning whatever's convenient, from railings to stop signs to tree branches, into a stabilizing platform. That means you can often dispense with a heavy tripod and still shoot blur-free in lower light than handheld shooting would allow. You could also use a lower ISO setting (and slower shutter speed) for higher image quality and reduced noise; a smaller aperture (and slower shutter speed) for better depth of field; or a slower shutter speed for creative effect (to blur a moving subject but keep its surroundings sharp). There are actually three Gorillapod models, and this latest is the largest, able to support a six-pound combination of D-SLR and lens, yet weighing just half a pound and measuring less than 10 inches long. About $50.
Best Buy: Induro Adventure Series
Induro tripods impressed us with their design, solidity, and craftsmanship when they came onto the market just a couple of years ago. Available in both carbon fiber and aluminum alloy, these pro-quality tripods had a price to match. Induro's affordable new Adventure tripods are aimed at less capitalized photographers, offering much of the quality and many of the same features as existing Induro models at a moderate price. You can get them in three sizes, with maximum heights of 57, 62, and 66.5 inches: The 57-inch model weighs just under three pounds and folds down to 20.5 inches; the 62-inch model weighs a half pound more and folds down to 26 inches; and the 66.5-inch model weighs four and a half pounds and folds down to 28.5 inches. (The small model has four leg sections, the other two, three sections.)
All three models share the same basic features. These include flip-style leg locking levers, for easier opening and collapsing; a size-matched, single-lock ball head with quick-release system and plate; and a reversible center column, good for getting close to the ground and grooved to prevent unwanted rotation. Whether you're shooting low or high, each leg's angle can be individually adjusted (to 24, 55, and 80 degrees) for placement on uneven ground. The low prices even include a carrying bag, something we used to have to buy. From about $135 to $180.
Cullman 4405 Monopod/Tripod
Built-in D-SLR and D-SLR lens image stabilization have changed the way many photographers think about low-light shooting, but the technology doesn't lessen the value of a tripod — not just for sharp results with long exposures and more precision with composition, but also for effective supertelephoto shooting, or just that extra edge in sharpness that can make your pictures stand out. Image stabilization also arguably makes the monopod an even more versatile tool — a support you can use with shutter speeds too slow for handheld, image-stabilized shooting but that previously would have required a tripod.
Enter the Cullman 4405, a high-quality black-anodized tripod with a moderate price made even more attractive by the fact that you can slide out its center column and use it as a full-height monopod. Though it weighs less than four pounds due to its metal-alloy construction, the 4405 can hold a camera and lens weighing up to 17 pounds. That sturdiness is aided by center struts and hexagonally-shaped legs, the latter also preventing annoying leg rotation. (While you're at it check out the biggest tripod in the Cullman line, the new 3150 XXL, which has an extended height of seven feet!) Under $200 (model 4405).
Manfrotto 561B Fluid monopod
A bigger version of Manfrotto's popular 560B fluid monopod, this new model has a bit of tripod in it — three small retracting legs that extend from the monopod's foot. They may look odd, but these little projections add to the monopod's stability and, working with a built-in fluid cartridge, they make panning smoother if and when you shoot video. In fact the 561B is supplied with a head that's a variation on Manfrotto's 701RC2 video head. That head brings the total weight of the monopod, which can support almost nine pounds, to a little over four pounds. If that sounds a bit heavy, keep in mind that its four leg sections can extend to an exception height of 79 inches. About $250.