Editor's Choice 2008: Standard Compacts
This is the single biggest category in cameras, but models like the wide-angle, HDTV-compatible Samsung NV24 keep it interesting.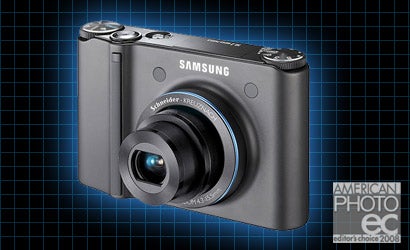 What do you call a digital camera that's neither an SLR nor a superzoom nor an "ultraslim" compact? For lack of a sexier term, we've settled on standard compact. That makes these cameras sound like photography's version of the sensible sedan, but in fact this is the biggest category in cameras, spanning everything from $50 bubble-pack specials to the sophisticated models here, this year's top choices.
Smaller than superzoom compacts, standard compacts accommodate more features and overall imaging power than their ultraslim cousins. Some even accept accessories from their makers' D-SLR systems, such as hotshoe-mount flashes and off-camera TTL cords. Standard compacts are also usually more comfortable to hold than ultraslims, and unlike the latter they often still have optical finders — allowing eye-level viewing for steadier shooting than is possible with now-familiar arms-length LCD-screen composition. Last but not least, because they aren't trying so hard to stay small or achieve superzoom-level magnification, standard compacts are often less expensive than other kinds of point-and-shoots with otherwise comparable features.
Standard Compact of the Year: Samsung NV24
If there's anything more useful in a compact camera than having a 28mm-equivalent focal length, it's having a 24mm-equivalent focal length — at least if you're photographing the city, a wide-open landscape, or in a small interior. Twenty-four millimeters is where the Samsung NV24's lens starts zooming, ending up at the equivalent of 86.5mm — a moderate tele focal length long enough to minimize apparent distortion in tight portraits.
If that snug interior you're shooting is dimly lit, you're also in good shape. At 24mm, the NV24's zoom has a maximum aperture of f/2.8, which along with the NV24's lens-based image stabilization and top sensitivity of ISO 3200 helps minimize blur. (The lens slows to a not-so-bright f/5.7 at the long end.) For videos of spaces wide or claustrophobic you have the option of 1,280 x 720 pixels at 30fps, with high-definition 720p HDMI output to an HDTV through an accessory cradle (about $50). And if your HDTV happens to be a new Samsung model, you can navigate through the camera menus using the television's remote control.
The Samsung NV24's viewing screen is probably the first on your block — an active-matrix organic LED (AM-OLED) rather than a conventional LCD. AM-OLEDs have a wider color gamut and faster "redraw" (the speed at which image-forming elements actually change), and can be made thinner too. The buzz among videophiles is that the flat-screen TVs of the future will be OLEDs. (Samsung is already showing some OLED TV prototypes.) Adding to the multimedia savvy of the NV24 is a Multi-Slide Show mode that lets you create transitions in-camera.
The array of buttons along two sides of the NV24's screen may seem intimidating at first, but they actually make settings simpler and faster by reducing the amount of menu-scrolling you have to do. One pushbutton mode is Self Portrait, in which the shutter won't fire unless a subject is in the center of the frame. That may not be the best composition, but at least you won't crop off your own head.
At a Glance: Samsung NV24
• Zoom range: 3.6X • Resolution: 10.2 megapixels • LCD screen: 2.5 inches • Top firing speed: 7fps • Top sensitivity: ISO 3200 • Image stabilization: Yes (lens-based) • Price: About $350
Other Top Standard Compacts:
Canon PowerShot G9
The PowerShot G9 is a D-SLR wannabe: All that seems to be missing is a pentaprism viewfinder. Successor to the somewhat stripped-down G7, the G9 gets a horsepower boost from its new 12.1-megapixel sensor, a big three-inch LCD screen, RAW and RAW+JPEG capture, a hotshoe compatible with E-TTL II Canon Speedlites, and improved image stabilization (IS). The latter now includes a special mode for panning that limits stabilization to just the vertical axis, as in IS lenses for EOS SLRs. Even face detection rises to a new level with the G9. The camera can track a selected face in a group of faces, and, in playback, automatically zoom to magnify faces in the frame.
The G9's zoom has the same 35-210mm (35mm equivalent) range and f/2.8-4.8 speed as in the G7. A well-regarded feature of the included Canon software is Adaptive Noise Control, which lets you control the degree of noise reduction during conversion of RAW files in order to minimize loss of sharpness. Auxiliary lenses (wide, macro, tele) and an underwater housing are available for this powerhouse compact.
At a Glance: Canon PowerShot G9
• Zoom range: 6X • Resolution: 12.1 megapixels • LCD screen: 3 inches • Top firing speed: 1.5fps • Top sensitivity: ISO 1600 (3200 at reduced resolution) • Image stabilization: Yes (lens-based) • Price: About $460
Fujifilm FinePix F100fd
The latest F-series FinePix gets a next-generation image sensor and processor designed to significantly expand an image's dynamic range. The camera also goes wide with a 28-140mm (35mm equivalent) f/3.3-5.1 zoom. Its second-generation face detection not only detects faces head-on or in profile but upside-down or tilted at any angle — good for kids on a jungle gym. For subjects too old for such fun, Portrait Enhancer minimizes wrinkles and blemishes. Can Botox Mode be far behind?
The F100fd's Dual Shot mode takes two images in quick succession, one with and one without flash; you can pick the better one, or keep both. If your subject suffers from red-eye in the flash version, not to worry: The camera does red-eye removal on the fly. And when it comes time to transfer images, you can do so without wires or dock to any device compatible with the IrSimple infrared standard.
At a Glance: Fujifilm FinePix F100fd
• Zoom range: 5X • Resolution: 12 megapixels • LCD screen: 2.7 inches • Top firing speed: 5fps • Top sensitivity: ISO 3200 (12800 at reduced resolution) • Image stabilization: Yes (sensor-based) • Price: About $380
Kodak EasyShare Z1085 IS
Few compacts have offered so much capability at a price as low as Kodak's EasyShare Z885, a camera that posted excellent image quality results in Popular Photography's lab tests. The new EasyShare Z1085 IS certainly does, though, even adding two megapixels and in-lens image stabilization to the Z885's long list of features.
Like the Z885, the Z1085 has a noisy but usable ISO 8000 setting; together with image stabilization and a relatively fast Schneider 35-175mm (35mm equivalent) f/2.8-5.1 zoom, this makes available-candlelight photography perfectly viable. Easy-to-use manual controls inherited from the Z885 invite such experimentation.
The Z1085 can capture stills or 1080p video in 16:9 wide-screen format and output either one to an HDTV in HD format. Small-scale sharing is possible too, though: You can save downsized versions of your favorite pictures in the camera's internal memory, making it a sort of digital wallet.
At a Glance: Kodak EasyShare Z1085 IS
• Zoom range: 5X • Resolution: 10 megapixels • LCD screen: 2.5 inches • Top firing speed: 1.7fps • Top sensitivity: ISO 3200 (8000 at reduced resolution) • Image stabilization: Yes (lens-based) • Price: About $210
Nikon Coolpix P5100
Another compact that aspires to D-SLR sophistication, Nikon's magnesium-bodied P5100 upgrades the Coolpix P5000 with a jump to 12.1 megapixels (from 10.1 megapixels) and an improved face-detection system (one that sorts out up to 12 faces in one frame). Digital SLR-style features include a dedicated hotshoe that supports i-TTL Nikon Speedlights such as the SB-800; manual and priority exposure controls; and in-lens image stabilization, the latter borrowed from Nikon's Vibration Reduction (VR) SLR lenses.
The P5100 adds red-eye removal to adjustments that already include in-camera image cropping and D-Lighting, Nikon's technology for increasing shadow detail without blowing out highlights. The lens remains a 35-123mm (35mm equivalent) f/2.7-5.3; it accepts front-mounted wide-angle and telephoto supplementary lenses that spread the focal length range to the equivalents of 23.5mm and 369mm respectively. The P5100 even performs a clever software trick with the wide-angle converter: real-time correction of barrel distortion, the bowing out of straight lines near the edges of the frame. The camera manages to fix this without visibly reducing image quality.
At a Glance: Nikon Coolpix P5100
• Zoom range: 3.5X • Resolution: 12.1 megapixels • LCD screen: 2.5 inches • Top firing speed: 1fps • Top sensitivity: ISO 1600 (3200 at reduced resolution) • Image stabilization: Yes (lens-based) • Price: About $400
Best Buy: Pentax Optio M50
Yet another all-purpose compact that breaks through the 3X ceiling, the Optio M50 zooms from 36-180mm (35mm equivalent). It also does face detection one better with a Smile Capture mode that fires the shutter only when it detects a smiling face. And it corrects red-eye automatically.
In case you can't decide which mode to use, the camera's Auto Picture setting will evaluate what's happening in the scene and automatically pick one of six shooting modes. (Part of that analysis includes determining if there's a moving subject that needs focus tracking.) But the M50 has one of our favorite things ever in a compact camera: Its panorama mode provides onscreen templates for composing three pictures, then stitches the finished shots together automatically, in-camera — no software or computer required.
At a Glance: Pentax Optio M50
• Zoom range: 5X • Resolution: 8 megapixels • LCD screen: 2.5 inches • Top firing speed: 1.5fps • Top sensitivity: ISO 3200 (6400 at reduced resolution) • Image stabilization: No • Price: About $230
Ricoh R8
Though it's easy to be impressed by the R8's zoom range, the longest in this group, the camera also wows us with sheer quality. Its big LCD has 460,000 dots, about twice the number of a typical screen, providing an unusually crisp image for composing and reviewing pictures. Bumped up to ten megapixels from the R7's eight, the R8 also gets a metal top plate for better durability and a rubber grip for a more secure hold. In macro mode the R8 can focus down to a bug's-eye view one centimeter from the front lens element; an unusual minimum aperture-priority mode sets the smallest f-stop possible to maximize depth of field.
Meanwhile, a sensor-shifting system stabilizes shots for less blur, and image adjustments include settings for brightness, contrast, and saturation. In keeping with Ricoh tradition, an interval timer lets you set the camera for time-lapse photography. And unlike some other models with longer-than-usual zoom ranges, the Caplio R8's lens — a 28-200mm (35mm equivalent) f/3.3-5.2 zoom — folds flat into a body less than an inch thick.
At a Glance: Ricoh Caplio R8
• Zoom range: 7.1X • Resolution: 10 megapixels • LCD screen: 2.7 inches • Top firing speed: 7.5fps • Top sensitivity: ISO 1600 • Image stabilization: Yes (sensor-based) • Price: About $400
Ricoh GR Digital II
The original Ricoh GR Digital, available in the U.S. only through a few dealers, earned cult status among professional photographers as a roadworthy camera you could stick in your pocket, but that delivered image quality way better than what you'd get from a run-of-the-mill digital compact. The next-generation Ricoh GR Digital II (about $700, available at adorama.com) ups that image quality from the original's eight megapixels to ten — an increase reasonable enough for the camera's new image processor to offset any extra noise. But this die-cast magnesium model inherits most of its sharpness from an excellent single-focal-length wide-angle lens, one that's equivalent to 28mm in the 35mm format.
With a maximum aperture of f/2.4 the lens is also unusually fast, a plus because the camera has no image stabilization. Its seven-blade aperture diaphragm smooths out-of-focus detail; close focusing is also very good, by our measure nearing a foot without having to shift into macro mode. The 2.7-inch LCD can be used for both viewing and reviewing, but you can mount an optional rangefinder-style auxiliary optical finder on top of the camera, for that serious-photographer look.
Pro-style features on the GR Digital II include aperture-priority autoexposure, a manual mode in which f-stop and shutter speed are easily adjusted with a wheel under your index finger and a slider under your thumb, and sensitivity to a reasonable ISO 1600. Images can be saved as either JPEGs or RAW files, the latter in the increasingly common Adobe DNG format. The LCD screen even displays a level indicator, to help you keep your limitless horizon straight when you're on the road. We just wish you could cancel the annoying off-level warning beep.