Editor's Choice 2008: SLR Lenses
Though made for different formats, the Nikon AF-S Nikkor 14-24mm f/2.8G ED and Olympus Zuiko Digital 7-14mm f/4.0 ED, this year's top lens picks, have something in common.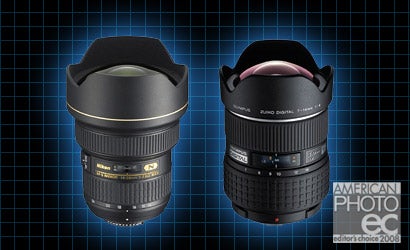 One legacy of the film-based Advanced Photo System is that it got optical designers thinking about what they could do with a lens if it didn't have to cover a full 35mm frame. Indeed, the size of the image sensor in most digital SLRs is roughly based on an APS "C" frame, and along with the even smaller Four Thirds-format chip has allowed designers to create lenses that are faster, sharper, and more compact than ever. But even cameras with full-frame sensors will benefit from several lenses in this optical panoply.
Co-SLR Lens of the Year: Nikon AF-S Nikkor 14-24mm f/2.8G ED
Its short focal-length range makes it sound more like a zoom for digital SLRs with a smaller-than-35mm image sensor. In fact, Nikon's phenomenal 14-24mm f/2.8 zoom covers a full 35mm frame. No, it's not an unsolicited optical gift for Nikon photographers who use film SLRs, though they'll benefit from it. Rather, it's a match made in digital heaven: a constant aperture, ultrawide-angle zoom dedicated to Nikon's full-frame D3 D-SLR (pending a second full-frame model).
You can use the 14-24mm with other Nikon D-SLRs, on which it will give you the not-too-shabby equivalent of 21-36mm f/2.8. But it's an awfully big lens for that, and you'd be throwing away the full goodness of its awesome corner-to-corner sharpness. At 14mm the image quality it produces is actually better than Nikon's very good prime 14mm f/2.8 wide-angle.
The new rectilinear zoom is fully weather-sealed and has internal, SWM-driven AF. The latter contributes to smooth handling and fast focus; constant working distance at any focal length; and closest focusing of under 11 inches at 24mm. It isn't to keep your polarizing filter from spinning, however. The 14-24mm has no filter thread, nor even a gel filter slot in the back. (The assumption is that you can do it all in Photoshop.) But that's our only gripe about one of the most impressive lenses we've used in years. About $1,600.
Co-SLR Lens of the Year: Olympus Zuiko Digital 7-14mm f/4.0 ED
On the opposite end of the D-SLR chip-size spectrum from Nikon's new 14-24mm, this spectacular Four Thirds-format zoom delivers roughly the same 35mm-equivalent focal length range: 14-28mm. The extra four millimeters that take you out to 28mm are useful when you don't want to force perspective too much, and the lens is way smaller in part because its image circle only needs to cover one-quarter the area of the Nikon's. (Of course its smaller f/4 maximum aperture helps too, but is constant throughout the range.) Another benefit of the smaller chip format is the lens's remarkable closest focusing distance: four inches at every focal length.
Zooming on the fully rectilinear 7-14mm is nice and firm, with little to no apparent vignetting or barrel distortion throughout. For photographers accustomed to swapping prime wide-angles just to gain or shed a few millimeters, it's an unfamiliar treat to change focal length so effortlessly in this focal-length range.
Just like the Nikon, with which it shares top honors, this lens has no provision on either end for filters, threaded or gel. Here, though, the thread diameter is smaller and more reasonable than with the Nikon. Perhaps the worry was that a filter's rim might cause vignetting, though new thin-rimmed filters such as those from Rodenstock mitigate this problem. So we hope our Lens of the Year co-winners are reincarnated with that feature. In the meantime, we're loving wide-angle again. About $1,600.
Other Top SLR Lenses
Nikon PC-E Nikkor 24mm f/3.5 ED
Nikon photographers who shoot with perspective-control (PC) lenses can finally add tilt to their shift. Unlike all prior Nikon PC optics except the recent 85mm PC macro, the manual-focus 24mm PC-E Nikkor lets you angle the lens up to 8.5 degrees to either side, along with about the same amount of lateral shift that made our old 28mm PC Nikkor so great. This means in addition to keeping the film plane (oops, image sensor) parallel to the subject to prevent the convergence of parallel lines, you can tilt the plane of focus to maximize your front-to-back sharpness. (The lens's rotating barrel lets you angle the movement in any direction.) The lens still requires manual stop-down except on Nikon's D3 or D300, but you do so not with the old sliding ring but with a pushbutton. (Push the button again for full-aperture viewing.) Better news is that for the first time, with the D3 or D300, you can use any exposure mode and the lens is automatically stopped down and reopened by the camera, just as with any other lens. Now that's progress! About $1,850.
Tamron SP AF10-24mm f/3.5-4.5 Di II LD
This affordable yet high-performance wide-angle zoom stretches Tamron's current 11-18mm f/4.5-5.6 lens on both ends of its focal-length range, producing the equivalent in 35mm of about 15-36mm (for Nikon D-SLRs other than the D3) or 16-38mm (for Canon D-SLRs other than the EOS 5D and EOS 1Ds-series models). Available this Fall, it delivers pretty much the same angles of view, for smaller-chip D-SLRs, that the tried-and-true 16-35mm does for 35mm- or full-frame-digital SLRs. Though it doesn't have that zoom's constant f/2.8 maximum aperture, which would make it a bigger, more expensive lens, it improves considerably on its predecessor's speed, adding a very useful two-thirds stop to both the short and long ends of its range.
Sigma 10-20mm f/4-5.6 EX DC HSM
With a Four Thirds-format mount that fits Olympus, Panasonic, and Leica Digilux D-SLRs, this 10-element zoom stays compact (about three inches long and wide) but delivers a powerful 20-40mm range (35mm equivalent). It zips from ultrawide-angle to a slightly-wide focal length that can be used with little evident distortion. Packed with high-grade glass, it counts three low-dispersion and three aspherical elements among its total of 14. (This very lens is also available for D-SLRs with the bigger, APS-C-sized sensor, with which it becomes about a 16-30mm.) About $500.
Olympus Zuiko Digital 14-35mm f/2.0 ED SWD
Photographers who've done much of their full-frame shooting with a 28-70mm f/2.8 sometimes bemoan that zoom's speed, even though it's constant. Prime lenses falling within the same focal-length range often provide an f/2 maximum aperture or wider, making them more versatile in low light. The zoom's f/2.8 is a compromise — a way both to keep the maximum aperture constant and prevent the lens from getting too big for wieldy handling. No such compromise needed with the Four Thirds-digital format because a lens has to cover only one-quarter the area of a 35mm "full" frame. That's how Olympus's new Zuiko 14-35mm f/2.0 zoom provides the angular equivalents of a full-frame 28-70mm yet maintains its f/2 maximum aperture — a full stop faster — throughout the focal-length range. You pay extra for that speed, but when combined with the sensor-based image stabilization in Olympus D-SLRs it lessens the need to ratchet up the ISO, reducing image-degrading noise. About $2,300.
Canon EF-S 55-250mm f/4-5.6 IS
Built-in image stabilization more than offsets the variable-aperture design of this compact, lightweight lens — a moderate- to supertele UD zoom equivalent to 88-400mm (in 35mm). A new, simpler IS technology both lowers the cost and increases to four the number of stops by which you can safely shoot handheld below the focal length's reciprocal. At the lens's highest magnification, for example, you could shoot at 1/30th second and shake would be countered well enough to prevent image blur. We probably wouldn't trust our own steadiness at such a slow speed; we feel safer at two to three stops slower. Assuming you don't need to freeze subject movement, though, the image stabilizer makes the lens the equivalent of a nonstabilized f/1.0-1.4 in terms of pure light gathering ability. And when you pan a moving subject, the lens automatically senses the camera movement and stabilizes the image only in the vertical axis. About $280.
Pentax SMC DA* 200mm f/2.8 ED (IF) SDM
A fine match for the impressive Pentax K20D, this razor-sharp, smooth-focusing telephoto becomes a 300mm f/2.8 (in 35mm terms) when you use it on that camera. And the 300mm f/2.8 was always a bread-and-butter optic for 35mm sports and wildlife photographers, available for just about any brand of SLR. That lens was hefty, though, with a barrel length of 10 inches or more, a girth of up to five inches, and weight approaching six pounds. By contrast, the new Pentax 200mm f/2.8 (which meets the same tough weather- and dust-resistance spec as the K20D body) is only half that long, just over three inches in diameter, and several ounces shy of two pounds. This scaling down makes a huge difference in handling — allowing hand-held shooting, with equal magnification, where and when the 300mm f/2.8 was (and is) just too much of a beast for anything but a monopod or tripod. About $1,000.
Zeiss Makro-Planar T* 100mm f/2 ZF
Accurate focus is critical when you're shooting macro photographs, given the inherently shallow depth of field at such close working distances. This full-metal, manual-focus lens for the Nikon F-mount makes the job easier by giving you a wider maximum aperture — and therefore a brighter viewfinder and more decisive point of focus — than with the f/2.8 of most other macros. (For shooting very close we find autofocus to be more of a hindrance than a help.) We used the new 100mm ZF on our Nikon D3 because it covers a full 35mm frame, but if you mount it on any other Nikon D-SLR you get the equivalent (in 35mm) of a 150mm f/2 lens. That's fast for such a relatively long focal length and makes for great tight portraits with very shallow depth of field. We shot many closeups with the lens wide open, which created lovely soft-and-sharp effects — pinpoint focus with dramatic yet smooth defocused areas. About $1,600.
Tokina AT-X Pro DX AF 11-16mm f/2.8
Available for Canon (EF-S) and Nikon (DX) D-SLRs, this constant-aperture, wide-angle zoom proves that independent lensmakers can build lenses that are every bit as good as, if not better than, those offered by the SLR makers themselves. We think its optical quality equals or beats that of its closest competitors, which include lenses with 10-20mm, 10-22mm, and 12-24mm ranges. And the Tokina is up to a stop and a third faster, since those competitors start out with a maximum aperture of f/3.5, f/4, or f/4.5. What's more, it maintains that speed throughout its range while other such wide-angle zooms end up at f/4.5 or even f/5.6 at their long end. In addition to increasing your low-light shooting ability, the wider aperture makes the viewfinder brighter — good for manual focusing, which you do simply by pulling back the ring. (The lens doesn't autofocus with the Nikon D40/X or D60.) The new zoom does fall short of its competitors on the long end, but we're not complaining. About $570.
Sony Zeiss Vario-Sonnar T* 24-70mm f/2.8 ZA
This zoom's very wide to moderate-tele range is ideal for a full-frame D-SLR. So why would Sony bring out such a lens, given that the smaller-than-35mm chip in Sony D-SLRs makes it an old-school 35-105mm? To prepare for Sony's full-frame, 24-megapixel pro D-SLR, which is on the near horizon. The lens and its constant-aperture companion, the Sony Zeiss T* 70-200mm f/2.8 GA, will give the much-anticipated camera a 24-200mm range with a nonvariable aperture. And the new chip's resolution should be up to maintaining the sharpness that defines Zeiss optics — which you used to have to resort to a prime lens to get. About $1,750.