Editor's Choice 2008: Professional D-SLRs
The first digital SLR to combine full-frame capture with phenomenal speed, Nikon's D3 is also a low-light champ.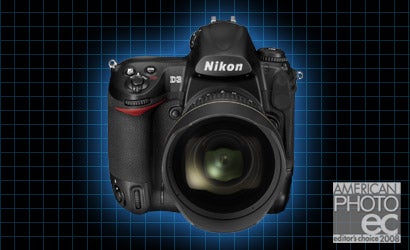 We may earn revenue from the products available on this page and participate in affiliate programs. Learn more ›
Nikon finally takes the leap to a "full-frame," 35mm-sized image sensor, ending Canon's long monopoly and setting new standards in high-ISO sensitivity, shooting speed, autofocus capability, image processing, and more. We think both location and studio photographers will flock to the Nikon D3, as will many others who want the most powerful D-SLR money can buy.
Professional D-SLR of the Year: Nikon D3
For years Nikon insisted it would never make a digital SLR with a 35mm-size sensor and that the APS-C-sized image sensors in all its D-SLRs were up to any foreseeable task. Nikon doth protest too much, we thought, and then suddenly there was the Nikon D3 — a camera whose image quality alone vindicates full-frame capture. The D3's 12.1-megapixel sensor has twice the surface area of the one in the 12.3-megapixel Nikon D2Xs, which means its individual pixels are twice as big. That improves the camera's light-gathering capability, which is unprecedented. With the switch to CMOS and improved image processing, the efficiency of bigger pixels results in far better high-ISO photos and a top sensitivity of ISO 25,600, at least two stops better than any other D-SLR.
The D3's top firing rate is also extraordinarily fast: nine to 11 frames-per-second depending on settings. That's two to three times faster than any other full-frame model. And the D3 also has 51 focusing points, the most in its class, 15 of which are the more reliable cross-type — just one piece of what is arguably the world's smartest autofocus system.
The D3's three-inch, 920,000-dot LCD screen is to our eyes the sharpest in any "flagship" D-SLR, and its Live View autofocus is actually the first in its class. Other D3 features absent in its rivals include dual UDMA-compatible CF card slots that can be set for either overflow or backup, in-camera correction of chromatic aberration, and an onscreen "virtual horizon" that serves as an electronic bubble level.
The level of control offered by the D3 is simply awesome, but let's stop with the specs. Something about the Nikon D3 — its huge, bright viewfinder, that brilliant LCD, and a prodigious responsiveness — makes you feel that you're really in touch with your subject. It actually makes you think you're taking better pictures.
At a Glance: Nikon D3
|| |—| | • NIKON D3 • 12.1 MEGAPIXELS/CMOS IMAGE SENSOR • 1.0X FOV CROP (FULL FRAME) • 3.0-INCH LIVE VIEW LCD SCREEN • 9FPS (11FPS IN DX MODE) • IMAGE STABILIZATION: IN-LENS • ABOUT $5,000 • Built like a tank and fully weather sealed, it's the first D-SLR to combine ultrafast performance and full-frame capture. Its new FX-format image sensor is the same size as a 35mm film frame, so it preserves wide-angle lenses' full field of view; a sensor-cropping DX-format mode even allows fully-compatible 5.1-megapixel, 11fps capture with DX-Nikkor lenses designed for Nikon D-SLRs with APS-C-size chips. | Other Top Professional D-SLRs:
Mamiya 645AFD III
Mamiya deserves great credit for building the first medium-format digital camera with an integrated image sensor, the 22-megapixel Mamiya ZD we featured here three years ago. Though that camera has a much bigger chip than any 35mm-style D-SLR, it's similar in form and handling. But you can't shoot film with the ZD or upgrade its sensor. You can't even buy one in the U.S. The next best thing — or an even better thing if you want to shoot film with the same camera — is to mount Mamiya's 22-megapixel ZD back on the new Mamiya 645AFD III, a significantly upgraded model. You get the same number of pixels as with the ZD, and they're twice as big as those in Canon's 21-megapixel EOS-1Ds Mark III. The pixels' larger size helps the sensor gather light with less noise, and the resulting smoothness is enhanced by the unique optical qualities of medium-format lenses.
The 645AFD III inherits its basic body shape and finder design from the previous AFD II, but eliminates the latter's metering pattern and exposure compensation dials by moving those functions to its top-deck LCD screen. It also gains a faster, quieter AF motor; three selectable AF points; a more comfortable, molded silicone grip; and a better-damped mirror mechanism, which lessens the need for mirror lockup.
The bigger story is really Mamiya's new partnership with Phase One, which has its own version of the 645AFD II called the Phase One 645. In response to Hasselblad's decision to "close" its H3D/II system to other manufacturers' digital backs, the two companies have committed to an "open system" compatible not only with Mamiya and Phase One backs (up to 39 megapixels) but also with those from Sinar, Leaf, and others (via adapter plates). In addition to Mamiya's 14-lens lineup, the Phase One and Mamiya cameras accept (with adapters) Hasselblad V-series and Pentacon lenses.
At a Glance: Mamiya 645AFD III
• 22 MEGAPIXELS/CCD IMAGE SENSOR (WITH MAMIYA ZD BACK) • ACCEPTS FILM BACKS • 1.15X FOV CROP • 1.8-INCH LCD SCREEN • 1.2-2.0 FPS • IMAGE STABILIZATION: NONE • ABOUT $10,000 (WITH ZD BACK) • The third generation of Mamiya's digitally-compatible 6×4.5cm-format camera is not a dedicated D-SLR, requiring a separate back for filmless capture. But it's one of the most affordable ways into medium-format digital photography, and modular design allows it to be part of an "open system" co-developed with digital back maker Phase One.
Fujifilm IS Pro
To buy this infrared- and UV-sensitive camera you have to sign an agreement in which you promise not to use it for "paparazzi-like activity." While exhibitionist celebs might like the idea that it can see through clothes (it can't, contrary to popular belief about infrared), we like the Fujifilm IS Pro for its artistic possibilities. Though designed for forensic use, its extended sensitivity subverts the translation of tones that black-and-white photographers expect, lightening organic substances because they reflect more IR radiation.
The Fuji IS Pro's cost might seem steep for such specialized effects, but if you put a UVIR cut filter on the lens it becomes a normal camera. In fact, it's basically a FinePix S5 Pro (the Fuji winner in last year's Professional D-SLRs category) from which the built-in infrared-cutoff filter has been excised. In turn, the S5 Pro's body is basically a Nikon D200, not the Nikon N80 body on which the IS Pro's predecessor, the S3 Pro UVIR, was based.
That means the IS Pro is a much more capable camera. It shoots simultaneous RAW+JPEG, a feature we find useful for workflow purposes; there's even a firmware upgrade that lets you shoot old-fashioned TIFF files. Its LCD is bigger and better; its live preview lets you view TTL with a visually opaque IR filter and gives you an idea of how the colors will translate into tones if you're shooting black and white. (You still need a tripod for precise composition because you can't shoot while viewing.) The IS Pro has the same nominal resolution as the S3 Pro, but improved image processing makes output smoother and lessens noise at high ISOs.
At a Glance: Fujifilm IS Pro
• 12.3 MEGAPIXELS/SUPER CCD IMAGE SENSOR • 1.5X FOV CROP • 2.5-INCH LCD SCREEN • 3FPS • IMAGE STABILIZATION: IN-LENS • ABOUT $2,500 • Though many digital SLRs can be converted to capture infrared wavelengths, this one does it without your voiding the warranty — and produces creative effects that previously required special-purpose films.
Canon EOS-1Ds Mark III
Although Canon is no longer the sole player in the full-frame D-SLR arena, the company deserves credit for making 35mm-size image sensors a practical reality, starting with the 11-megapixel EOS-1Ds in 2002. The third generation of this full-frame flagship raises the bar again with a 21-megapixel CMOS image sensor — making the Canon EOS-1Ds Mark III the very first 35mm-style digital SLR with resolution equal to that of many medium-format digital systems. Yet this image quality comes at one-third the price of the 22-megapixel Hasselblad H3DII-22.
In addition to being much smaller and lighter, the Mark III boasts features and performance that medium-format systems can't match, including 5fps continuous shooting; superfast 45-point autofocus; smooth output from ISO 50 to ISO 3200; a dust-busting self-cleaning sensor; wireless Live-View remote operation; and a combat-ready magnesium-alloy body that can survive the roughest location shoot. With the exception of its slower shooting speed, in fact, the full-frame Canon is identical in nearly all respects to its sports- and reportage-geared sibling, the 10fps, 10.1-megapixel EOS-1D Mark III, our 2007 Professional D-SLR of the Year.
Unlike that cropped-sensor twin, however, the new model has an enormous viewfinder, which Canon calls its finest ever. And it takes more than 60 Canon EF-mount lenses — a much larger and more diverse selection than available in medium format — all of which retain the same angle of view that they would produce on a 35mm film body.
At a Glance: Canon EOS-1Ds Mark III
• 21 MEGAPIXELS/CMOS IMAGE SENSOR • 1.0X FOV CROP (FULL FRAME) • 3.0-INCH LIVE VIEW LCD SCREEN • 5FPS • IMAGE STABILIZATION: IN-LENS • ABOUT $8,000 • This full-frame, 21-megapixel powerhouse has over twice the pixels of the much faster-shooting EOS-1D Mark III, but shares many specs with the latter. These include 14-bit RAW capture; twin DIGIC III processors; wireless Live View; CompactFlash and SD slots; an "intelligent" battery meter; and the ability to shoot small RAW (5.2-megapixel) files.
Best Buy: Nikon D300
Unveiled at the same time as Nikon's heavyweight D3, this slimmed-down but feature-rich sibling offers many if not most of the same assets — at only one-third the cost. The Nikon D300's specs are so good, in fact, that we think many pros will buy it not as a backup body but as their primary D-SLR. A key selling point is its 12.3-megapixel CMOS image sensor, which delivers cleaner high-ISO output than the like-sized CCDs used in earlier Nikon D-SLRs. (Its sensitivity is ISO 200 to ISO 3200, expandable to ISO 100 and ISO 6400.) Being smaller than a full 35mm frame, of course, the chip results in a 1.5X field-of-view crop. This means telephotos get an often-useful boost in focal length of 50 percent, but Nikon DX-format zooms are needed for most true wide-angle shooting.
Other than the smaller sensor and accordingly smaller viewfinder (still bigger than some competitors'), the D300's features nearly match those of the D3. They include a weather-resistant magnesium-alloy body; a super-sharp, three-inch LCD with 920,000-dot resolution; 14-bit RAW capture; wireless Live View remote shooting; and the ability to autofocus in Live View mode using either contrast detection (mirror up) or the optical AF system (mirror down). The new MB-D10 battery grip boosts the D300's swift 6fps to a smoking 8fps, just one frame slower than the D3 at full-resolution capture. Compared with its big brother, the D300 even has a few advantages, including a self-cleaning sensor, one-third less weight — and, of course, considerably reduced sticker shock.
At a Glance: Nikon D300
• 12.3 MEGAPIXELS/CMOS IMAGE SENSOR • 1.5X FOV CROP • 3.0-INCH LIVE VIEW LCD SCREEN • 8FPS • IMAGE STABILIZATION: IN-LENS • ABOUT $1,800 • The D300's brilliant 51-point autofocus system, which it shares with the Nikon D3, performs 3D focus tracking in part with color information from its 1005-pixel RGB exposure meter, using that data to better distinguish the subject. That's a level of sophistication not found even in flagship models costing thousands of dollars more.