Editor's Choice 2008: Lighting
From ExpoImaging's Ray Flash to the California Sunbounce, many of this year's lighting tools take advantage of the easy dedication of on-camera flash units.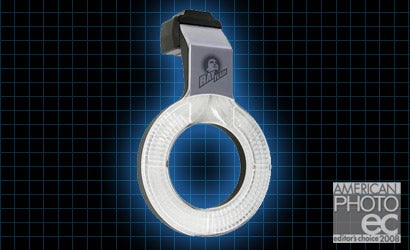 We may earn revenue from the products available on this page and participate in affiliate programs. Learn more ›
The hottest thing in lighting this year is, well, just about anything that can be taken on location. In particular, innovative multi-function devices are giving traditional location lighting gear some of the qualities and flexibility of studio light, while preserving the automated or dedicated operation that makes that gear so useful on the fly. For example, a number of this year's Editor's Choice winners work in combination with hotshoe-mount flashes to create softer, more flattering light yet let the strobe continue to function as a dedicated TTL unit — and also perform its wireless tricks.
Lighting Product of the Year:
ExpoImaging Ray Flash Ring Flash Adapter
A sophisticated, solidly-built adapter that slides over the front-facing head of a hotshoe-mount flash — for now, only the Canon 580EX II, Nikon SB-800, and some of those lines' lesser and/or older units — this ingenious product gives photographs the crisp, electric look of a studio ring flash at a fraction of its cost. Unlike most studio-level ring flashes, the portable Ray Flash works without a powerpack, is lightweight, and, at under $300, is probably the most affordable way to get the distinctive look of large-scale (non-macro) ring flash so loved by fashion photographers.
What's unique about the Ray Flash is that it gives you the power needed to light subjects at portrait distances (provided, of course, by the flash it's attached to) with the automatic TTL operation of the dedicated macro ring flash units sold by SLR makers (which typically don't have the power to light subjects at a distance). The one-pound device uses internal prisms, baffles, and reflectors to evenly project the flash's light down and forward through a ring-shaped head that encircles the camera's lens. (It can accommodate lenses up to four inches in diameter, which means fast zooms can be used.) Because the ring's beam is on-axis with the lens, and perfectly frontal, it creates no visible shadow on the subject. It does, however, outline the subject with a pale, aura-like shadow if the background is close behind.
The Ray Flash really does produce a convincing ring light effect. We had great success, and fun, with the unit, though we did rely on Photoshop to play up the light's quality. It reduces the flash's output, but only by a reasonable stop or so, and changing the zoom head setting on our Canon 580EX II Speedlite didn't seem to make any difference with this. (We just set it manually to 50mm to squelch the sound of the head's zooming.) We're hoping that the clever Ray Flash will be made available to fit other brands of dedicated shoe-mount flash units.
Other Top Lighting Products
Elinchrom Skyport Radio Remotes
Arguably the most comprehensive radio slave system for wireless firing of AC- and battery-powered flash systems, these tiny units are available in two basic configurations. One is for virtually any strobe system that's ordinarily connected with a conventional PC cord; the other is specifically for the Elinchrom RX strobe line. Either version operates at distances of up to 390 feet between lights and camera, and the Elinchrom-dedicated Skyport Remote provides a high degree of lighting control from the camera position.
The Skyport kits' transmitters simply slide into your camera's hotshoe, and are powered by rechargeable lithium batteries that provide up to 50,000 flash firings per charge, depending on conditions. Also lithium battery-powered, the Skyport Universal Receiver plugs into the PC socket of most commonly available studio and location strobe units, and operates for up to 30 hours per charge.
The more advanced Elinchrom RX Skyport receiver requires no battery, drawing its power from an RX head's multi-pin socket. This closed-loop Elinchrom system lets you control RX strobe and modeling light output in 1/10-stop increments from your camera, using toggle switches located on the shoe-mounted transmitter. You can also get a USB Transceiver for the RX system: It plugs into a USB port on a Mac or Windows PC, and works with supplied EL-Skyport Software to automatically locate a nearby Skyport RX Receiver — thus providing full control of strobe output from the computer. Under $200.
Westcott's Rick Sammon On-Location Light Control Kit
How-to expert Rick Sammon, the author of dozens of books and DVDs on photographic topics, recently turned his talents to location lighting. The result is this light-modification toolkit, a single product that will satisfy many photographers' location light-modifying needs. The kit's 12-inch circular tote holds a collapsible, 30-inch-square diffuser (with rounded corners) for softening direct light; a collapsible, 30-inch-square two-sided reflector (silver on one side and light-warming gold on the other) for bouncing light into the shadows to improve their detail; and Westcott's Micro Apollo softbox, which can be mounted on most shoe-mount flashes to tone down the harsh light often produced by direct, on-camera strobe. (It also reduces or eliminates red-eye.) The whole kit weighs only two pounds, for easy transport. About $115.
Best Buy: JTL Mobilight 301 AC/DC Strobe with Battery
A self-contained strobe that operates on AC or DC power, JTL's new monolight is among the most affordable yet full-featured studio and location lighting options out there. For under $350 you get a 300 watt-second head that runs off wall current or a lightweight NiMH rechargeable battery, the latter delivering up to 120 full-power pops per charge. As a high-capacity alternative, JTL also offers a three-pound lithium battery version (shown here, about $750) that promises 1000 full-power pops per charge, and can power more than one Mobilight.
The 301 Mobilight accepts any of JTL's lighting accessories, including softboxes, wireless radio and infrared remotes, and oversized digital readout screens that help users set power output from across the studio. It features continuously adjustable output down to 1/8th power; a built-in optical slave; a thermostat to prevent overheating; a car lighter adapter for battery recharging on the road; and a proprietary, integral sliding arm for positioning the head on a light stand to counterbalance the weight of large light-modifying attachments. $350 and $750.
Photoflex Starlite Dual Spectrum Kit
The ability offered by digital SLRs to pre-set or fine-tune white balance has revolutionized location photography, allowing shooters to easily mix and match color temperatures for creative or realistic effect. Few lighting products take advantage of this flexibility like the Photoflex Starlite Dual Spectrum Kit. The Dual Spectrum Kit lets you quickly switch from continuous, cool-operating daylight-balanced fluorescents (DBFs) to bright, tungsten-balanced hot lights.
Even better, the Photoflex DBFs (called CoolStar 150s) are among the brightest such bulbs available, their output comparable to that of a 500-watt tungsten bulb.
The Dual Spectrum kit includes a Starlite QL head with a swiveling light stand adapter; one 5600K CoolStar 150 bulb, with carrying case; a 1000-watt quartz-halogen tungsten bulb; and a midsized softbox, lightstand, and carrying case. About $800.
Lowel Rifa ExChange Lights
Lowel's Rifa hot lights have been a favorite among news-gathering videographers because their unique design, which incorporates a built-on softbox, allows users to go from carrying case to full operation in under a minute. In recent months the system has become even more versatile — and more attractive to still photographers — with its conversion to the Rifa ExChange system. Based on a bayonet adapter compatible with all four Rifa head/softbox sizes, the new system lets you switch between high-power tungsten-halogen hot lights to cool-operating, low-power daylight-balanced fluorescents (DBFs) within seconds.
The advantages of switching to DBFs include reduced likelihood of blown fuses and the ability to draw power from portable DC sources. When you need more power or must have a 3200K white balance, though, the system's quartz-halogen bulbs range in power from 25 watts to a very bright 1,000 watts. From $300 to $2000, depending on number of heads, accessories, and output options.
Dyna-Lite 3080 Ring Flash
At 3200 watt-seconds, this studio ring light is among the industry's brightest. It produces the nearly shadowless frontal light for which ring lights are prized, but is particularly suited to handheld fashion photography because of its 2.5-pound overall weight (probably the lightest available), convenient integrated handle, and ample 16-foot pack-to-head power cord. Of course, the unit is also useful for portraiture and technical photography, not to mention tabletop and macro applications.
At four inches, the 3080's inner diameter is wide enough to accommodate big lenses, whether for medium-format SLRs or fast optics for 35mm and digital formats. It's also deep enough so that the matte-black interior serves as a lens shade. The 3080 is among the only ring lights with its own line of accessories. These include a beauty dish that accepts both white and chrome reflectors, which soften light by almost doubling the area of the source.
The 3080 incorporates ten 20-watt modeling lights, allowing photographers to preview its effect surprisingly well. Cooled by two fans, these powerful lights offer full and proportional output. The 3080 ring light is available in two versions, one compatible with Dyna-Lite's M-series power packs, the other with Comet CX-type heads. About $1,800.
Speedotron Explorer 1500 Portable Power Pack
Compatible with Speedotron's Black Line system of strobe heads and light modifiers, this portable power pack offers several significant advantages over its competitors. It can power two heads simultaneously; produce up to 225 very bright 1500 watt-second pops per charge; power a modeling light for intervals of up to 10 seconds; and provide additional power via interchangeable "juice boxes," battery modules that can be precharged and swapped in and out of the power pack as needed.
The 1500 can be recharged from outlets almost anywhere in the world, no voltage adapter needed (and car cigarette lighter outlets included). It helps you conserve power by offering an unusually wide range of output options, including a minus-five-stop pop of just 15.6 watt-seconds. When two heads are used, the unit provides a very wide seven stop power range. The removable juice boxes (which have built-in chargers) reach 80 percent of capacity within two hours of charging. When plugged into an AC outlet, the 1500 Explorer operates normally while simultaneously charging its internal juice box. The ten second duration on the 150-watt quart-halogen modeling lights (most portable batteries can't power continuous tungsten light sources at all) conserves battery power and eliminates the need for a cooling fan. About $1,750.
Best Buy: Interfit EX 150 Mark II Home Studio Flash Kit
Amateur lighting gear is dropping in price yet improving in quality and features due to better engineering and the replacement of flimsy metal housings with low-cost, high-impact plastic. An excellent example of this trend, Interfit's EX 150 Mark II Home Studio Flash Kit sells for as low as $300 for a two light kit. Each kit includes light stands, translucent umbrellas, softboxes, cables, and lamps. A three-head kit comes with an attractive blue-gray mottled background cloth and hanging system ($600). The two light kit is transported in a cardboard carrying case (with handle) and the three-light outfit comes in a canvas carrying case.
With output that's continuously adjustable down to one-eighth power, each head has a 150 watt-second, user-interchangeable flash tube, a 100 watt modeling light, and a built-in optical slave for wireless triggering. EX 150 features rare in sub-$300 lighting kits include a built-in infrared sensor for remote operation (which does require an accessory trigger) and compatibility with the line's accessories, including Interfit/Paterson/Bowens barn doors, gel sets, a grid, snoot, and more. An included DVD explains the basics of both studio lighting in general and the Interfit system in particular.
California SunBounce Flash Bracket
Few photographic reflectors are as well designed and ruggedly constructed as the California SunBounce Mini and Micro Mini. Using a system of interchangeable reflecting surfaces fitted over frames of aluminum tubing, the SunBounce reflectors are equally well suited to handheld and lightstand use (the latter requiring an adapter).
Actually a German company, California SunBounce has recently made its reflector system even more flexible with the introduction of the SunBounce Flash Bracket. A 24-inch extendible aluminum arm, it attaches to the SunBounce's frame and holds a shoemount flash so that it's aimed back at the reflector's silver, gold, or white surface, which bounces the light back onto your subject in much softer, more flattering form.
Users of latter-day wireless, TTL-controlled shoe mount flash units will get the most from the SunBounce bracket: fully dedicated operation in which the flash will automatically compensate for the light loss caused by bouncing. But whether automatic or manual, the new bracket lets you create soft, studio-like lighting on location, affordably and with little extra cost or weight. Under $100.
Lighting: The Extras
Among the many cool lighting tools we've seen in the last 12 months, one of the most clever comes from photographer Kenneth Kobre, author of a bestselling textbook on photojournalism. The Kobre Lightscoop (about $30, at lightscoop.com) does something that was difficult if not impossible before: It provides the lighting benefits of a ceiling- or wall-bounced shoe-mount strobe from the pop-up flash built into the pentaprism of most SLRs.
Basically an angled-up mirror in a plastic housing, the Lightscoop slides over the camera's hotshoe and deflects the flash output upward toward a ceiling or sideways toward a wall (when the camera is held vertically). In addition to providing a much softer, more flattering on-the-spot light, that technique eliminates redeye and shadows cast by long lenses, as well as opening up the backgrounds of interior portraits.
The equally useful Litepanels Micro (about $300) also fits on a camera's hotshoe, but is essentially a grid of continuous, daylight-balanced LEDs that provides light for still or video capture. Its output is continuously adjustable with a knob, and is sufficient for an exposure of 1/60 second at f/4 with the subject at four feet and the camera (or film) at ISO 200. Its four AA cells yield about an hour and a half of bright, white light that's flicker-free and generates little heat. The panel's light also improves autofocus operation in dim conditions, and creates nice catchlights in the subject's eyes.
The next best thing to an assistant, the LiteShaper Arm Kit (about $200) is a light stand topped off with a gooseneck arm that holds a reflector. This design allows you to position and angle a reflector with more ease and freedom than you get with traditional lightstand-mounted reflectors. Just reach out, push the reflector into position, and it stays there. The kit's four interchangeable reflectors, which have white, silver, gold, and black (light-absorbing) surfaces, can also serve as softbox baffles — quickly turning a square box into a narrow strip light, for example.
Like the SunBounce Flash Bracket, the Lastolite EzyBox can transform a hotshoe flash into a serious studio tool. A softbox available in 15×15-inch ($157) and 2×2-foot ($190) sizes, the EzyBox includes all the necessary hardware for mounting it with a shoe-mount flash on a lightstand. The softbox folds flat for easy transport or storage, sets up in just a few minutes, and even supports its own line of accessories including a handle for handheld use, a carrying case, and a support clamp that allows you to use the EzyBox in venues where a light stand can't go.
Just when you thought on-camera flash diffusers had gone about as far as they could go, along comes the MilaGrid PowerGrid (about $40). While most such devices soften the flash's light with a translucent sheet of plastic or nylon-like material, the MilaGrid features an opaque/translucent panel perforated with thousands of tiny holes that allow light to pass directly through. The benefit? A softening effect comparable to conventional diffusers, only with less light loss due to absorption.