Editor's Choice 2008: Imaging Essentials
If you didn't find what you were looking for elsewhere in Editor's Choice 2008, we've probably covered it here -- from more top DSLRs to green gear.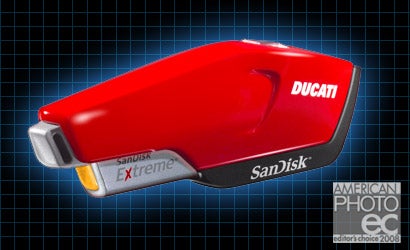 We may earn revenue from the products available on this page and participate in affiliate programs. Learn more ›
Don't take us to task for the name of our final Editor's Choice category. We're not suggesting that photographers must have every product it contains. But while Imaging Essentials is a catch-all — the place we put products that don't fit anywhere else — some of these items are specialized and specific enough in their purpose that one or more may well be essential to some photographers. Need to record your subject vocally as well as photographically? Check out the Olympus LS-10 digital recorder. Need to recharge camera batteries in the wilderness? Have a look at the Brunton SolarRoll. (In fact, several of this year's choices will help you be greener.) Want to add some style to the convenience of flash drive storage? You'll get a kick start out of SanDisk's Ducati Edition flash drive.
X-Rite ColorMunki Photo
It looks like an oversized tape measure, but this ingenious product is really the Swiss Army Knife of color management — offering display-to-print matching with a single device. As is typical, to calibrate your monitor you plug the unit in via USB and suspend it over a target area displayed on your screen by the supplied software; the ColorMunki then runs through an automatic sequence of color and black and white patches. (Simple and advanced modes are both available.) It can even take ambient light into account like its consumer-level cousin, the Pantone Huey. (X-Rite recently acquired color authority Pantone.)
You use the software to output a sheet containing five bands of color patches, and then comes the monkeying. Rotate the ColorMunki's multi-position dial to its print profiling position, then simply slide the device over those bands one by one as if you were ironing the sheet. (There's even a timer in the unit that ticks off the print's drying time before you start.) The device can even profile a digital projector. Equally clever, to send images to color-conscious clients and art directors, you can put them into the ColorMunki software's "Digital Pouch," zip it up, and when they arrive at the receiving computer a self-executing program runs itself to check the accuracy of the monitor profile, displaying your photographs in the same application-viewing screen. About $450.
SanDisk Extreme Ducati Edition Flash Drive and CF cards
Few brands say speed and performance like Ducati, which is why SanDisk is co-branding its top-of-the-line Extreme-series flash memory products with the cult-status Italian motorcycle maker. The connection is more than a matter of style, though. In addition to its trademark Ducati red, the Extreme 8GB Ducati Edition CompactFlash card features a league-leading read/write speed of 45MB/second, slightly higher even than SanDisk's regular 8GB Extreme CF card. (You can also get a Ducati Edition CF card in a 4GB version, as well as a 4GB Ducati Edition Secure Digital card.) But here's the irresistible part, and the most direct motorcycle reference: The 4GB Extreme USB Ducati Edition Flash Drive (at 20MB/second, also fast for its class) is shaped like a Ducati gas tank, complete with logo and a tail light that's actually an operating indicator — glowing when you're plugged in, and blinking not for a turn but when data is being saved or transferred. About $240 (8GB card); $100 (flash drive).
Olympus LS-10 digital recorder
It doesn't take pictures, but for many photographers the new Olympus LS-10 recorder will be no less valuable for that. If you're one of the growing number of shooters who support their work with sound and text, a subject's oral history, for example, this tiny digital recorder is a must-have. Though not much bigger than a typical voice recorder — it's just a little taller, narrower, and thicker than a classic iPod — the sound quality it produces is phenomenal, with a presence you wouldn't expect from such a small, unassuming unit.
Powered by two AA batteries, the aluminum-bodied LS-10 incorporates a pair of stereo microphones. Though close together they're angled out, and let alone the clarity they really seem to separate sound. We used the LS-10 to record the song of a particularly tuneful bird to play back so a bird maven could identify it for us; when we downloaded (via USB) the .WAV file and played back through good computer speakers, it was as if the bird was in the room. We also used the LS-10 to record the very fine Olympus corporate band, Peripheral Vision (whose core members include lead guitarist Joe Badalamente, bass guitarist John Saggese, rhythm guitarist Steve Hayes, saxophonist Ken Kanzler, lead singer Jon Weikel, and the inimitable Dave "Sticks" Willard on drums), and when set for automatic levels control it kept their powerful sound balanced and undistorted.
The LS-10 has 2GB of built-in memory, ample when it comes to digital sound, but there's a slot for Secure Digital memory cards if you need more. And the recorder can save files in any of three formats: Linear PCM (a 24-bit uncompressed file with the extension .WAV), MP3 (the universal, compressed file used for most music playback), and WMA (the even more compressed Windows Media Audio file). This will give you a sense of relative file sizes: in Linear PCM, the total maximum recording time permitted by the 2GB internal memory is up to three hours and ten minutes; in MP3, up to 35 hours 35 minutes; and in WMA, up to 69 hours 35 minutes.
Files are organized using an easy-to-navigate folder system displayed on the LS-10's 1.8-inch monochrome screen, which also shows levels and other data. Overall, the LS-10's controls — buttons and a four-way rocker — are very straightforward. It even manages to squeeze in a pair of small stereo speakers. Though really too weak for shared playback, these are of very good quality and very useful for checking what you've recorded without the awkwardness of plugging in headphones. About $350.
Pinnacle Dazzle Video Converter for Mac
Before this unit appeared, we were searching high and low (and mostly low) for an easy, affordable way to transfer old Hi-8 videotapes to an aging Mac. Pinnacle's practically plug-and-play device turned out to be the solution. You just connect it to the computer's USB port; plug a camcorder, VCR, or other analog video source into its composite (or S-) video inputs; and use the supplied software's wizard to convert your footage to digital form. It's imported specifically as an MPEG-4, hardware-compressed file that goes directly into your iTunes library. From there you can view it onscreen with a click, or, if you're up to date, transfer it to your video iPod. About $50.
Smartparts OptiPix SP3200 Digital Picture Frame
Until now, digital picture frames have struck us largely as a soccer mom's appliance. But this 32-inch, wall-mounted model from Smartparts should appeal to any serious photographer wanting to showcase his or her work, and not just by virtue of its biggest-ever size. The huge LCD has HDTV-style high-def resolution of 1366×768 pixels to complement its 16:9 wide-screen aspect ratio. Made of dark-stained wood with a compatibly beige inset mat, the SP3200 has slots for most types of memory card, but a USB connection also lets you load pictures directly to it from a computer running the supplied software. The frame's internal memory holds up to 1,500 shots.
The software can also automatically locate and prepare images for display, resizing and resampling them, and even upload PDFs, PowerPoint slides, and other graphics file types, making it useful in a photo studio environment as well. Slide show options include a choice of speeds and transitions, but according to the company you can keep a single image displayed for an extended period without any burn-in. And once you're set to go, you can run the frame with its remote control. About $800.
Rodenstock HR Ultra Slim Polarizer
The reputation of Rodenstock lenses precedes this new filter, and as any outdoor color photographer will tell you, a polarizer is the only reliable way to darken clear sky. Of course it can also increase color saturation (differently than what you get from a Photoshop slider) and eliminate unwanted reflections (its main purpose, though often overdone because reflections may be needed to define a scene's surfaces). Polarizing filters tend to have thick rims, however, because of their dual-glass construction, and this increases the chance that the rim may create a vignette (corner darkening) with the wide-angle lenses we all like to use for landscapes. To lessen that possibility this new Rodenstock circular polarizer has an especially thin rim — a design permitted by thinner optical glass, which in turn makes for sharper results. (You need a circular rather than traditional linear polarizer for proper autofocus function.) The filter's rim is made of brass rather than aluminum, for better glass alignment, and has a water-shedding outer coating. From $100.
Jobo PhotoGPS
The Nikon D3 and a few other new digital SLRs have built-in GPS technology, which relies on satellites to keep track of where you take your pictures. For those that don't, Jobo's long-delayed PhotoGPS is the next best thing. Considerably downsized and streamlined since its announcement and display in early 2007, it slips into your camera's hotshoe just like a flash unit, staying there while you shoot to record GPS data for every picture you take. (It syncs through the hotshoe's center contact.) Back at your computer — provided you haven't gotten lost in the wilderness, a problem this device can't solve — you import your pictures and the GPS data using supplied software, which time-syncs the two and links up with an online database to retrieve country, city (if any), street (if any), and nearest point of interest for every photograph. That information is then automatically written into the image file's metadata fields — which means you can search for pictures by location. About $150.
Moixa USBCell
Going green means using rechargeable batteries rather than one-shot cells that clog landfills and contaminate groundwater. The problem is that if you're on the road for any length of time, you have to take along a dedicated charger — and find someplace with AC power to plug it in. Moixa Energy's ingenious Nickel-Metal Hydride (NiMH) AA cell eliminates the need for either: Flip open its top to reveal a standard USB plug, and slip it into your laptop's USB port for a quick charge. (At home you can use a standard NiMH charger.) Most laptops have at least a couple of USB ports, so you should be able to charge two cells at once. Talk about power sharing. What's more, a fully-charged USBCell actually outlasts a standard alkaline battery in digital devices. About $20 for two. usbcell.com
Brunton SolarRoll
What if your laptop runs out of power far from an AC source? Roll out this flexible, waterproof solar panel and plug it into your computer with the supplied cord. Though direct sun works quicker, the SolarRoll's photovoltaic cells are able to gather energy even in low light levels. Choose the SolarRoll 14, which measures 12×57 inches and puts out 14 watts, if you want one to charge your laptop. If you just want to charge your digital camera's battery, in-camera or with a charger, you can get away with the SolarRoll 9, which measures 12×40 inches and puts out nine watts. (You can connect up to three SolarRolls of the same wattage for extra juice.) From $200.
Scott eVest with solar panel
Technology enabled clothing is how this company describes its wired outerwear. A "personal area network" of zippered, variable-size adjustable pockets and conduits built into its garments lets you carry lots of electronic devices — cellphone, PDA, iPod, and of course a compact camera — without looking like a bloated geek. The original Scott eVest hides and manages cables, headphone wires, and earbuds so you stay connected to your gadgets. The jacket even keeps your stuff running when you can't plug into the grid with an optional, coordinated solar panel that attaches to the back of the jacket and charges a small battery pack in an inside pocket. About $270.
By Jonathan Barkey / American Photo
Best Buy: Samsung GX-20
Electronics heavyweight Samsung has partnered with Pentax on camera technology since 2005, and the latest and best example of that collaboration is this impressive, advanced-level D-SLR. Its Samsung-developed 14.6-megapixel CMOS chip is, in fact, the highest-resolution image sensor ever in an APS-C format camera. Of course, the GX-20 shares that sensor with Pentax's own K20D, as well as a nearly identical body, with ruggedized construction and best-in-class weather sealing. The same goes for its superb, oversized pentaprism finder; in-body, sensor-shifting optical image stabilization, which works with every K-mount lens in existence); 2.7-inch, 230,000-pixel live view LCD; and built-in dust-removal system, augmented by onscreen dust-mapping, to aid manual cleaning. Other shared assets include a built-in interval timer, AF fine-tuning, and in-camera RAW developing. But the GX-20's menu system is organized differently and has (in our opinion) a nicer looking, white-on-blue design scheme. About $1,300 (with 18-55mm Schneider D-Xenon kit lens).
Nikon D60
A modest upgrade to Nikon's existing D40X, this compact, entry-level D-SLR retains the latter's 10.2-megapixel CCD sensor, solid construction, and a well-proportioned front grip. It actually feels bigger than it really is, offering what we think is the best handling in its class. Like the D40X, the D60 has an ample viewfinder; simple but fast three-point AF; a 420-segment matrix meter; sensitivity from ISO 100 to ISO 3200; unlimited 3fps JPEG shooting; a 2.5-inch color screen; beautifully designed menus and status panel; and textual Help instructions. New, however, are its "Airflow" dust removal system and self-cleaning sensor; self-orientating onscreen display, which features eye-sensor shutoff; and EXPEED image processing. Also notable are its Active D-Lighting tone compensation (with dedicated button) and in-camera JPEG retouching and RAW developing. The D60 lacks live view but does come bundled with a new image-stabilized 18-55mm kit lens. Its coolest feature: being able to assemble stop-action movies from up to 100 separate stills. About $650 (with kit lens).
Olympus E-520
As the smallest, lightest D-SLR on the market, the Olympus E-420 is one of our favorite carry-around cameras. But anyone with larger hands will appreciate its bigger brother, the new E-520, which comes with a more substantial front grip, ampler dimensions and heft, a higher capacity battery — and, best of all, built-in image stabilization (which the E-420 lacks). It also shares the same 10.1-megapixel Four Thirds Sensor (with image quality similar to the top-drawer E-3's), 2.7-inch LCD with three live-view focusing modes, 3.5fps capture rate, selective shadow enhancement, and supersonic wave filter sensor-cleaning. Best of all is the E-520's pro-grade wireless multi-flash, which manages up to three strobe groups on its LCD control panel, and triggers them with its pop-up flash. About $600.
Canon EOS Digital Rebel XS
Canon's Digital Rebel XSi, a pint-sized 12.2-megapixel D-SLR with pro-grade specs, deservedly won Camera of the Year honors in our Entry Level D-SLRs category. Now, in response to lower-priced competitors, comes the 10.1-megapixel Digital Rebel XS, which has most of the XSi's virtues but costs substantially less. Inherited from the XSi are the same body design and CMOS image sensor technology; DIGIC III image processing; dual-mode Live View AF; ultrasonic sensor-dust removal; Auto Lighting Optimizer (but not highlight tone priority); and SD/SDHC card storage. The XS viewfinder (0.81X) and LCD screen (2.5 inches) are a bit smaller, but its excellent status panel and menu system are nearly identical. Changes from the XSi include seven AF points instead of nine; slightly slower shooting (3fps unlimited JPEG, 1.5fps RAW); 12-bit RAW instead of 14-bit; and no spot meter. Given those modest trade-offs, its price tag is a bargain. About $600.
By Russell Hart / American Photo
Epson Stylus Pro 4880
This model's biggest brother — the Epson Stylus Pro 11880, our Printer of the Year — has the longed-for ninth cartridge slot lacking in the -880 series's smaller models. That difference allows SP11880 users (few though they may be) to switch at will from glossy to matte paper and back rather than having to go through time-consuming, expensive cartridge-swapping. But just like that huge, 64-inch machine, the Stylus Pro 4880 uses Epson's UltraChrome K3 inkset with its new "Vivid Magenta," which in our experience — both with this model and the Stylus Photo R1900 (see Fine-Art Printers) — really does seem to improve color gamut and, in particular, the rendition of skin tones.
We were blown away, however, by the smoothness the SP4880 imparts to color gradation, from a hue's palest to its deepest values. The new model's dot-distribution algorithms are said to be similar to, but even better than, the impressive Stylus Pro 3800, 2007's Editor's Choice Best Buy in the Fine-Art Printer of the Year category (a model that shares the SP11880's extra slot). We can't claim to see the difference, but both models produced some of the best inkjet prints we've ever made, in color or black and white.
The SP4880 carries on with Epson's trio of black inks, black, light black, and light light black, which makes for beautifully long-toned black-and-white output. (Wonder if either of the light blacks is actually 18 percent gray…) That plus the ease of the dedicated black-and-white mode in the printer's driver, which lets you "tone" an image with virtually any color and to any degree without messing up your original file, makes this a super black-and-white printer too. Yes, you will have to manually swap photo black for matte black, as mentioned. But for us this wasn't a big deal, since we generally favor (in contrast to our silver halide days) matte-surfaced papers. Under $2,000.
Epson Stylus Photo R2880
Successor to the esteemed but ink-hungry Stylus Photo R2400, this 13-inch pigment-based model takes its name from the -880 series "Pro" line because it shares many assets with those larger printers. Not least of these is the "Vivid Magenta" feature of their shared UltraChrome K3 inkset, which gives the R2880 smoother, more faithful color and even deeper blacks. It inherits the bigger models' printhead, too, incorporating automatic checking for both clogs and correct alignment.
Like all the -880 models except the top-of-the-line SP11880, photo black and matte black must be manually swapped when you want to change paper surfaces, but Epson says the R2880 is less wasteful of ink in the process — and of course its cartridges have lower volume and a lower price. We confess we haven't tested this model ourselves, but include it here on the basis of examples we've seen of its output, which look at least as good as what we're used to getting from the Stylus Photo R2400. When you add that superb quality to the ink-related advantages of the Stylus Photo R2880, you have a worthy if incrementally improved successor. About $800.
Green Photo Product of the Year: HP Deskjet D2545
You can't really use this letter-sized inkjet model to make exhibition-quality photographic prints. That said, on decent paper its four inks (in one black and one tricolor cartridge) produce surprisingly good image quality. This is the result, says HP, of a dual-dot ink distribution system that makes up for the lack of light cyan and light magenta (typically found in photo-quality printers) by means of pointillism — simply by using smaller dots of the full-blown colors. What's more, the archival life of the new printer's output, though dye-based, has been rated at 60-plus years by permanence guru Henry Wilhelm. But frankly, those aren't really the reasons we've included the HP Deskjet D2545 in this sidebar to the models in our Fine-Art Printers category. It's here because it represents an impressive green-mindedness on its maker's part: Its plastic body is made of 83 percent (by weight) recycled plastic. This isn't entirely new for HP, which has been climbing the curve of eco-responsibility more aggressively than most manufacturers. HP's recycling program allows you to call in to get an unwanted printer picked up, whereupon it is either donated to charities if it still works or ground up to make more printers, a process that even separates pure plastic from circuit boards. HP cartridges come with a postage paid?? return envelope, and are also ground up for recycling; HP60 black cartridges are three-quarters recycled plastic. Whatever you return for recycling, you get points for credit toward future purchases of HP products. As for the D2545, it has a remarkably small footprint; uses way less energy than its predecessors when not in use or in sleep mode; and outputs color at 20 pages-per-minute, text at 26 pages-per-minute — not too shabby for a sub-$50 printer. And it comes in recyclable packaging, no hateful styrofoam. Under $50.
By Jonathan Barkey and Russell Hart / American Photo
onOne FocalPoint
Plug-ins for Photoshop just keep getting more and more sophisticated. Nik's Viveza gives you a new level of local control, while this impressive Photoshop and Photoshop Elements plug-in from onOne (which also makes the classic Genuine Fractals and PhotoTune, below) brings new ease and precision to the selective addition of blur. Using a "box blur" algorithm said to be optically truer than Photoshop's traditional Gaussian blur, FocalPoint lets you select the exact point in the image where you want the sharpest focus, then pull out a radial "antenna" to control "defocus." Amount and feathering are easily and precisely controlled with pop-up sliders.
The blur mask is automatically created on a separate layer, to which you can click for quick examination of shape and opacity. What's more, any follow-up adjustments and effects — corner vignetting, for example — conform to the contours of the blurred area. The software even has a control that simulates the dramatic defocus obtained by tilting or swinging a view camera's standards. Especially clever: Since blur softens or eliminates any "grain" in the image (whether conventional or digital), you can add grain back in — and it only affects the blurred area, proportionally of course. About $150.
Silkypix Developer Studio 3.0
This powerful RAW converter from Japan gets raves for its superb color reproduction. It has a full-fledged browser, batch editing and tagging, and film simulations for Fuji, Agfa, Kodak, and Polaroid emulsions — plus quirky presets including "Red Enhancer, "Nostalgic Toy Camera" and more. About $150.
ACDSee Pro 2
This pro-grade, Windows-based image manager swiftly filters, groups, and sorts thousands of photos with ease. It's equally adept at fine-editing RAW files, with adjustments for shadow/highlight, lens distortion, and noise — plus a selection tool, batch correction and file conversion, and upload to Flickr. About $130.
Vertus Fluid Mask 3
This super-smart masking app offers the fastest way to extract a complex subject (including hair and smoke) from its background, with intelligent edge detection and blending tools delivering seamless results. It's available stand-alone or as a plug-in for Photoshop, Paintshop Pro, and Quark. About $240.
RealViz Stitcher Express 2.5
Potent yet affordable, Stitcher Express can seamlessly merge unlimited separate images into everything from 2D ultrawide panoramas to immersive 360-degree QuickTime VR movies. It includes a 3D interactive workspace, drag-and-drop assembly, defect excision, and automatic light equalization to keep density more consistent across the image. About $80.
onOne PhotoTune 2.2
This intelligent Photoshop plug-in corrects color and tone in an easygoing sequential process: The user simply chooses the preferred variation from six successive image pairs. PhotoTune also includes version snapshots, manual fine-tuning, and a SkinTune module that features five complexion profiles. About $130.
By Theano Nikitas
It has been another banner year for inkjet printing media. Baryta-type papers are still big news, offering the traditional look and feel of glossy silver paper — not the mirror finish of ferrotyped fiber-based or resin-coated prints, but the softer sheen produced by air drying. Our inkjet paper of the year, from printer maker Epson, is one of these. It's more evidence that many digital photographers still use traditional silver papers as a reference point for digital media.
Yet independent paper makers are pushing the inkjet envelope, offering a brave new world of substrates for photographers to experiment with. Our top choices for 2008 are made from bamboo, mulberry fiber, and metal. There's even a decal-like image-transfer material. You can hardly call them papers anymore.
Inkjet Paper of the Year: Epson Exhibition Fiber
The result of several years' development, Exhibition Fiber produces equally stunning prints in color or black and white. The lustrous surface of this heavyweight (325 gsm and 13mil thick), fiber-based paper is one of the closest we've seen to that of air-dried glossy silver paper. It has just the slightest hint of texture — so subtle, in fact, that we had to use a magnifying glass to be sure — but that adds a nice dimension to the paper.
Exhibition Fiber is designed to work with Epson's UltraChrome K3 inks, the inkset used by printers such as the Epson Stylus Photo R2400 and new R2880, both 13-inch models, and larger Stylus Pro models such as the 17-inch SP4880. (Pixel Genius has developed ICC profiles for the paper, available for free at the Epson Website.) We tested it on the R2400, with which it produced a high level of sharpness and some of the richest blacks and cleanest highlights we've ever seen in monochrome inkjet prints — a measure of both the brightness of its base and the high D-Max that can be obtained on it. Exhibition Fiber does incorporate optical brightening agents, but Epson has opted for ECF (Elemental Chlorine Free) bleaching, which reduces environmentally damaging by-products.
Epson's new paper is a little pricey and is available only in sheets from 8.5x 11 to 24×30 — no problem for darkroom grads who never knew the convenience of roll paper. The prints it yields, though, are decidedly "exhibition" quality. www.epson.com
Booksmart Fine Art Metals
Art-minded photographers have run some pretty unusual materials through their inkjet printers — fabrics, wood veneer, and sheet metal. (Even tortillas, a true story.) It's an iffy business, but Booksmart Studio has removed the uncertainties of printing on metal, at least, with its Fine Art Metals inkjet media. Specially coated for proper, even adhesion of pigment- and dye-based inks, these aluminum sheets are available in Brushed Silver, Matte Silver, Satin Silver, Satin White, and Satin Gold finishes.
We think the most appealing of the five finishes is the Satin Silver. Its reflective surface gives images an almost three-dimensional look that Booksmart compares to classic Ilfochrome (formerly Cibachrome) Type R color printing paper. Though the Satin Silver works very well with color, its effect is ideal for black-and-white images. Brushed Silver, as its name suggests, has a more textured surface that gives the image a grainy appearance, while Matte Silver is better suited to rendering fine detail. If you want the closest thing to a traditional ink-on-white-paper look (only on metal), go for the Satin White. The Satin Gold tended to mute the hues in our flower photos, and can look a little muddy with color in general, so it's probably best used for monochrome printing.
The Fine Art Metals are available in sheets from 8.5 x 11 up to 20 x 80, depending on finish; some can be had with an adhesive backing. Thickness also varies from one finish to another, ranging from 0.012 to 0.020 inches. That heft requires a printer with straight feed path and possibly an adjustable platen. The silver and white metals are offered in a thinner (0.005 inches) foil, which should work in printers using a J-Curve feed. Be prepared to clear-coat or laminate the prints for best longevity.
ICC profiles for the Fine Art Metals are available for free on the Booksmart Studio Website. As of June 2008, profiles were available only for pigment printers from Canon and Epson, though HP profiles are in the works.
Printing on metal doesn't come cheap: A sheet costs several times more than a sheet of regular paper, around nine dollars for an 8.5×11. Try out a sample pack of 8.5×11 media to see which surface you like best before you invest in larger sizes and quantities. www.booksmartstudio.com
Hahnemuhle Bamboo 290
Fast-growing, sustainable bamboo has become one of the world's hottest green products, used for everything from construction to clothing. Now it's in inkjet paper. Hahnemuhle Bamboo 290 is made of 90 percent bamboo fiber and 10 percent cotton. Like the bamboo socks we received last Christmas, it's surprisingly soft to the touch; at 290gsm (grams per square meter) and half a millimeter thick, it has a nice heft without being too stiff.
With a fairly smooth, very slightly textured surface, Bamboo 290 contains no optical brightening agents, which accounts partly for its being more cream-colored than white. This in turn produces both warmer color and, with monochrome images, a pale yellowish undertone most visible in lighter tones and highlights. While this may not suit everyone's aesthetic, nor every image, we loved the warmth of our test prints. (Free ICC profiles can be downloaded from the Hahnemuhle site.)
Bamboo is available in sheets from 8.5×11- to 17×22 inches, and in 39-foot rolls that are 17-, 24-, 36- or 44 inches wide. Hahnemuhle is supporting a number of environmental projects (visit www.green-rooster.com) with a portion of sales from specially-marked papers. www.hahnemuhle.com.
Harman Gloss FB AI Warmtone
It might just be the inkjet world's answer to Portriga Rapid, Agfa's legendary warm-tone, cream-based silver printing paper. Harman's new Gloss FB AI Warmtone achieves its warm base in part by forgoing the optical brighteners found in the existing Gloss FB AI paper. This glossy-surfaced paper has a nice heft to it at 320gsm (grams per square meter) and 14mil (14/1000th of an inch) thickness.
Like the Harman family's other papers, which also come in matte-surfaced regular and Warmtone versions, Gloss FB AI Warmtone has a fiber-based substrate with a Baryta coating. It's compatible with both dye- and pigment-based printers and comes in sheets from 8.5×11- to 17×25 inches, as well as in 17-, 24-, and 44-inch rolls. (Five-sheet sample packs are available for testing.) www.harman-inkjet.com
Ilford Galerie Gold Fibre Silk
Lovely is the best word to describe the smooth, lustrous surface of Ilford's new paper. Like other Baryta papers, Galerie Gold Fibre Silk is fiber-based and coated with a layer of barium sulphate, both of which give it the look and feel of traditional darkroom papers. At 310gsm, a sheet of it feels as substantial as heavyweight silver halide paper, but with a little more stiffness.
Although Galerie Gold Fibre Silk has a hint of warmth, its tint falls closer to the bright white of Epson Exhibition Fiber paper than the yellow of Hahnemuhle's Bamboo. It gave us good results with both color and monochrome prints, especially when we took Ilford's suggestion to experiment with Photoshop toning.
Ilford Galerie Gold Fiber Silk is available in sheets from 8.5×11- to 17×22 inches, as well as in 40-foot rolls up to 50 inches wide. Free ICC profiles can be downloaded from the Ilford site. www.ilford.com
Lazertran Waterslide Decal
This unusual printing material is actually a transfer decal rather than a paper, but it has great potential for photographers who want to experiment with the look and feel of their prints. Lazertran Waterslide Decal works something like the Polaroid Emulsion Lift process. After you print on it, you soak the sheet in water to lift the decal from the backing paper. The back of the decal itself is coated with an adhesive that lets you apply it to just about any surface including metal, wood, and glass. Because the decal base is clear, controlled layering of multiple images is possible. If you need convincing that this substrate lends itself to creative effects that can't be achieved with standard inkjet papers, visit the Lazertran Website and click on "Artist's Inspiration." While you're there, check out the company's new inkjet-compatible metallic foils. Lazertran Waterslide Decal Paper is available in 8.5 x 11 and 11 x 17-inch sheets as well as 24-inch-wide rolls that are 60 feet long. www.lazertran.com
Moab by Legion Moenkapi Washi
Anyone who's tried her hand at making paper — and attempted, with mixed results, to use that paper in an inkjet printer — may fall in love with Moab's Moenkapi Washi papers. Though Moenkapi is a Native American name for a type of layered clay rock common around Moab, Utah, Washi is a type of Japanese paper made from Kozo (mulberry) fibers.
Moab offers three Washi papers in its Moenkapi line: Kozo 110, Unryu 55, and Bizan 300. All are cream-colored, made in Japan, and coated for use in both dye- and pigment-based printers. They vary in weight, however: In comparison to other fine-art inkjet papers, Kozo 110 is relatively lightweight, but it still has enough heft and stiffness to feed easily into your printer.
Unryu 55 is, as its gsm-based number 55 implies, an extremely lightweight, delicate paper. Almost translucent, it is inlaid with coarse fibers to add a decorative effect. Although its thinness can make it tricky to run through your printer, this may be our favorite of all the Moenkapi papers because of its uniqueness in the inkjet world.
The Moenkapi line's third Washi paper, Bizan 300, is special because it's the only one of the three that's handmade rather than machine-made. This heavyweight paper has a beautiful feel, and its deckled edges add to the handmade look. Because of its thickness, Bizan is best used in printers with an adjustable platen.
All three papers work well with both color and black and white, but each gives the image a different quality. Kozo is the most forgiving, while Bizan (which produces softer images) and Unryu (because it's so delicate) require a little more thought when matching images to paper.
Kozo is available in A4 (8.3 x 11.7″) and 13 x 19-inch sheets. Unryu comes in those two sizes and in 44-inch-wide, 45-foot-long rolls. Bizan sheets are available in A4 and A3 (11.7 x 16.5 inches). Because it's handmade, Bizan is quite expensive — about $13.40 for an A4-sized sheet. (It's well worth it, we think.) You can get a sample pack of Kozo and Unryu with two sheets of each for $5.95 on the Moab website. www.moabpaper.com
Red River GreenPix
Printing on recycled paper is one way to go green, but for inkjet output it's problematic. Recycled papers have more surface imperfections than papers made straight from pulverized trees — and they just aren't very white. Red River's GreenPix paper is made from 100 percent post-consumer content yet has a high brightness rating of 97. That and a proprietary coating produce rich color and tone on a recycled stock. About $35 (100 sheets). www.redriverpaper.com