Editor's Choice 2008: Fine-Art Printers
The Epson Stylus Pro 11880 may be big, but its state-of-the-art technology is a harbinger of smaller printers to come.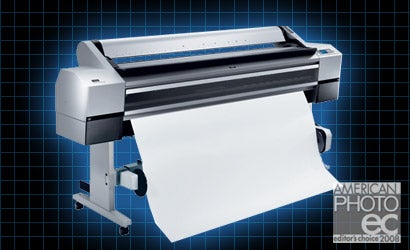 We may earn revenue from the products available on this page and participate in affiliate programs. Learn more ›
Art comes in all sizes, and fortunately for photographers, so do inkjet printers. An 8×10 print doesn't cut it anymore — particularly given the amazing image quality from the latest D-SLRs. Our choices this year output prints from 13 to 64 inches wide.
Fine-Art Printer of the Year: Epson Stylus Pro 11880
We're never satisfied. No sooner does a new piece of photo equipment come to market than someone asks, What's coming next? That someone is usually us, and occasionally we get hints of what's next from a high-end model that a manufacturer brings out to test the waters, to prove a new technology, or to give that technology a head start on the path to economies of scale that will make it more affordable to build and buy.
Those reasons drove the release of the Epson Stylus Pro 11880, and also explain why we've chosen it as our Fine-Art Printer of the Year. With a $13,500 price tag and a 64-inch roll-paper capability, the SP11880 is unlikely to find a home except with well-funded photographers who want to make very large prints. But we think this highly innovative pigment-based inkjet printer deserves recognition as a harbinger of things to come.
First things first, the SP11880 has a nine-channel printhead, and therefore does not require the user to manually remove and reinstall photo black and matte black ink cartridges when switching from glossy to matte paper and back. While HP and Canon both have introduced pigment-ink photo printers with 'simultaneous' blacks, until now Epson had only one such model, the 17-inch Stylus Pro 3800. Of course the original 1000-series Stylus Pro models could switch blacks on the fly, but they didn't have to accommodate the extra gray that makes the newer Epson models better monochrome printers.
The SP11880 is very fast, but its speed doesn't sacrifice resolution or the accuracy with which it sizes and places ink dots. The new print head features 360 nozzles-per-inch (3,240 total) and produces 3.5-picoliter droplets — adding up to images of unparalleled resolution. Combine this with new dithering algorithms and Epson's K3 pigment inkset, which incorporates a Vivid Magenta to expand its color gamut, and it's fair to say the SP11880's image quality is the best yet from any inkjet printer. There's also good news for photographers whose vocabulary gets more colorful when their printer's heads clog: The SP11880 automatically checks and cleans its heads as needed. When a clog is detected the printer will clean itself — even pausing to do so in the middle of making a print.
At a Glance: Epson Stylus Pro 11880
• 9 INKS/PIGMENT-BASED • 64-INCH PAPER WIDTH • 700ml CARTRIDGES • ABOUT $13,500 • This top-of-the-line model represents the state of the printing art. Its nine-channel ink system, which incorporates a new 'Vivid Magenta,' lets you switch from matte to glossy on the fly — and should be coming soon to a printer near your price range.
Other Top Fine-Art Printers
Best Buy: Canon imagePROGRAF iPF5100
Canon's new wide-format entry is the most affordable photo-quality alternative for those of us who want a printer that produces 17-inch-wide output and also offers roll-paper capability. With its 12 Lucia inks and simultaneous blacks, the Canon imagePROGRAF iPF5100 combines very high image quality with an important convenience feature — the ability to switch, on demand, from glossy to matte black ink, and therefore from glossy to matte paper — that is lacking in the Epson Stylus Pro 4880. And due to newly tweaked black inks, its monochrome output is excellent, with no visible bronzing on glossy paper, better scratch resistance, and little apparent color shift under different light sources. The iPF5100 is also much improved over its predecessor, the iPF5000, in its user interface (friendlier) and documentation (more thorough). There are trade-offs: You can get larger, 220ml cartridges for the new Epson SP4880, while the iPF5100 only accepts a single 130ml size. But unlike the SP4880, the Canon features automatic head checking and cleaning. And its dual print head speeds output by reducing the number of 'passes' needed to complete a print.
At a Glance: CANON imagePROGRAF iPF5100
• 12 INKS/PIGMENT-BASED • 17-INCH PAPER WIDTH • 130ml CARTRIDGES • ABOUT $1,800
Best Buy: Epson Stylus Photo R1900
If the best black-and-white printer among this year's 13-inch contenders is the HP Photosmart Pro B8850, the Epson Stylus Photo R1900 is the best at color output. Though its number suggests it's an incremental upgrade from the three-year-old R1800, the R1900 uses a new inkset in which blue is replaced by orange and red is juiced up. This eight-color inkset gives prints a richness well suited to skin tones, while its new gloss optimizer creates a beautifully even surface. Though you get the convenience of switching from glossy to matte black on the fly, you lose a gray that would help with monochrome. But the R1900 handles color with more smoothness and aplomb than its competitors, and unlike them comes with a roll-paper attachment and CD/DVD printing capability. About $520.
HP Photosmart Pro B8850
Two years ago our Fine-Art Printer of the Year was the HP Photosmart Pro B9180, an eight-color, pigment-based inkjet especially good at producing dead-neutral black-and-white output. That printer has since gained many admirers, and HP's Photosmart Pro B8850 will allow more of them to buy into its technology. The B8850 uses the same eight Vivera archival inks as the B9180, with five colors and three blacks — photo (glossy), matte, and light gray — that give it its monochrome excellence. (No need to swap blacks, either.) It uses the same self-cleaning printhead. It even has the same self-calibration system. But the B8850 costs $150 less than the B9180, which it does by dispensing with the latter's Ethernet port and status LCD panel (it uses LEDs), and by limiting the thickness of acceptable media to a still-hefty 0.7mm. Using the B8850's straight paper path, you can still print on the fine-art sheets photographers love. About $530.