Editor's Choice 2008: Entry-Level D-SLRs
Canon's 10.1-megapixel Digital Rebel XSi is an advanced camera at an entry-level price.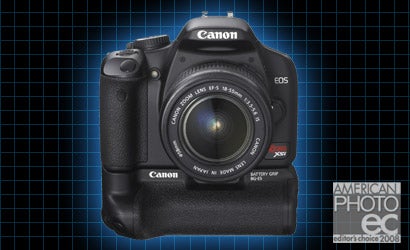 We may earn revenue from the products available on this page and participate in affiliate programs. Learn more ›
The 'baby' of the Canon EOS family inherits great genes from its larger, costlier siblings, coming into the world with a low-noise CMOS sensor, large viewfinder and LCD screen, fast shooting speed, and dual-AF Live View. These traits give the Rebel XSi an unusual maturity for its class.
Entry-Level D-SLR of the Year: Canon EOS Digital Rebel XSi
Though this compact D-SLR looks like the 10.1-megapixel Digital Rebel XTi, its pint-sized predecessor, it shares technology with the more advanced EOS 40D and flagship Mark III series. For example, its 12.2-megapixel CMOS sensor incorporates bigger microlenses on top of its pixels to improve light gathering. Likewise, DIGIC III image processing helps the Canon EOS Digital Rebel XSi deliver the cleanest output of its peers (up to ISO 1600), accelerate data writing (up to 53 Large/Fine JPEGs or 6 RAW frames at a class-leading 3.5fps), and conserve energy (along with a new battery, which delivers 50 percent more shots than the XTi).
Another inherited trait is the XSi's 14-bit analog-to-digital conversion, which smooths gradation, especially in RAW images. Highlight Tone Priority improves detail in bright areas; High ISO Noise Reduction and Long Exposure Noise Reduction clean things up on the low end of the scale. Plus Auto Lighting Optimizer combines global and local adjustments to enhance brightness and contrast, something many pricier Canon models don't do. Likewise, Face-Detection technology automatically brightens backlit faces.
The first Digital Rebel to use SD memory cards, the XSi has the biggest viewfinder in its class, with 0.87X magnification, and covers an impressive 95 percent of the subject. The three-inch, 230,000-pixel LCD is the class leader, and the first in a Digital Rebel that can be used for Live View shooting — which lets you compose onscreen, judge exposure with a real-time histogram, and magnify live subject details up to 10X. The LCD doubles as a huge data screen that even focus-challenged photographers can read. The menu system is equally legible and more logical than many competitors'. The improved ergonomics of its polycarbonate and stainless-steel body make the camera a pleasure to handle.
At a Glance: Canon EOS Digital Rebel XSi
• 10.1 MEGAPIXELS/CMOS IMAGE SENSOR • 1.6X FOV CROP • 3-INCH LCD SCREEN • 3.5FPS • IMAGE STABILIZATION: IN-LENS • ABOUT $800 • The newest Rebel is Canon's first D-SLR with dual-AF Live View — and the only such camera available among affordable, entry-level models. Quick Mode offers faster focusing but briefly blacks out the viewfinder as it flips up the reflex mirror; Live Mode uses point-and-shoot style contrast-detection, which is slower but offers greater precision and the ability to freely position the AF point(s).
Other Top Entry-Level D-SLRs
Best Buy: Sony Alpha 350
The LCD screen on the Sony Alpha 350 may not be as big or sharp as the one on the heftier Alpha 700, but it's actually more versatile. It doubles as a live electronic viewfinder that sees exactly what the optical viewfinder sees. It does this not with true Live View technology (which relays the image from the 'taking' sensor) but with a separate, dedicated sensor near the eyepiece. That's a significant advantage, allowing fast, phase-detection AF (focus tracking included) when you're composing on the LCD, without the cumbersome 'mirror-flipping' that slows other Live View models down.
Equally advantageous, the A350's screen incorporates a bi-fold mechanism that lets you swing it up 90 degrees, for waist-level shooting, or down 45 degrees, for overhead shooting — highly useful techniques not possible with a fixed screen. Medium sized and comfortably shaped, the A350 incorporates Sony's customary abundance of advanced features. These include in-body Super SteadyShot, which compensates for camera shake (and image blur) with any Sony lens; D-Range Optimizer, which noticeably extends the tonal range; nine-point Eye-Start AF; automatic sensor cleaning; a noise-reducing Bionz processor; a 730-shot battery; an 'intelligent' battery meter; and a super legible, self-orienting data display. But the feature that most distinguishes the new Alpha from its competitors is its 14.2-megapixel CCD image sensor. The A350 provides the highest resolution of any Sony digital SLR and produces more image detail than cameras costing hundreds or even thousands of dollars more. Yet at maximum file size, the A350 can still record an unlimited number of continuous JPEGs or up to six RAW frames, at up to 2.5fps.
At a Glance: Sony Alpha 350
• 14.2 MEGAPIXELS/CCD IMAGE SENSOR • 1.5X FOV CROP • 2.7-INCH LCD SCREEN • 2.5FPS • IMAGE STABILIZATION: IN-BODY • ABOUT $800 • This innovative model is testimony to Sony's commitment to the digital SLR, breaking new ground in three ways. It's the highest-resolution model in its price class. Along with its lower-resolution twin, the A300, it's the first Sony with Live View. And it's the first D-SLR with autofocus that's equally effective whether you're shooting in Live View or with the optical viewfinder.
Panasonic Lumix DMC-L10
Panasonic's first D-SLR, the 7.5-megapixel Four Thirds-format Lumix DMC-L1, is a hefty, stylish instrument: Its Leica-inspired metal body is flat on top, has a separate shutter-speed dial, and encircles the lens with an old-fashioned aperture ring. All that is gone from the lighter, polycarbonate-clad Panasonic Lumix DMC-L10, which has a conventional prism hump; a comfortable, shaped handgrip; and new-age controls. And while the L1 was the first D-SLR with Live View, the new camera adds a second, more usable variant in which autofocus is performed with contrast detection by its 10.1-megapixel, Four Thirds-format imaging sensor. This second Live View mode's AF is slightly slower but way more flexible, with four different sub-modes that allow you to control the size and position of up to 11 focus points.
The Lumix L10's virtuosity is multiplied by its 2.5-inch variable-angle LCD, which swings out 180 degrees horizontally from the body and rotates 270 degrees. This means not only that you can compose from waist-level or overhead but also that you can face the screen forward for self-portraiture.
Another standout asset of the L10 is the zoom that comes with it. It's not a typical low-budget 'kit' lens but a beautifully made Leica D-Vario Elmar 14-50mm (28-100mm equivalent) with superb image quality and built-in MEGA Optical Image Stabilization. Being in the lens, the latter's smoothing effect is visible in the L10's viewfinder. And while the finder is small, as in most Four Thirds models, a clever 1.2X magnifying eyepiece improves the view significantly.
At a Glance: Panasonic Lumix DMC-L10
• 10.1 MEGAPIXELS/LIVE MOS IMAGE SENSOR • 2.0X FOV CROP • 2.5-INCH LCD SCREEN • 3FPS • IMAGE STABILIZATION: IN-LENS • ABOUT $1,200 (WITH 14-50mm LEICA-SPEC LENS) • This more affordable successor to Panasonic's offbeat Lumix DMC-L1 gets a higher-resolution sensor, more conventional controls, and mainstream D-SLR styling. The L1 pioneered Live View shooting, but the new L10, with its articulated LCD screen and contrast-detection autofocus, takes that technology to a higher level.
Pentax K200D
Two years ago Pentax caused a sensation when they debuted the tough, savvy K10D, the first weather-sealed D-SLR priced under $1000. Now they've done it again — creating an even less expensive model with the same 10.2-megapixel sensor and very similar specs. Physically the new Pentax K200D is slightly smaller than the K10D, but its fiber-reinforced polycarbonate shell and stainless-steel chassis are just as rugged, with 60 environmental seals offering pro-caliber protection against rain and dust.
The K200D also shares the K10D's sensor-vibrating Dust Reduction system, but it adds something called Dust Alert. This feature creates a map of any remaining dust on the image sensor, displaying it on the camera's 2.7-inch LCD — bigger, by the way, than the K10D's — to help with manual cleaning.
The K200D also incorporates Pentax's own Image Stabilization system, which shifts the sensor to offset camera shake. That means you can get sharp shots at shutter speeds up to four stops slower than you'd ordinarily need, with any Pentax lens — even decades-old manual-focus optics. And manual focus is aided by the K200D's sharp, bright viewfinder, one of the biggest in its class, with 0.85X magnification and 96 percent coverage. The K200D also retains the K10D's SAFOX III AF system, which has 11 focus points — impressively, all cross-type. But it moves the AF area selector and a few other formerly external controls to its well-organized menu system.
All that said, the new model's imaging abilities are remarkable too. There's instant RAW capture via a dedicated button; an Expanded Dynamic Range setting that significantly improves highlight detail; and in-camera, post-exposure JPEG filter effects and RAW-to-JPEG conversion. Perhaps most impressive, you can preview, in real time on the LCD screen, the effect of changing settings — before you take the shot.
At a Glance: Pentax K200D
• 10.2 MEGAPIXELS • CCD IMAGE SENSOR • 1.5X FOV CROP • 2.7-INCH LCD SCREEN • 2.8FPS • IMAGE STABILIZATION: IN-BODY • ABOUT $650 • Whether you deem it a souped-up K100D or a trimmed-down K10D, this mid-sized, featured-packed camera offers the most rugged, weather-resistant body of any affordable D-SLR. That plus sensor-based image stabilization, automatic dust removal, expanded dynamic range, and image processing smarts make the new K200D a serious contender.
Best Buy: Olympus EVOLT E-420
A big professional D-SLR can be overkill for everyday shooting. Given a choice, we might take the delightfully portable Olympus EVOLT E-420 instead. It weighs just 15 ounces — three less than its closest competitor — and measures only 5.1×3.6×2.1 inches. It squeezes into a coat pocket even with the 14-42mm (28-84mm equivalent) kit lens attached. And it's slimmer still with the minuscule new Zuiko 25mm f/2.8 (50mm equivalent), which has a depth of less than an inch. Despite its size and bargain price, the 10.1-megapixel EVOLT E-420 delivers dynamic range, ISO range, clarity, and color fidelity approaching that of the top-of-the-line Olympus E-3 (see page 39). It owes these assets to better white-balance calculation, new noise-reducing amplifiers, and a TruPic III image processor. The latter also allows 3.5fps shooting, matching Canon's Digital Rebel XSi. Also like the E-3, the E-420 can be set to selectively boost shadows.
The E-420 gets a bigger, more contrasty LCD screen with a wider viewing angle, all assets for Live View shooting. And Live View is available with three focusing modes: three-point, mirror-flip phase shift, like the E-410's; contrast detection similar to the Panasonic L10's (with up to 11 focus points); and a hybrid mode combining the two, for extra precision. Onscreen, Perfect Shot Preview shows you multiple thumbnails of the Live View image with various effects and adjustments applied so you can choose the one you want before you shoot. While the E-420 lacks the built-in image stabilization of its costlier siblings, it does have supersonic sensor cleaning and pro-grade wireless multi-flash, for managing up to three strobe groups on its LCD control panel and triggering them with its pop-up flash.
At a Glance: Olympus EVOLT E-420
• 10.1 MEGAPIXELS/LIVE MOS IMAGE SENSOR • 2.0X FOV CROP • 2.7-INCH LCD SCREEN • 3.5FPS • IMAGE STABILIZATION: IN-BODY • ABOUT $500 • Olympus excels at making tiny, exquisite cameras, and that includes this model, the world's smallest, lightest D-SLR. A dead ringer for the cult classic E-410, the E-420 upgrades the E-410's image quality and processing smarts, also incorporating a better LCD screen, three-mode Live View, and wireless flash.