Editor's Choice 2008: Digital Storage
Higher resolution demands more storage capacity, and makes it all the more important to back up your files with devices like the Data Robotics Drobo and Apple Time Capsule.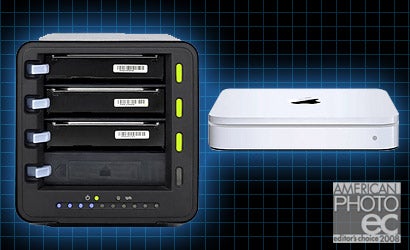 We may earn revenue from the products available on this page and participate in affiliate programs. Learn more ›
Recent leaps in resolution have made storing all those visual gigabytes a bigger concern than ever, even with the humblest digital SLR. Which is why one well-known computer maker introduced goof-proof backup software that's completely integral to its operating system — then built a heavy-duty external hard drive that receives the data via its own separate Wi-Fi network. (You'll find that drive among this year's Editor's Choice winners.)
Other Network Attached Storage (NAS) systems back up with multiple drives for even better data security: One such model in this year's group is small enough to fit in your palm, and another beats conventional, multiple-drive RAID storage by letting you combine drives of different sizes. Need to carry and swap top-secret information, or safeguard images in transit? Here you'll find a pocketable, encrypted flash drive that literally erases your files after detecting unauthorized access.
Memory card backup has gotten more convenient too, whether with a portable, card-reading drive that halves the transfer time of its predecessor, or a multi-slot reader that lets your computer ingest the contents of four CompactFlash cards at the same time. And the cards themselves have grown bigger and faster all around: CF has reached a whopping 48GB capacity and up to 50GB/second data-transfer speed, SDHC has attained 32GB, and Memory Stick comes in a variant that's three times faster than before. This same solid state technology is also starting to challenge conventional disk-based hard drives, as you'll see, and, if Moore's law gets its way, will eventually become the storage choice for a mass audience.
Although writable CDs and DVDs are old hat, new portable DVD burners provide cheap, secondary storage for laptop computers. And the video disk format war is over, with Blu-ray prevailing over HD-DVD and drives that write to Blu-ray quickly improving their performance-to-price ratio.
These days, the lines separating digital storage, communication, and personal entertainment are blurred, but one of our favorite items in this category manages to wow everyone who handles it, even though it's pricey and memory-challenged. How? With the human touch.
Co-Digital Storage Product of the Year: Data Robotics Drobo
Last year's Editor's Choice just missed the introduction of this brilliant alternative to conventional RAID storage, but now it's even better. A minimalist USB 2.0 enclosure that holds up to four 3.5-inch SATA hard drives, this intelligent "storage robot" actually formats those disks as a single volume, with protection data distributed across all of them. If one drive fails, Drobo will keep working, prompt you to replace the drive, and restore full protection. However, unlike with a RAID system, you may use any combination of drive capacities — and add bigger ones as needed. Setup is a cinch: Insert a drive, connect to a computer, and format. After that, Drobo (which works with Apple's Time Machine) formats new disks automatically. (Total capacity is roughly the sum of all disks minus the biggest.) And the improvements? You can now buy Drobo with drives installed; the new DroboShare "companion" makes the unit a network drive; and it's $50 cheaper. About $450 ($750 with two 1TB drives).
Co-Digital Storage Product of the Year: Apple Time Capsule
The best feature of Apple's OS X Leopard is Time Machine — a super-simple backup utility that routinely saves every file and application on your Mac to an external hard drive. It can completely restore your system if needed, or "revisit" files as they appeared in the past. Now Apple has introduced its own take on the needed hardware. Time Capsule combines a high-speed (802.11n) Wi-Fi router with a capacious hard drive in a single elegant package. It allows every Mac in your home or office to perform wireless Time Machine backups to the same central repository. There are also three Gigabit Ethernet ports — good to use for efficient initial full-system backup. And its USB 2.0 port, combined with a hub, lets you add other drives, to which you can even archive Time Capsule data. (You can also add a printer, but only one Mac can print to it at a given time.) In addition, .Mac account holders can access the Time Capsule over the Web, and even Windows PCs are able to see it as a standard network device. About $300 (500GB) and $500 (1TB).
Other Top Digital Storage Products
Lexar Media 32GB Crucial Solid State Drive
As photographers we take for granted the tiny, speedy flash memory cards on which we save our digital cameras' images or even video, using new high-speed cards such as Lexar's super-swift Professional 133x 8GB SDHC card. Now similar solid-state storage technology is available for laptop and desktop computers — sized to match the standard 2.5-inch format common to portable notebook hard drives, so that they can be installed in the same drive bay.
Like others in this new breed, Lexar's own Solid State Drive has no moving parts, which means it can take much more abuse without failing and can operate in far more extreme environments. It's also totally silent and requires much less energy, a big advantage when used in a battery-dependent laptop. And its data-transfer speed — conservatively rated at 100MB/second for reading and 60MB/sec for writing — is faster than that of many 7200rpm hard disks. These particular speeds are achieved via its 3Gb/sec Serial ATA interface, when housed in a compatible computer or external eSATA drive enclosure.
Solid state storage technology is still pricey, but many photographers will consider it worth the advantages over hard disks. And, as with all things digital, economies of scale will cut the cost drastically in the future — undoubtedly sooner than we think. About $700.
Pretec 24GB CompactFlash 333X
Rivaling SanDisk's premium 8GB Extreme Ducati Edition CF in speed and ruggedness, Pretec's new CompactFlash entry triples that card's capacity — making it the biggest and baddest in its class. Built to the new CF 4.0 Ultra DMA spec, it reads at more than 50MB/sec (333X) and writes at more than 40MB/sec (266X), equaling, on average, the SanDisk's 45MB/sec read/write speed. Protected by an impact-resistant metal housing, the Pretec card is said to operate reliably between minus 4 and 185 degrees Fahrenheit. These assets come at a steep price, and you'll get more than twice as many megabytes for your money with Pretec's own enormous 48GB standard CF card, which is 30 percent slower but $200 cheaper! About $800.
Delkin ImageRouter
Although CompactFlash memory card capacities have grown by leaps and bounds, many of us still use a few smaller cards rather than one big one, either because they're what we own or to avoid the risk of losing a whole shoot if a single large card fails or gets lost. That's the raison d'etre for Delkin's ImageRouter USB 2.0 card reader, which has slots for four cards and, thanks to its Ultra DMA data transfer standard, can download from all four simultaneously at speeds up to a combined 19 megabytes per second. The bus-powered ImageRouter needs no separate power supply and can be daisy-chained in a pair, for up to eight concurrent downloads. Delkin's optional Windows-only Backupandburn software automates the routing process and allows for direct backup to DVD, but Mac users need to manually select each card for backup. About $150 (software adds $100.)
Lite-On DX-8A1H Portable DVD Writer
The product of a joint venture between Philips and Lite-On, this super slim portable USB 2.0 DVD writer is the perfect companion for ultra-light notebook computers that lack internal optical drives — the MacBook Air for one. (See Computers.) Measuring about five inches square by less than an inch thick, and weighing under 12 pounds, the diminutive DX-8A1H is full-sized in its disk-writing versatility, accepting 8X DVD+/-R and DVD+RW, 6X DVD-RW, 5X DVD-RAM, 4X DVD+/-R dual-layer, and 24X CD-R/RW in both standard and mini sizes. And somehow the makers have managed to incorporate LightScribe disk labeling (lacking on the more expensive MacBook Air SuperDrive), allowing you to copy artwork, text, or images directly onto the disc itself, eliminating the need for additional printing, markers, or adhesive labels. Under $80.
JOBO Giga one ultra
This portable hard-drive storage device is an ideal solution if you need reliable memory-card backup in the field but don't want to carry a laptop computer. Smaller than an index card, thinner than an inch, and available in a wide range of capacities, the aluminum-bodied Giga one ultra features a mini USB 2.0 port and three dust-protected memory card slots. These accept CompactFlash, Secure Digital and SDHC, Memory Stick (four flavors), xD-Picture Card, and mini SD formats. Once a card is inserted, one-touch backup takes about three minutes per gigabyte. Status info, including percent of data copied, free disk space, and the charge level of the unit's Li-ion battery, is shown on its two-inch monochrome LCD panel. When connected to a computer, the Giga one ultra doubles as a memory card reader and bus-powered external hard drive (it also comes with an AC adapter). From $150 (40GB) to $330 (200GB).
Buffalo Technology LinkStation Mini 1TB
Network Attached Storage (NAS) devices with multiple disk drives are often bulky, heavy, and noisy. So Buffalo Technology's LinkStation Mini is a big surprise — the smallest and lightest terabyte-capacity NAS you can buy. This palm-sized wonder measures only 5.3×3.2×1.6 inches and is just over a pound, a size and weight achieved by its stacking of two 2.5-inch, 5400rpm notebook hard drives within the same enclosure. And there's no fan, so it's nearly silent.
As a Redundant Array of Independent Disks, the LinkStation Mini can be configured either as a single 1TB RAID volume (faster) or as two 500GB volumes with mirrored data (safer). Either way it's accessible from any computer on your network via Gigabit Ethernet, and its USB 2.0 port allows you to network another hard drive with it, or share a printer using its integral print server. You also get multimedia streaming to DNLA players and computers; driver-free setup; browser-based easy configuration with permissions for multiple users and groups; scheduled backups with Memeo software; and safe power-down with Uninterruptible Power Supplies. Coolest of all is the ability to access the LinkStation Mini over the Web from any location. About $700.
Kingston Technology DataTraveler BlackBox
Designed primarily for corporations and government agencies, this serious-looking USB 2.0 flash drive ensures absolute data privacy if it falls into the wrong hands. It uses the latest Federal Information Processing Standard (FIPS 140-2 Level 2), which requires the device to run a self-test each time you plug it into a computer. Although no extra software is needed, the DataTraveler's "enforced complex password protection" means you need to follow strict requirements in setting yours. And you must commit that password to memory because the drive locks down and reformats itself after a specified number of failed access attempts. Nevertheless, its "on-the-fly" 256-bit hardware-based encryption/decryption operates transparently when you're moving files (at up to 24MB/second reading and 20MB/second writing) using a Windows-based PC. (Sorry, Macs aren't compatible.) Physically the BlackBox is nearly indestructible, with a titanium-coated stainless steel casing you can drive a car over and waterproofing down to four feet. From $165 (2GB) to $425 (8GB).
LG Electronics GGW-H20L Blu-ray Disc Rewriter
When we were working on last year's Editor's Choice, there were two high-definition video disk formats duking it out for the consumer market. HD-DVD lost the bout, making the higher-capacity Blu-ray format the champ. Fortunately for photographers and videographers who archive their HD video files and high-res stills on disk, Blu-ray computer drives just got a lot faster and cheaper. A prime example is LG's new GGW-H20L internal unit. It's the first to write to Blu-ray at 6X speed (50 percent faster than previous models), which lets you burn a full 25GB BD-R single-layer disk in as little as 16 minutes. It also writes to 50GB dual-layer BD-R disks at 4X; rewritable BD-RE (and -DL) disks at 2X; DVD+R and DVD-R at 16X; and CD-R at 40X. In fact, this versatile machine can read and write virtually all DVD and CD formats and, for film buffs, play back commercial Blu-ray and HD-DVD disks. The H20L connects to your computer with 3Gb/second Serial ATA, uses built-in LightScribe to label disks, and is bundled with CyberLink playback and authoring software. About $320.
SanDisk Extreme III Memory Stick PRO-HG Duo 8GB
Although CompactFlash is the exclusive storage format in all Sony D-SLRs except the Alpha 700, Memory Stick (in several variants) is the mainstay of its Cyber-shot models. It's also an option, or the exclusive storage medium, in nearly twenty Sony HD and standard-definition Handycam camcorders. Given the demand for ever-higher still and video data-transfer speeds, Sony and SanDisk have partnered in creating a much swifter Memory Stick variant, PRO-HG Duo. The latest and biggest of these is SanDisk's 8GB Extreme III card, which both reads and writes at up to 30MB/second, which is three times faster than standard MS PRO Duo cards. It owes that speed to its eight-bit parallel interface, versus the PRO Duo's four-bit interface. (Sony four-bit cameras can support the PRO-HG cards but at a reduced data rate of 13MB/second or less.) The same 30MB/second transfer rate is possible when you connect a PRO-HG, using a Sony or SanDisk adapter, to an ExpressCard-equipped laptop or PC. About $150.
Apple iPod Touch
We first encountered this amazing next-generation iPod at a party. A photographer we met put his hand in his pocket and pulled out the Touch, which is slightly bigger than a deck of cards and less than a third of an inch thick. He proceeded to "flip through" his business portfolio (imported directly from iPhoto) by flicking his fingers across the unit's super-sharp 3.5-inch wide-screen. With this novel gestural control method, called Multi-Touch, the user can navigate and operate the Mac-like, icon-driven virtual interface entirely without physical controls (and there are none). Another iPod first is the Touch's built-in 802.11g Wi-Fi, which powers its Safari browser and separate HTML Mail program (which employ the Touch's virtual keyboard), in which you can view PDF, Word, and Excel attachments. You also get online maps, weather, and stocks; a dedicated YouTube movie player; and a notebook, calendar, and address book. The Touch lets you purchase and download music and videos wirelessly, then transfer them whenever to the iTunes library on your Mac. Necessary, since its modest flash-based storage trades disk space for superior speed and reliability. Price: $299 (8GB), $399 (16GB), $499 (32GB).
Western Digital My Book desktop drive
You know that digital storage devices are as essential as they are unsexy — by and large just boxes with a few plugs and a light or two. And external hard drives big enough to back up the contents of your computer become all but invisible when attached, doing their own thing with automatic backup software. You hardly know they're there — until your computer crashes. Western Digital's My Book external desktop hard drives are a different story, pun intended. They are sexy, in the sort of industrial-chic way that Apple has perfected. Upright and, well, booklike in shape — though with a beautifully rounded spine — they have an elegant satin-metal finish. In fact the My Book Studio Edition we tested comes in a silver tone that perfectly matches our G5 tower. (Now if only our socks matched.)
The My Book drives have a cool-looking ventilation grill with parallel rows of rounded dots and dashes evocative of our G5's perforations. The grill runs along the top and one side of the unit, where the pages would be in a real book. There's a long LED on the unit's "spine" that glows blue in various patterns to indicate the drive's status. More than any third-party product we can think of, the My Book drives look like they could've been designed by Apple itself.
The My Book Studio Edition comes formatted for Mac, though you can easily reformat it for PC. (Other models come PC-formatted.) We had the 1TB version hooked up for several months to the G5, with which it performed flawlessly behind the scenes using Apple's Time Machine to back up the computer's considerable contents. We connected the drive by FireWire 800, but in addition to a supplied FireWire 400 cable (for backwards compatibility) there are ports for USB 2.0 and super-fast eSATA. With FireWire and USB connections the drive powers on and off with your computer, and goes into standby mode after 10 minutes of inactivity. (The software, including Western Digital's own backup utility, loads directly from the drive when you plug it in, no separate CD required.) Western Digital's robust and varied drive line also includes dual-drive RAID versions for Mac and PC (the My Book Pro Edition II and the My Book Premium Edition II); versions for network storage and DVR expansion; the internal EIDE and SATA drives that are the core of Western Digital's huge OEM business; and portable drives such as the Passport. Most of these, however, are not as sexy. From $165 to $330.