Editor's Choice 2008: Computers
This year's top computers offer super processing speed and huge hard drives, but some can even serve as your media center.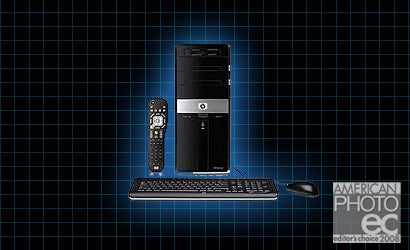 The solid-state drive — in essence, a bulked-up memory card — is just beginning to appear in consumer-level computers. Much smaller in size than a hard drive of equivalent capacity, with no moving parts and therefore greater reliability and lower energy consumption, these drives will probably become the norm. They will spawn smaller computers that rival the storage and power of their larger kin. In the meantime, speed thrills: Dual-core (parallel) processors are now the standard in both notebooks and desktops, and mid- to high-end machines usually come with quad-core processors. There are even ultrafast eight-core machines such as the Mac Pro, one of this year's winning models. With this kind of processing speed, almost any computer ably serves photographic purposes, whether amateur or professional.
But this year's selling points aren't all all about power. Manufacturers are pushing massive storage capacities. They're offering machines that can double as media centers, complete with remote control. They're introducing time- and energy-saving technologies such as Microsoft's Sideshow for its Windows Vista operating system. And they're making the thinnest, lightest notebook ever. So these days, when you're shopping for a computer to do all your photographic tasks, you might want to ask, "What else do I want it to do?"
Computer of the Year: HP Pavilion Elite d5000z ATX
This Windows Vista-based tower is tons of computer for the money, and money well-spent if you're a digital photographer. Features that speed handling of even the biggest image files include triple- or quad-core processors, up to eight gigabytes of RAM, and a built-in 15-in-1 memory card reader. You can get the d5000z with a hard drive of up to 1.5TB, but if 1,500 gigabytes still isn't enough for you, future expansion is a snap thanks to tool-free installation of up to three additional drives. A 512MB NVIDIA GeForce 8800GT video card helps make this model not only a photographer's dream but also a powerful media center. For the price of a Nikon D300 you can get a quad-core (2.3GHz) d5000z with a 20-inch monitor, 4GB of RAM, and a 750GB hard drive. About $1,700.
Other Top Computers
Best Buy: Dell XPS 420
Dell's entry is a sweet one for photographers, giving them the power and size they crave: an Intel Core 2 Quad processor of up to 2.5GHz, 4GB of RAM, a 500 GB SATA hard drive, and an available 24-inch flat-panel monitor. While the XPS 420 is not as expandable as the HP d5000z (it has only two hard drive bays as opposed to the HP's four), it uses the capabilities of Microsoft's new Windows Sideshow feature in a brilliant, energy-conscious way. A small LCD screen built into a bevel at the top of the tower accesses Sideshow gadgets that allow you to scroll through images in your pictures folder and even access your e-mail — without the need to power up your computer. About $1,400.
MacBook Air
Leave it to Apple to build the slimmest, sexiest laptop ever. The MacBook Air squeezes its superb 13.3-inch backlit wide-screen OLED and full-size backlit keyboard into a sculpted aluminum case that's only 3/4 to 1/6 inch thick — easily fitting inside a manila envelope, as Apple's advertising shows. And at just three pounds, the new model is 40 percent lighter than Apple's standard MacBook. There are just three exterior ports — USB 2.0, micro-DVI, and audio-out — hidden inside a foldout panel, plus a MagSafe power plug. As most people know by now the Air has no internal DVD writer, but you can buy a dedicated external SuperDrive. (Remember when Steve Jobs took out the floppy drive? Was he prescient or what?) Alternatively, you can use the Air's super-fast 802.11n Wi-Fi to "borrow" another computer's drive with an app called Remote Disc, which lets you transfer files and even install software. (You can't play back media files that are on another machine, however.) There's also Bluetooth wireless, plus an oversized touchpad that supports gestural commands. Inside the Air is an Intel Core 2 Duo processor (1.6Ghz or 1.8GHz), 2GB of non-upgradeable RAM, and a 1.8-inch, 4200rpm hard drive (80GB) or (way costlier) solid state unit (64GB). It comes with OS X Leopard and iLife '08 installed. About $1,800 (with hard drive) or $3,100 (with solid state storage).
Gateway P-172X FX
Though it's aimed at the gaming crowd, this laptop offers a combination of power and mobility that should greatly appeal to location photographers. With an Intel Core 2 Duo processor, 4GB of installed RAM, 320GB SATA hard drive, 512MB NVIDIA GeForce 8800GTS video card, a full-size keyboard, and an ultrabright, 17-inch (1920×1200-pixel) HD-format screen, the nine-pound P-172X FX could easily substitute for a desktop computer — with three USB ports, a 1394 Firewire port, and an eSATA port to connect all your peripherals. (There's no Blu-ray.) But the built in webcam, microphone, and HD audio also make it a great tool for communicating with clients from a location, and the built-in HDMI port lets you hook up with no fuss to a big TV or monitor when you want to show them your finished work. About $2,000.
HP Pavilion dv6700z
Though not as bulked up as HP's Pavillion HDX (a 15-pound laptop with a 20-inch screen), the dv6700z is a great choice for the traveling photographer. The new laptop features an Intel Core 2 Duo processor, up to 4GB of RAM, an available 512MB NVIDIA GeForce 8600M GS video card, and a 17-inch high-definition screen. Its hard drive can be had in capacities up to 640GB, and it accepts an optional Blu-ray drive for all the disk backup you'll ever need. Ports include three Hi-Speed USB, one FireWire, HDMI, and even one for analog TV. In fact, an available digital/analog TV tuner (with remote control) helps turn the dv6700z into a media center. From $1,150.
Mac Pro eight-core
While the featherweight MacBook Air trades power for portability, the new Mac Pro is a top-octane tower that is simply the fastest Mac money can buy. Although the previous version came in a similar configuration as a costlier option, this Pro is the first to offer eight cores (within two 2.8GHz Intel Xeon quad processors) in its base model. Compared with the old machine, it also boosts its processor caches, frontside buses, memory speed, and system controller. Its cavernous aluminum case holds near-silent cooling fans and plenty of room for expansion. That includes: Airport Extreme Wi-Fi; up to 32GB of 800Mhz DDR2 RAM; up to four 1TB 7200 rpm SATA drives or a RAID using four 300GB super-fast (15,000 rpm) Serial Attached SCSI drives; up to two SuperDrive DVD writers; Dual or Quad 4GB Fibre Channel PCI Express Cards; and up to four graphics cards capable of driving eight 30-inch Cinema Displays. Need we say more? About $2,800 (with 320MB hard drive and 2GB RAM). From $2,599.