Editor's Choice 2008: Camera Cellphones
Taking sharp pictures is just one talent of models like the Nokia N96 and Sony-Ericsson C902.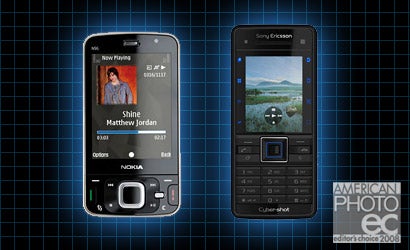 The camera cellphones that made our cut this year have much in common. On the camera side, they all feature five-megapixel resolution — enough for an 8×10 print, lenses, compression, and processing permitting. (And their lenses are often name-brand.) These models also share a bar-like shape resembling that of compact cameras, one that serves photographic purposes well. All have integral music and video players, e-mail support, Web browsers, FM radio, and TV-out connections. They even have secondary cameras that let you make video calls — if you have the service. These phones are all GSM models: Buy them unlocked from a retailer and you can use them with service from providers such as AT&T and T-Mobile.
Co-Camera Cellphone of the Year: Nokia N96
Take the camera features offered by the Nokia N82 (see page 2), back them up with a new sensor built to reduce high-ISO noise, pack them into a more compact, versatile device, and you get one of the best camera cellphones of the year. The N96 has a dual-slider design that lets you flip the screen one way to reveal an alphanumeric keypad and the other to access media player controls. It also manages to fit in a generous, 2.8-inch LCD that makes composition with its Zeiss lens a pleasure.
The phone's dual LEDs work as either a flash or a continuous video light, the latter helpful for making movies at 30fps. Shooting is in MPEG-4, but the N96 plays back a number of video formats, allowing you to view and download clips and shows from the Web. (It has an ample 16GB of internal memory, expandable with microSD/SDHC cards.) A flip-out kickstand lets you prop the phone up to view photos and videos, or watch live mobile TV. Wherever you roam, preinstalled software on the WiFi-capable N96 makes it easy to send photos to blogs and online galleries. And the phone keeps track of where you shoot by tagging your pictures with its built-in GPS capability.
At a Glance: Nokia N96 Key Specs
• 5-MEGAPIXEL IMAGE SENSOR • 34mm (EQUIVALENT) LENS • 2.8-INCH LCD SCREEN • 30FPS VGA VIDEO (MPEG-4) • BUILT-IN GPS: YES • ABOUT $800
Co-Camera Cellphone of the Year: Sony Ericsson C902
The C in its name refers to Sony's Cyber-shot digital point-and-shoots, and this bar phone borrows from those popular cameras. Its lens focuses using face-detection technology, finding and following a moving face in the frame. Its BestPic mode shoots a quick sequence of nine photos so you can save the best one, while its high-powered LED (used for both flash and video) parcels out the light needed for such bursts. There are plenty of scene modes to choose from, but you can adjust white balance, ISO settings, and color manually. Prefer to stick with automation? Use Photofix, a one-touch tool that adjusts exposure, brightness, and contrast after the shot, in-camera.
All this control is great, but we especially like the way Sony Ericsson puts it at your fingertips: Slide the lens cover open to shoot, and touch-sensitive icons light up around the LCD. PictBridge support and photo blogging software make it easy to get your pictures (stored on Memory Stick Micro cards) onto paper or into cyberspace.
At a Glance: Sony Ericsson C902
• 5-MEGAPIXEL IMAGE SENSOR • SONY ERICSSON C902 • 35mm (EQUIVALENT) LENS • 2.0-INCH LCD SCREEN • 30FPS QVGA VIDEO (MPEG-4) • BUILT-IN GPS: NO • ABOUT $500 (IN RED OR BLACK)
Other Top Camera Cellphones
Nokia N82
This bar phone is sleek but just big and boxy enough to give it a camera-like feel when you hold it horizontally. A switch next to its Zeiss AF lens (equivalent to a 35mm focal length in 35mm photography) and flash (a traditional tube rather than an LED) flips open the lens cover and turns on the camera. Along with state-of-the-art five-megapixel resolution, the N82 offers most of the options you'd expect from a good compact, including macro and landscape focus modes; portrait, sports, night, and night portrait scene modes; and a customizable, "user-defined" mode. Its flash modes include fill and red-eye reduction; shot-timing options include a burst mode, a variable self-timer, and even time-lapse settings. White balance, contrast, and sharpness are adjustable, as is the camera's equivalent speed, which can be set to high (ISO 400), medium (ISO 200), or low (ISO 100). The N82 captures digitally stabilized VGA video, also on microSD cards, at 30fps in the MPEG-4 format. (You'll be glad to have the supplied 2GB microSD card.)
To help you with composition, the N82 can display a rule-of-thirds grid overlay on its 2.4-inch LCD. PictBridge support lets you send photos directly to a printer; built-in software makes it easy to upload photos and videos to the Web, which you can do by WiFi when you're within range. A Symbian S60 third-edition OS and Java platform mean you can add third-party mobile imaging applications, including software that uses the N82's built-in GPS capability to geotag your photos. About $500.
Sony Ericsson Cyber-shot K850
Modeled on Sony's Cyber-shot compacts, this eponymous bar phone has a camera-style switch for selecting photo, video, or playback mode. When you choose photo or video its lens opens up and buttons on the alphanumeric keypad turn into camera controls, identified by illuminated icons. Camera specs and features are similar to those on Sony's C902 (see page 1), with five megapixels of resolution and modes such as BestPic and Photofix helping you get a good shot both before and after you take it.
The K850 offers the sorts of white balance, color, and flash selections you'd expect from a regular snapshot camera, along with some you might not — spot metering, adjustable ISO, panorama mode, and digital image stabilization. And no regular camera comes loaded with the K850's photo-blogging software, which makes it easy to upload photos (saved on Memory Stick Micro cards) to the Web. On the download side, its Java platform lets you add your favorite mobile imaging software programs. About $500, in green, blue, or black.
Samsung SGH-G800
The only model with an optical zoom in our stellar group, this slider phone has a 3X focal-length range that's roughly equivalent (in 35mm) to 35-105mm. It also incorporates a tube flash and 2.4-inch LCD. A sliding lens cover panel turns on the G800's photographic functions when opened, and gives it a very camera-like look. The new phone is camera-like inside as well, with face-detection autofocus, image stabilization, and a Wide Dynamic Range Optimization mode that opens up shadows while preserving highlight detail. The G800 offers scene, burst, macro, and panorama modes; adjustable white balance and ISO settings; and red-eye reduction. It also provides PictBridge support for sending photos directly to a printer. Images are saved to microSD memory cards; use the supplied full-SD adapter to download photos with your card reader. About $400.
LG KU990 Viewty
A stylish bar phone with a Schneider lens, this model sets itself apart with photography-oriented features such as manual focus (quaintly set with a ring around the lens), a top light-sensitivity of ISO 800 (which can be adjusted manually), and digital image stabilization, the latter two useful for low-light shooting without flash. The Viewty's flash is an old-fashioned tube, not an LED. And just like on a conventional camera, there's a three-position switch for changing from photo to playback to video. (Unlike most camera cellphones, the Viewty can shoot Web-quality videos at 120fps for slow-motion playback.)
A three-inch, touch-sensitive LCD screen makes an especially nice viewfinder and an intuitive interface for changing settings, which in addition to ISO include scene modes, macro focusing, and a variable self-timer that lets you put yourself in the picture. You can write directly on the screen with a stylus to add notes to your photos, and the Viewty's handwriting recognition software allows you to write out Web addresses so you don't have to punch tiny buttons. That way, you can get your pictures (saved to microSD or micro-SDHC cards) online even faster. About $450.