Editor's Choice 2008: Camera Bags
The convertible Kata DPS 3N1 and female-friendly jill-e designs Medium Leather Camera Bag show there's still room for innovation in camera bags.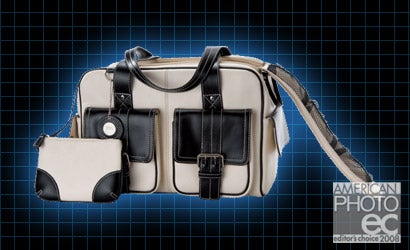 We may earn revenue from the products available on this page and participate in affiliate programs. Learn more ›
A few decades ago, when photographers graduated from the stiff-sided, faux-leather camera bags of yore to padded, flexible nylon models, our Lowepro Magnum shoulder bag seemed state of the art. (It was so well-built that we still use it from time to time.) Little did we know that thirty years hence there would still be room for innovation in the field of camera bags. Indeed, 2008's Editor's Choice bags (which actually tilt toward backpacks) are some of the most ingenious and unusual we've seen in years, making this category one of the hardest in which to single out just one product. For that reason we've given Camera Bag of the Year honors to two of them, but almost any of the models featured here has equal claim.
Co-Camera Bag of the Year: jill-e designs Medium Leather Camera Bag
Open a woman's purse and you'll probably find makeup, a hairbrush, keys — things you wouldn't want in close contact with an SLR. Enter the plainly named but stylish Medium Leather Camera Bag, from women's camera bag specialist jill-e designs. It's pure practicality posing as fashion, with a "fun polka dot padded interior" roomy enough for a pair of SLR bodies, a couple of flashes, and two or three midrange zoom lenses (or one midrange zoom and one telephoto). Of course that all depends on how much other stuff you cram into it, but the new bag even comes with a tethered, pocketbook-sized "personal items" pouch if you want to keep your makeup separate. You can detach both the pouch and the comfortably padded shoulder strap — and, when you need to look more modish, tote the bag with its purse-style dual carrying handles. It comes in both all-black and bone with black trim. About $220.
Co-Camera Bag of the Year: Kata 3N1 Sling/Backpack
Sling packs always seemed like a good idea to us, providing quicker access to their contents than you get with a traditional backpack. There are two problems with them, though: They're not designed for left-handers (unless those 15 percent of us are willing to wear one on their left shoulder, which makes it awkward to access the contents with your left hand when you swing the bag forward), and the single-strap design can be awkward and uncomfortable over longer hauls. Kata's innovative design is three, three, three bags in one. (Sorry, we're just out of our minds from three months of Editor's Choice.) It's a sling pack for right-handers. Tuck away the red strap, pull out and buckle up the black one, and it's a sling pack for left-handers. Buckle up both straps out and it's a backpack. In fact, for the latter you simply cross the second strap over the first, adjusting each strap's dual sliding pads for greatest comfort against your chest. Not to slight lefties, but it's this capability that impresses us the most. Fortunately the 3N1's ultrasecure "quick draw" flaps work in any of its three configurations, giving you instant side access to your camera when you swing the bag around front. There's room in there for your SLR with zoom attached, and, depending on model — it comes in three sizes — from two or three to five or six more lenses, depending on what other accessories you're packing. Under $100.
Other Top Camera Bags:
Best Buy: Lowepro Flipside 300
This model's tall, slim design accommodates a pro SLR with a long, bulky 300mm f/2.8 lens attached. That still leaves room for up to three smaller lenses and accessories including a flash, light meter, cables, and memory cards. But what makes this model special is that its main compartment can only be opened from the back — rendering it inaccessible, and safe from pickpockets, when it's strapped on. And if you're using the waist strap, you don't even have to take the pack off and set it down to get to gear: You just slide off the back straps and rotate the bag to the front, then angle it forward. Your tripod is secured with straps and a flip-down holder that keeps two legs secure. About $75 (in black, red with black trim, or blue with black trim).
Tamrac Adventure 10
We really like this new backpack for its tall and narrow shape, which not only makes it easier to pass through tight spots and avoid snagging brush when you're trekking, but also makes it less likely you'll take out passers-by when you're in transit to the wild. Unlike many other big packs, the Adventure 10's extra height also allows it to accommodate a laptop computer with a 17-inch screen, which slides into a padded rear slot. The padded bottom half of the water-resistant backpack is for photo gear, and can accommodate a pro-size D-SLR with a 70-200mm f/2.8 zoom attached, perhaps four or five lenses, a flash, and a lightmeter. That adjustable space opens separately from the pack's top half, which is a large (11x12x6.5 inches) open compartment intended for nonphoto essentials such as clothing and food. Mesh pockets inside and out accommodate both photo and nonphoto extras, and the pack has a comfortable harness system with a waist belt to keep it from bouncing or swinging. If red isn't green enough for you, the Adventure 10 also comes in a gray-and-black color scheme. About $170.
Tenba Shootout Daypack
Photographers tired of overstuffed backpacks will appreciate this clever model. The pack itself is constructed of ripstop nylon, with a well-padded adjustable interior, weatherproof zippers, and a pull-out rain cover. Its 11x14x5-inch interior dimensions can accommodate two SLRs and about five lenses, including a 70-200mm f/2.8. But a rear panel on the pack deploys a soft expansion compartment that adds almost 250 square inches of unpadded storage space, useful for lighter, nonphotographic essentials such as clothing and food. It comes in black with olive trim (our preference), silver with black trim, or solid black. About $160.
Tamrac Expedition 6X
A fine fit for photographers who want it all — and don't mind carrying it all on their back — this pack has enough space for a pair of full-size SLRs, up to a half-dozen lenses, a flash or three, and just about every accessory they'll ever need. In addition to large mesh pockets on the walls of the main compartment, unusual "wing" pockets on the front of the bag provide additional storage for small accessories. The Expedition 6X holds your tripod securely: It's lashed in with two adjustable straps, while a pocket at the bottom of the bag keeps two of its legs in place. There are no wheels, but special pads allow for proper air flow while maintaining comfort. There's also a tuck-away waist strap to keep the bag from bouncing. About $165.
Mountainsmith Borealis AT
This handsome backpack provides quick, easy access to camera equipment, sparing you all that digging through the main compartment. The Borealis AT's lower storage area provides enough real estate for an SLR body, a pair of lenses, and a flash or light meter. (Adjustable padded dividers help keep gear in place, of course.) Small photo accessories — not to mention lunch, toiletries, and a change of clothes — can be stored in the backpack's upper compartment. The padded laptop slot at the back of the bag is big enough for a model with a 16-inch screen. Unpredictable mountain weather? A removable storm cover keeps the bag dry when it rains or snows. About $190.
Think Tank Airport Airstream
Attention to detail is a hallmark of the Think Tank line, and this new rolling model is no exception. Little brother to the Airport International, it meets international carry-on size requirements and features the line's exceptional security features. These include a front cable and lock to secure a laptop and a back cable and lock to secure the bag to a fixed object. Despite its cabin-ready dimensions, the bag has more than enough room for multiple SLR bodies and lenses even up to 400mm. A seam-sealed rain cover keeps everything dry when not high. About $290.
Solo Vintage Laptop Backpack
This model really isn't intended to be a camera backpack, though we had no difficulty fitting a smaller D-SLR with a compact zoom into its main compartment. But we had to include it just for good looks and an elegance we've rarely seen in a backpack. The Solo Vintage's deep, chocolate-brown leather is "distressed," so it's supple, not stiff, and soft to the touch. Its "antique" brass fixtures and zippers blend in beautifully with the bag's muted tone. A zippered laptop compartment holds computers with screens up to 15.4 inches, and there's an ample front compartment. Two zippered pockets on the front face of the bag let you keep clutter out of the larger sections. Not least, the Vintage's shoulder straps are soft and comfortable. About $100.
Straps 'n Such:
Crumpler Industry Disgrace
Can't spring for our Camera of the Year? This heavy-duty, camouflage-patterned strap may be ornate enough to attract just as much attention. As for the name, here's what the Crumpler Website has to say about it, verbatim and sic: "That's it, my fiend, u are fired from this corpany . . . u are an Industry Disgrace! I am termiting yr franchoose & pregnating yr contraction. U only made two sails last year & I couldn't float my bathtooble with either of them!" What are those Aussies smokin'? About $25.
UPstrap SLR-Kevlar strap
Photographer Al Stegmeyer has raised the camera strap to a new level with a complete line of straps and fittings revolving around his double-sided, utterly non-slip rubber pad. This superstrap (a special edition because of the limited availability of Kevlar due to the Iraq war) can support up to 600 pounds of weight. We couldn't find a strong enough neck to field-test that claim, but this is more than enough strap for any photographer. About $42. upstrap-pro.com
Think Tank Skin system
As long as looking fashionable isn't a concern, Think Tank Photo's modular belt system is tailor-made for photographers who need instant access to multiple lenses and strobes. Any combination of five different pouch designs, from single-strobe to dual-zoom, can be hooked onto the belt. "Skin" refers to the fact that the pouches are unpadded to reduce bulk and improve access when you're shooting. About $150 (for a set of all five pouches).
Tenba Skooba Superbungee strap
This replacement camera strap's bungee cord absorbs shock to make your camera feel lighter and reduce the pull on your neck and shoulder when you're on the move. It's also available in a larger version for camera bags. About $17.
Lowepro Voyager C
This nicely-padded neoprene strap is wide and nylon-webbed, and stays put on your shoulder. It features quick-release buckles for easy switching from body to body. A detachable strap-mounted wallet allows quick access to memory cards. About $30.