Editor's Choice 2007
Our annual guide to photography's best new products.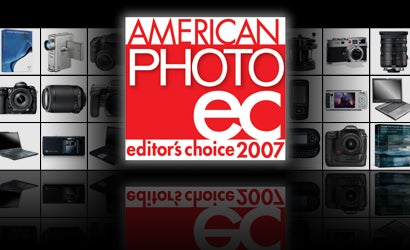 It happens every year, but it's worth repeating that there are more products and product categories than ever in this year's Editor's Choice. All that coverage required a bigger-than-ever team of experts. In addition to regular AP contributors Jonathan Barkey, Aimee Baldridge, Steve Pollock, and Jack Howard, the group included several trusted colleagues from Popular Photography & Imaging, including Dan Richards, Debbie Grossman, and Pete Kolonia. Their combined authority makes this year's Editor's Choice the go-to guide for buying your photo equipment.
On the following pages you can read up about everything from the top digital SLRs and lenses to the latest cellphones, which now account for more cameras than any other device. In addition to our usual full-scale review of digital compact cameras, still booming even with the advent of the $500 D-SLR, you'll find tripods, digital storage devices, computers, and camera bags — everything you need to make better pictures.
-Russell Hart
||||||||||||||||||||| |—|—|—|—|—|—|—|—|—|—|—|—|—|—|—|—|—|—|—|—| | Entry-Level DSLRs| Advanced DSLRs| Professional DSLRs| | Digital Rangefinders| SLR Lenses| Cellphone Cameras| | Imaging Software| Fine-Art Printers| Superzoom EVFs| | Digital Compacts| Ultrathin Compacts| Storage and Display| | Computers| Snapshot Printers| Lighting| | Tripods| Camera Bags| Imaging Essentials| All Editor's Choice 2007 Products
| | |
| --- | --- |
| Entry Level D-SLRs Sony Alpha 100 Canon EOS Digital Rebel XTi Nikon D40 Advanced D-SLRs Pentax K10D Nikon D80 Olympus EVOLT E-510 Professional D-SLRs Canon EOS-1D Mark III Hasselblad H3D-39 Fujifilm FinePix S5 Pro Digital Rangefinders Leica M8 D-SLR Lenses Panasonic Leica D Vario-Elmar 14-150mm f/3.5-4.5 ASPH Nikon 55-200mm f/4-5.6G IF ED AF-S DX VR Zoom-Nikkor Canon EF 70-200mm f/4L IS USM Tamron AF 18-250mm f/3.5-6.3 Di II LD ASPH (IF) Macro Sony Zeiss 16-80mm f/3.5-4.5 Vario-Sonnar Tokina AT-X 107 AF DX Fisheye 10-17mm f/3.5-4.5 Pentax DA* 16-50mm f/2.8 ED AL IF SDM Leica Tri-Elmar-M 16-18-21mm f/4 ASPH Sigma 50-150mm f/2.8 APO EX DC HSM Lensbaby 3G for Medium Format Camera Cellphones Nokia N95 Helio Ocean LG VX8700 Sony Ericsson Cyber-shot K810i Samsung Black Carbon SGH-d900 Motorola MOTORIZR Z8 Imaging Software Adobe Photoshop Lightroom 1.0 Apple Aperture 1.5 Corel Painter X Light Crafts LightZone Microsoft Windows Vista Adobe Photoshop CS3 DxO FilmPack Nik Dfine2.0 Lexar Image Rescue 3 Image Trends Fisheye-Hemi plug-in Alien Skin BlowUp Imagenomic Portraiture plug-in onOne Photoshop Plug-in Suite Adobe Photoshop Elements 5.0 Superzoom EVFs Olympus SP550 UltraZoom Kodak EasyShare Z712 IS Panasonic Lumix DMC-TZ3 Sony Cyber-shot DSC-H9 Fujifilm Finepix IS-1 Digital Compacts Nikon Coolpix P5000 Canon PowerShot TX1 Fujifilm FinePix F40fd Samsung L74 Wide Sigma DP-1 Sony Cyber-shot DSC-W200 Panasonic Lumix DMC-FX50 Pentax Optio A30 Canon PowerShot G7 Ultrathin Compacts Sony Cyber-shot G1 Canon PowerShot SD800 Digital ELPH Casio Exilim EX-V7 Nikon Coolpix S50c Olympus Stylus 770 SW Pentax Optio T30 HP Photosmart R967 Snapshot Printers Epson PictureMate Flash PM 280 Sony DPP-FP90 Canon Selphy ES1 Kodak EasyShare G600 Printer Dock HP Photosmart A716 Hi-Touch S420 Fine Art Printers HP DesignJet Z3100 Epson Stylus Pro 3800 Canon ImagePROGRAF iPF8000 | Computers Dell XPS M1710 Apple Mac Pro Apple iMac 24-inch Apple MacBook Gateway FX530XT Dell Dimension E521 Sony VAIO SZ HP Pavilion dv4307cl Gateway NX100X Panasonic ToughBook CF-30 Toshiba M400 S5032 Lighting Sekonic L-758DR Broncolor Verso A4 (RFS 2400 W/S) Studio Power Pack Rololight Shortcut Softbox Series Pro Kit Westcott Bruce Dorn Assymetrical Strip Bank Westcott Photo Basics Kit Calumet Travelite 125 monolight Elinchrom D-Lite Sharpics D-Flector Portable Photo Studio Quantum QF69 Mini Folding Softbox Tripods Gitzo Mountaineer GT2530 Manfrotto 190X ProB Slik Pro 714 CF-II Sunpak Ultra Pro 757 tripod Velbon Neo Carmagne 830 Induro Alloyflex 6M AX214 Camera Bags ThinkTank Rotation360° Lowepro Primus AW Lowepro Vertex 300AW ThinkTank Airport International Tamrac Expedition 8 Tamrac Adventure 9 Crumpler Brazillion Dollar Home Kata GDC Rucksack R101 Kata GDC Organizer Case OC-97 Tenba Airbook Portfolio Cases M-Rock Extreme Zion 523 National Geographic Earth Explorer Large Backpack Straps ThinkTank Camera Strap UPstrap SLR Quick Release QR Lowepro Neoprene Camera Strap Op/Tech Bino/Cam Harness Storage and Display Lexar PRO UDMA 300X CF cards SanDisk 16GB CF Extreme III CompactFlash card Kingston Technology 8GB SDHC card Sony Memory Stick 8GB PRO Duo Lexar Professional UDMA Card Readers Kingston Data Traveler Card Reader RiDATA YEGO USB Flash Drive Memorex Mega TravelDrive LaCie d2 Quadra Hard Drive (external) SmartDisk FireLite Xpress OWC Mercury Blu-ray External drive SanDisk Sansa View Samsung YP-T9 MP3 player Epson P-5000 Multimedia Storage Viewer Iomega eGO Newer Tech Guardian MAXimus MediaStreet eMotion Audio/Video Jukebox Buffalo Technologies TeraStation Live Lite-On Blu-ray Disc triple writer Archos 605 Portable Multimedia Player Imaging Essentials Colorvision PrintFIX PRO Suite Fujichrome Velvia 50 Kodak Professional Portra films Digital Foci Photo Safe Kodak EasyShare 5500 Sigma SD14 Epson Stylus Photo 1400 Epson Accolade Duet projection screen Epson PowerLite S5 projector HP Scanjet G4050 Pantone huey PRO OmegaSatter Camera Armor Epson Perfection V750-M Pro Sigma 200-500mm f/2.8 EX DG APO Panasonic Lumix DMC-FX100 SmartParts Digital Picture Frame Fujifilm FinePix S3 Pro UVIR MediaStreet eMotion Bluetooth Digital Picture Frame Delkin SensorScope Canon DC50 Adorama Belle Drape Muslin Backgrounds Logitech 3Dconnexion SpaceNavigator Kodak EasyShare Z1275 X-Rite i1 DisplayLT Sanyo Xacti E1 Duracell PowerPix batteries |