Editorial: The 15-Hour Photographer
Warm up your shutter-button finger -- here comes Pop Photo's International Shooting-All-The-Time Day!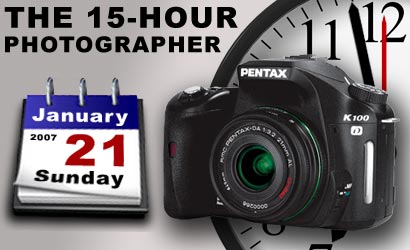 This contest is now closed. See who won****, or view the photo gallery of entered images.
How many pictures do you take on a typical day? C'mon, be honest. I'll bet it's not as many as you'd like, or you should, if you're going to develop as a photographer. In a recent poll at www.PopPhoto.com, readers admitted as much:
How many photos do you shoot on a typical day?
• None 28%
• 1 to 5 18%
• 6 to 20 22%
• 21 or more 21%
• As a pro, I shoot 100 plus 11%
I, too, confess to under-shooting. But that's about to change. You and I — and anyone else willing to invest a day — are about to push our skills and develop our eyes in a hard-core, dawn-to-dusk shootathon. Get ready to give everything from your right index finger to your optic nerves one helluva workout.
Here's the plan:
Charge up your camera, load it with at least a 1GB card (or have seven or more rolls of 36-exposure film on hand), and be prepared to shoot, shoot, shoot.
Your assignment is to take at least one picture every five minutes during the day. You get eight hours off for sleep, and another hour for…well, stuff you wouldn't want to involve photography. That's a minimum of 225 photos.
Your subjects are all up to you. This is to become a better photographer, not just a photo opportunist. That is, you don't want to be someone who only gets a photo when a postcard-style setting presents itself.
We improve as photographers by forcing ourselves to shoot; by finding the photograph when there doesn't seem to be one; by studying the light — every kind of light we encounter — and seeing the photo potential in it. Capturing a great image of Angelina Jolie under a softbox is easy. But how about that candy wrapper in the gutter? Or that group of friends posing under a mixture of natural, incandescent, and fluorescent light? Can you still make an outstanding photo when the subject and conditions aren't perfect?
The time pressure, not to mention the pressure to make as many of the 225-plus photos as good as possible, will be intense. Maddeningly so, I suspect.
But I'm willing to take the chance because I know that by the time January 22 dawns, I will have grown as a photographer. And maybe I'll even have produced a few amazing images.
I hope you feel the same. All of us at Pop Photo want to see your amazing images from International Shooting-All-The-Time Day. E-mail your five best to Shooting@PopPhoto.com. Send them as JPEGs — 72 dpi is fine — with your name, address, and phone number. If you have a story to tell from your day, send it with the JPEGs. We'll post images and anecdotes on PopPhoto.com.
If improving your photography skills, having a day of grueling, creative fun, and web-wide fame aren't enough, how about the chance to win a prize?
Of those who e-mail us five images from their day, we'll draw one winner, who will receive a Pentax K100D. This DSLR packs 6.1MP and sensor-based image-stabilization. It comes with two Pentax lenses (an f/3.5-5.6 18-55mm and an f/4-5.6 50-200mm) and a 4GB SanDisk Ultra II SD card. For full details, go to PopPhoto.com/february2007. In all, a prize that's worth shooting for.
So send us your pictures by noon, EST, Monday, February 5.
Please read the Official Rules and Terms & Conditions before you enter.