DSLR 101
Helping beginners go from "Now what!?" to how-to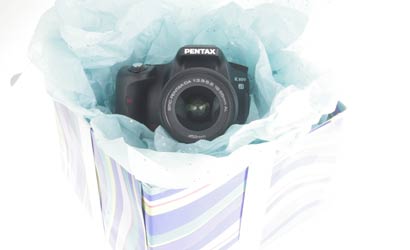 We may earn revenue from the products available on this page and participate in affiliate programs. Learn more ›
DIGITAL SLRS WILL BE one of the top gifts this holiday season. According to the market research firm NPD Group Inc., 1.8 million DSLRs will be sold in the U.S. by year-end. In 2007, the number is expected to reach 2.3 million units.
With so much photographic horsepower going into the hands of so many people, there are bound to be questions. Billions of questions. Even from those who never stray from the full-auto "green mode" and use their new DSLRs as high-powered point-and-shoots.
That's the reason bookstore shelves are packed with new how-to-shoot volumes, and why virtually all camera companies offer tutorials and tips on their websites. POPPHOTO.com also is strong in how-to.
For beginners who prefer a couch-potato approach to education, I recommend The Perfect Picture DVD by POP PHOTO Contributing Editor Bryan F. Peterson. Investing $20 and 70 minutes can give a newbie a surprisingly strong foundation in everything from exposure to composition. It's available at The Perfect Picture School of Photography (www.ppsop.com), where Bryan and other top pros teach courses at various levels online.
Another DVD course is SureShot System from Big Picture Enterprises. This six-disc program gives you nine hours of instruction for $60 (direct, www.sureshotsystem.com).
For those who want to combine presentations with hands-on shooting, it's tough to beat Sony Digital Days. Produced by POP PHOTO, these weekend classes are conducted around the country. I've been to some and, believe me, they're as fun as they are informative. Details are at www.digitaldaysphoto.com.
The New York Institute of Photography also is reaching out to DSLR newbies. This 96-year-old "correspondence school" has a new, $248 program called Fundamentals of Digital Photography: Getting the Most Out of Your Digital SLR (www.nyip.com; 212-867-8260). This "short course" is based around a series of easy-to-digest books covering the basics, as well as topics such as using a gray card, reading a histogram, and working with kids and pets.
It also includes audio CDs starring NYIP's Chuck De Laney in folksy chats with instructors and pros. As with NYIP's long-running, more expensive, pro training course, this one has multiple-choice tests, as well as assignments that are reviewed by instructors. Also, each student is assigned an advisor who'll provide virtually unlimited phone and e-mail support.
A smart beginner could run through this material — except for the assignments — in about a week of evenings. Taking it slow and putting each lesson into practice will stretch the program over months.
Don't get the idea that everything a digital photographer needs to know is here. It's not. Adobe Photoshop, for example, is referred to often, but there's just a sample run-through in one of the books. Nor is this, or any program, a substitute for reading — and understanding — the camera's owner's manual.