Dog Days of Summer
Attention America's Pooches: Get ready for your close-up.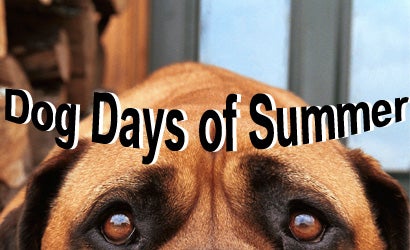 Jeff Moore wants to shoot your dog. And he's willing to travel to do it. In fact, as you read this, the 44-year-old professional photographer expects to be in the first stages of a four-month trip around the continent, photographing hundreds of dogs.
"I've been talking about doing this trip since 1999," says Moore, with the accent of his native Nova Scotia. "And when the house I was renting in Westport, Connecticut, was sold, that was the match that lit this project." With an $80,000 24-foot Winnebago motor home, decorated on the outside with photos of dogs and chock full of state-of-the-art imaging gear (Canon EOS 1Ds Mark II, Mac G5, Epson Stylus Pro 4000 printer, Profoto studio and portable lights, as well as softboxes, umbrellas, and enough PocketWizards to fire every strobe in America), Moore says he'll be driving "the ultimate digital studio on wheels."
While he's hoping for wonderful serendipitous settings and subjects on his May Day to Labor Day road trip, Moore also is organizing 40 stops at pet shops and "dog boutiques" around the country, where he'll set up a backdrop and lights, and shoot pet portraits for $75 per sitting. The money buys an inkjet contact sheet and a 5×7 of the customer's choice. Ten bucks go to animal-related charities. There's hard-nosed business behind this wet-nosed adventure. For the past eight years, Moore has made his living photographing dogs and children for private portraits and ads. He sees this 20,000-mile trip as a great way to build his stock portfolio.
That's why he's insisting that each pet owner sign a release, whether or not a human joins the canine in the portrait. "If that picture ends up being used in a big ad campaign, I don't want someone challenging me, saying 'Hey, that's my dog! You can't do that!'" It's a surprising career path for a guy who, until the late '90s, was a model with the Wilhelmina agency. Moore's wholesome good looks and great hair had him working around the world as "an accessory" to female supermodels in high-end fashion shoots.
After buying a used Nikon from a European fashion photographer, Moore became passionate about photography and found himself drawn not to the stiff, staged world of fashion, but the natural, playful world of dogs and kids. "I get down on the ground and play with them," says Moore. "We have fun." There are, however, some hazards to shooting dogs. "I've never been bitten while shooting, but I get fleas, I've had my bags peed on, and I've stepped in lots of stuff."
For a listing of the places and dates where Jeff Moore will be shooting, go to www.mayIshootyourdog.com.
Want to shoot a dog? Try these tips from canine specialist Jeff Moore:
Make 'em comfortable.
"I let them know I'm not the vet." Avoid reaching and grabbing.
Smell and lick.
Let them do it to the camera, that is.
Connect.
Make eye contact. Play. Talk.
Have no shame.
Make kissing sounds, baby talk, funny sounds.
Get close.
"Most of my shots are done with a short, 24-70mm lens," says Moore. "A wide-angle shot isn't always flattering, but dogs don't care if you make them look bad."
No surprises.
Moore uses flash, but he doesn't spring it on his subjects. "I pop the lights again and again before I even start shooting. You can get to the point where the dog doesn't even notice it."
Focus on the eyes.
Keep them sharp. It's essential.
Shoot blind.
Some dogs freak when you put the camera to your face. Moore's technique? He turns the camera for a vertical shot, moves the AF point to three-quarters up the screen, and fires from the hip. With the AF point in that position, the dog's eyes will be in focus.
Take breaks.
"Dogs, like kids, don't have much of an attention span," Moore says.