Cool Cameras for HDR Photography
The Pentax K20D, Canon EOS 1D Mark III, and Nikon D3 lead the pack in DSLRs for serious HDR photographers.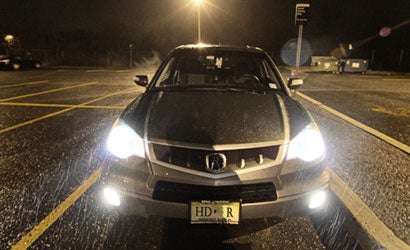 We may earn revenue from the products available on this page and participate in affiliate programs. Learn more ›
Pretty much every DSLR out there can be used to make High Dynamic Range images, but some make it easier than others.
Briefly, HDRI involves capturing the same scene at different exposures, then merging and processing these bracketed shots through a specialized workflow to pull as much detail out of the image — from the darkest shadows to the brightest highlights.
There are two key performance features that set these cameras apart from the pack: Auto Exposure Bracketing and Burst rate. A.E.B. helps a lot with HDRI, since the less you have to touch — and possibly move the camera — between exposures, the better aligned the photos will be when they merge. As for burst, the quicker it's captured, the less chance there will be of moving objects in the scene — a challenge in HDR processing. Each camera's HDR abilities are illustrated with an image of the same subject taken under challenging nocturnal conditions. All HDR images were processed through Dynamic Photo HDR for consistency.
Pentax K20D (street: $1,299): This brand-new 14 megapixel Pentax is the most economical DSLR to make this list. It can burst 5 RAW (or RAW+JPEG, or JPEG only) shots in 1.6 seconds — not quite as fast as the others on this list, but respectably fast nonetheless (your best bet is to use a tripod with this one.) The reason it really stands out is because it's one of the few cameras with a street price below $1,500 that can bracket at up to 2-stop intervals for five shots for a very wide exposure range. Even better? There's a single-button burst option that captures five shots with one press of the shutter button. This function can also be utilized with the self-timer function, but be warned: It will fire off five shots with one press of the shutter button, but will count down either two or ten seconds between each shot when both these settings are turned on simultaneously. You might also consider snatching up a 10MP Pentax K10D DSLR on closeout as soon as possible. It can likewise burst five shots at +/-2, though it lacks the single-button burst option. With either camera, be sure to set the camera to aperture priority before capturing your burst; in both P and M modes, these cameras will change up aperture along with shutter speed during a bracket burst.
Check out our tutorials on the most popular HDR Programs. Dynamic Photo HDR Adobe Photoshop CS3 Photomatix Pro and Adobe Photoshop CS2 Corel Paint Shop Pro X2
Nikon D3 (street: $5,000): "Wow!" is all we can say about HDR imaging with the new 10MP Nikon full-frame DSLR. This high-ISO champ opens up a whole new world of handheld nocturnal imaging. Our test photo shown here was shot at ISO 6400! Handheld! And how's this for a bracketing sequence: Nine shots spaced at up to 1 EV captured in RAW+JPEG in one second! If you're serious about HDR Imaging, particularly on the night-side, and have a comfortable bankroll, this baby has a whole lot going for it. If five grand is a bit dear for your blood, the Nikon D300 (street: $1,800), our 2007 camera of the year, offers the same 9-shot AEB spacing, good high ISO performance, but it's not quite as quick: It'll take about 1.3 seconds for a nine-shot AEB sequence without the burst-boosting battery grip (with the grip it'll clock in at just a hair past a second for a nine shot blast.)
Canon EOS 1D Mark III (street: $5,000): Blazing fast doesn't begin to describe the 10-frame-per-second burst rate of this Canon. And it's not just fast. The Mark III can burst seven shots at up to 3 EV spacings — that's a huge exposure range captured in just 0.7 seconds. We're talking massive orders of magnitude here. And the Mark III takes it all in. Many a time, you may not need this much exposure range, but it can properly expose a candle on a table and the direct sun out the window in a single burst, should you need it. Right now, only other top-end EOS cameras can cover as much EV ground as the 1D Mark III in a single burst. The full-frame Canon EOS 1Ds Mark III also has the same bracketing parameters, but isn't quite as fast. Keep in mind, this one will cost you close to eight grand, though.
Hey Canon shooters, here's another way to get a massive bracketing sequence! Check out Chris Breeze's DSLR Remote Pro program (direct: $99.00/Windows-only). With the 40D and 1Ds Mark III and 1D Mark III you get live view plus Autofocus, but tether pretty much every EOS DSLR intro'd in the past few years to Remote Pro via a shielded USB cable and it will bracket up to fifteen shots. Even better? It can export that bracketed sequence directly to Photomatix Pro (www.popphoto.com/hdr) for on-the-fly HDR generation!