Capturing Nature
TV's beloved Crocodile Hunter had a lifelong passion for photography.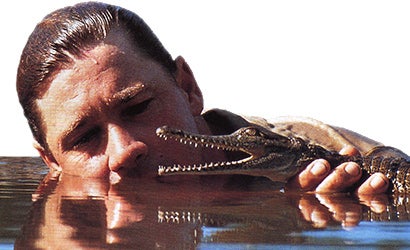 Steve Irwin was in the middle of wrestling a crocodile when I phoned his Australia Zoo to do an interview about his interest in photography. It was six years ago, and my family couldn't get enough of The Crocodile Hunter show since we'd gotten cable. When Irwin called me back and I heard his energetic Aussie accent just the way it sounded on TV, my first thought was that someone was impersonating him. There was something wonderfully cartoonish about the man's television presence, reportedly no different from his real persona, and I think that was part of what made him appealing to children–allowing him to engage them so effectively in wildlife and its cause. (Take that, Germaine Greer.)
Based on work we got in from the Crocodile Hunter to illustrate the article we ran about his photography in the November/December 2000 issue of American Photo, it was clear that he wasn't a top-notch shooter. But having started taking pictures about the same time he "took" his first croc–age nine, as you'll learn from the text of that story, which we reprint in its entirety here–Steve Irwin had a passion for photography almost equal to his reverence for reptiles.
When I was finished interviewing Irwin I asked if he would be willing to speak briefly with one of his fans, my seven-year-old daughter. Sure mate, he said. We'd just visited the Everglades, so my daughter first asked him which he liked better, crocodiles or alligators (the answer was a foregone conclusion), and then if he was a vegetarian. He admitted that he wasn't, she reported. Since unlike us he had probably saved more animals than he'd eaten, we forgave him.
We don't watch The Crocodile Hunter much these days, but Steve Irwin is no less vivid to us. We will miss him.
— This article was first published in the November/December 2000 issue of American Photo.
Steve Irwin is one of those rare celebrities whose name is largely unknown. More often than not, his millions of fans around the world refer to him simply as the "Croc Man," or sometimes "that crazy Aussie dude who sticks his hands into snake dens." Star of the hit cable TV show The Crocodile Hunter, Irwin delights his audience by getting close to nature very, very close. (Anyone who saw the episode in which he crawled on his belly to face down a drooling Komodo Dragon will never forget it.) Becoming intimate with the world's fiercest creatures is more than just a job for Irwin. It's a passion that spills over into every aspect of his life including his own avid amateur photography. Irwin says he got the urge to photograph wildlife at the tender age of nine about the time that he caught his first croc. "All I could do was tell the story, and my schoolmates didn't believe me," he recalls. "I needed a record of it."
His father, a world-renowned reptile specialist, bought him his first camera a Pentax K1000, the classic all-manual 35mm starter SLR. "That was in the early 1970s, and I've been shooting stills ever since," says Irwin, who honed his photographic skills on scientific expeditions with his dad. "I would always get books of wildlife photography for Christmas and my birthday."
Irwin says his own photo technique reflects the gonzo attitude of his TV show. "Me, I get smack dab in the middle of an animal," he says. But he doesn't advise others to get too close. "I've had more than 30 years' apprenticeship with these creatures," he says. "I would strongly suggest, especially with big predators like lions or with venomous snakes, that people don't go where I go. Use a long lens, so you can fill the frame without getting too close."
How long a lens? "A 300mm is pretty good for most animals," says Irwin, who, because he's able to get so close to his prey, keeps a 28-105mm zoom on his camera. "After that, I'm lugging around too much."
Irwin says careful observation and fast reflexes are the keys to successful photographs of wild animals. "A good deal of the art of getting an effective shot is to study the animal," he says. "Watch how tense it gets. Watch its eyes and ears. And the second you think you've got close enough, snap it off quick. Don't move any closer until you've got that first shot or two, or you might end up stepping on a twig and startling the animal."
With the success of The Crocodile Hunter, which is seen on the Animal Planet network by 120 million people in 60 countries, Irwin finds himself taking more and more pictures, images often used for the show's promotions. He shoots mainly with his Pentax PZ-1 autofocus SLR, but also keeps his weather-resistant Pentax IQ Zoom 105 WR point-and-shoot handy."I just whip the camera out of my backpack and start shooting," he says. "Or I throw it at the crew for pictures of me in action."
Throw is the operative word. Any camera that Irwin uses must endure the rigors of the outback something not lost on Denver-based Thomas & Perkins, the advertising agency for Pentax cameras. So the agency's creative team approached Irwin about appearing in both print and television ads, only to learn that he has been a Pentax user all his photographic life. Irwin agreed to do the ads, but just as he is driven to make Crocodile Hunter by his desire to sensitize people to wild animals, his motivation was not strictly commercial. "For one of the ads I had to get within strike range of a 16-foot saltwater croc," says Irwin."I'm crazy about Pentax cameras, but that's not the reason I put my life on the line to do the campaign. It gave me a chance to tell people that if they want to shoot animals, they should do it with a camera rather than a gun. They'll end up with a far more lasting trophy in a good photograph than in a carcass on a wall."
Shoot in mid-morning or mid-afternoon. "I recently went looking for rock wallabies, and I was reminded that if you want to get a good shot on fine-grained film, you shouldn't shoot too early or too late. Otherwise, you may not be able to set a high enough shutter speed to keep from blurring the picture. But if you wait until midday to shoot, the light is just too harsh."
Use a long lens. "A lot of animals are pretty spooky, so you can't get close to them. Reptiles are less skittish than mammals because they know they can get away. But a good zoom or a telephoto lets you fill the frame with the animal without scaring it off."
Use a tripod if possible. "Tripods are really valuable because any little camera movement can soften the image if you're shooting with a telephoto. At the very least brace the camera on a tree branch or a sandbag."
Let the animal tell you when to shoot. "Look at its eyes and ears to see how tense it gets, and don't wait too long or you'll miss the shot. It's better to get a loosely composed shot than none at all."
Take the shot no matter what. "When it comes down to it, with wildlife the main thing is to get the picture. Don't talk yourself out of it. With wildlife, action speaks louder than light."