Buyer's Guide 2007
FEATURES The 2007 POP Awards , By Michael J. McNamara Photography's Outstanding Products. Pop Photo picks the 25 best of … Continued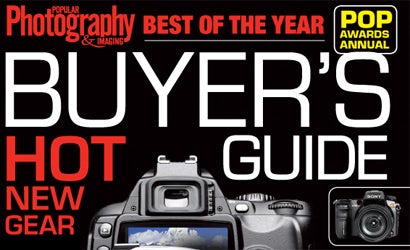 FEATURES
The 2007 POP Awards , By Michael J. McNamara
Photography's Outstanding Products. Pop Photo picks the 25 best of the year.
20 Things You Must Know Before Buying a Compact Camera, By Jack Howard
Your guide to finding the right EVF or compact.
DSLR Truth Squad, By Dan Richards
Shopping for a digital SLR? Don't believe everything you hear.
The Right Lens for the Job, By Peter Kolonia
Serious photos require serious glass. Here's what to look for.
Stop the Shake, By Michael J. McNamara
In image stabilization, a lens-versus-sensor battle is brewing.
CAMERAS
Hot Shots, By Dan Richards
The skinny on 15 of this year's top compact cameras.
Canon EOS Digital Rebel XTi, By Dan Richards
This bad boy pumps a lot of firepower in a $700 package.
Nikon D40x, By Dan Richards
So small, so smart, so right now — this baby's a genius.
Web Exclusives • Olympus Evolt E-410 • Nikon D40 and D40x lens limitations • Canon EOS 30D Test • Canon EOS 40D Test • Leica Updates M8 Firmware, Ships UV/IR Filter • Leica M8 Test • Sigma SD14 Test • Foveon X3 Sensor Claims Put to the Test
Olympus Evolt E-510, By Michael J. McNamara
A little 10MP that goes above and beyond expectations.
Panasonic Lumix DMC-L1, By Michael J. McNamara
It's good to have friends like Leica and Olympus in your corner.
Pentax K10D, By Jack Howard and Dan Richards
This solid DSLR for serious shooters is a lot of fun to use.
Canon EOS 40D , By Dan Richards
More than an upgrade, Canon's latest version will stun enthusiasts.
Fujifilm FinePix S5 Pro, By Dan Richards
Its amazing dynamic range helps make this a wedding shooter's dream.
Leica M8, By Dan Richards
Leica's unique rangefinder is a classic for the digital age.
Nikon D80, By Dan Richards
With its high-end performance, it's redefined the consumer DSLR.
Nikon D300, By Dan Richards
In a hot race for the "pro-sumer" crown, Nikon rides a winner.
Pentax K100D, By Dan Richards
Super Easy-to-use and light on the wallet, is this the point-and-shooter's DSLR?
Samsung GX-10, By Dan Richards
This bargain DSLR has a very familiar face but a personality of its own.
Sigma SD14, By Dan Richards
With the three-layered Foveon X3 sensor, Sigma blazes a unique path.
Sony Alpha 100, By Dan Richards
Defying expectations, Sony's debut DSLR broke records and raised the bar.
Sony Alpha 700, By Dan Richards
The consumer electronics giant rocks the DSLR world again.
LENSES
Canon 70-200mm f/4L EF IS USM AF, By Julia Silber
This stellar image-stabilized zoom is worth every penny — all 106,000 of them.
Leica 14-50mm f/2.8-3.5 D Vario-Elmarit, By Julia Silber
A top-notch, stabilized lens made for the Panasonic Lumix DMC-L1.
Nikon 55-200mm f/4-5.6G DX VR AF-S, By Julia Silber
Hard to believe you can get an image-stabilized lens this good for this little.
Olympus Zuiko Digital 14-42mm f/3.5-5.6 ED AF, By Julia Silber
The smallest, lightest digital Zuiko zoom does the impossible.
Pentax 70mm f/2.4 DA Limited AF, By Julia Silber
This little pancake serves up a stack of hot performance.
Tokina 50-135mm f/2.8 Pro DX AF, By Julia Silber
A professional all-around tele zoom for Canon and Nikon mounts.
Sigma 18-200mm f/3.5-6.3 DC OS AF, By Julia Silber
This digital-only, image-stabilized supertele is a real steal.
Sony 11-18mm f/4.5-5.6 DT AF, By Julia Silber
Say good-bye to distortion with this ultrawide for Sony Alpha DSLRs.
Tamron 18-250mm f/3.5-6.3 DI II Macro AF, By Julia Silber
The superzoom just got a whole lot more super.
ACCESSORIES
Bold and Beautiful, By Michael J. McNamara
For serious photos, it's time to upsize your printer. We put three top models to the test.
The Photographer's Guide to Video Cameras, By Michael J. McNamara
The distance between still and video cameras is vanishing, as these four models prove.
Tripods, By Peter Kolonia
Six great three-leggers that will change the way you photograph.
Camera Backpacks, By Jack Howard
Who says you can't take it with you? These five packs let you tote your gear anywhere.
Media Storage Devices, By Michael J. McNamara
Five little hard drives that give you access to loads of image files on the go.