Born to Run: The Unseen Photos
A conversation with Eric Meola about his shoot for Bruce Springsteen's seminal Born to Run album.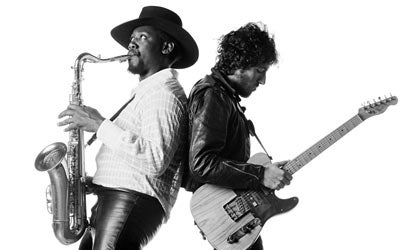 I was sitting in the front room of Max's Kansas City late one July day in 1973, reviewing a photo shoot that just had wrapped, when I was introduced to Eric Meola. A few minutes later, I happened to notice a somewhat familiar figure walk by the table and head into the back room; it was Bruce Springsteen. Eric excused himself and also went into the back room, because as it turned out that night Bob Marley and The Wailers, in their first New York City appearance, was the opening act for Bruce Springsteen in what would be a legendary six-night stand. I was already a Bruce fan and decided then and there to stay for the show, which was a great one, and the first of many I attended.
Subsequently, as I got to know Eric, I visited his studio and viewed his commercial assignment work and published his photography over the years editorially. When I first saw the Born To Run album cover, with its bold black-and-white photograph and elegant, yet simple design, I knew it would become an instantly recognizable classic.
A few weeks ago, while sitting with Eric in his Long Island home on the day he received the first printed copy of the book, Born To Run: The Unseen Photos, we chatted as we paged through it together and I couldn't help but ooh and aah over a number of these never before published images, presented so beautifully in the quadratone printing.
You're known for your color imagery — a lot of which is centered on primitive cultures. How did you come to photograph Bruce?
I had heard some of Bruce's songs in the spring of 1973. I have this vivid recollection of standing on 18th Street near Gramercy Park, later that year, and a guy rolled down the window of his car and "New York City Serenade" was on his radio. And it hit me. That fast.
I lived around the corner from Max's Kansas City and one afternoon I walked by and saw that he would be playing there that night, so I went. And that was it. … The show was the usual early Seventies "take no prisoners" Bruce. So I started going to Bruce shows in New Jersey, and ran into him one day. I started photographing the stage shows, and got to know Clarence. … At that time, I was, for all intents and purposes, a groupie. But I wanted more than anything to get the message out, that there was this guy and you just had to go and see him.
What was Springsteen like to photograph more than 30 years ago?
At the time I didn't think he knew much about being photographed — at least not on his first two albums. But Born to Run was different. Looking back, I realize he had given it a lot of thought, and that he had a sense of projecting a persona that went along with the songs and the lyrics for that album. But he didn't know how to communicate that to me — what it was he was after. There was so much else going on for him — writing the music, the lyrics, getting the sound right in the studio. If you look at the covers of the first two albums there's no sense of who he was or who he was about to become. He was searching, but so was I.
And, somehow, it all came together on that one hot June day in 1975.
This is a book about 2 1/2 hours in your life. Looking at the pictures, it seems it was a very busy 2 1/2 hours. How much did you "plan" the shoot, and how much just happened? And why did you shoot in black-and-white?
I was very much influenced by Dan Kramer's images of Bob Dylan; and by Bruce's on-stage moves. I kept reading over and over about how there was such a disparity between the stage shows and the albums. … I couldn't do anything about that. But what I could do was try to put on film — still pictures — what I personally felt in my gut about his performances. That's what I wanted to capture — the interplay between him and Clarence, the sense of a brooding, street-wise poet who held an audience in the palm of his hands, and kept them spellbound with his music.
So I planned to shoot in black-and-white, because I thought it would help to simplify the images and to me, that's what rock 'n' roll was always about — the contrast, the shadows, black leather, white light.
Most of these photographs have never been seen before? Why not?
I've always held them back. Part of the reason was that within a few months after the shoot, Bruce was in a lawsuit with his first manager. And then, there was the "hype" — the covers of Time and Newsweek. And I was just glad to get the cover of Born to Run, not to mention that I had taken quite a diversion from my own career to follow Bruce, and that I was starting to go off on long assignments. … Around the time of Born to Run I did my first huge advertising campaign, photographing coffee plantations around the world.
And I always had a sense of history about these images; not because I happened to photograph Bruce at that moment in time, but that all of it — the lyrics, the album cover, the other photographs — captured a moment of change, a moment of innocence suspended in time.
The story of this photo shoot almost seems like a fairly tale: "Photographer assigns himself to photograph the cover of one of the most important rock 'n' roll album ever." Do you have any advice for young photographers who will read this and think, "OK. But, just how did Eric REALLY get to take these pictures?"
I'll answer that metaphorically, because the mechanics of how it happened are documented in the book.
Jon Landau, who now manages Bruce, wrote a review after seeing Bruce for the first time. And he's always quoted as saying "I saw rock 'n' roll's future and its name is Bruce Springsteen." But his piece starts out with him saying, "On a night when I needed to feel young…." And that was it for all of us. Bruce talks to that thought in "Thunder Road": "…so you're scared and you're thinkin' we ain't that young anymore…'"
There's this point where you're about to grow up and you don't want to — you fight it with everything you've got. I wanted to photograph this guy because I believed in his music and what he had to say. The truth is, I vacillated between thinking I was nuts and knowing I was lucky to be in on a moment in time I would never forget.
You're donating all of your earnings to the Community FoodBank of New Jersey. Why?
I guess at a certain time you measure yourself and say, "What have I done?" Or, more likely, "What haven't I done?"
The lyrics and the spirit of Born to Run have always meant a lot to me. A few months before we sent the book out to be printed, Bruce called me and wanted to know if I was doing this because I thought he wanted me to. And of course I said "no." But that summer of 1975 will always be magical for me, and the two least quoted lines of "Thunder Road" are probably the most important lines of the song:
…with a chance to make it good somehow,
Hey what else can we do now?
Doing this is cool — I've never felt better about anything in my life. One day in the studio Clarence turned to me and said, "Someday, 30 years from now, there will be books about this." Well, he was right. I just didn't know that one of them would be mine.
— Born To Run: The Unseen Photos (Insight Editions), with over 100 black-and white quadratone printed images, introduction by Daniel Wolff, and foreword and notes on the photos by Eric Meola, will be available in two editions, hardcover for $39.95 and a signed and numbered limited edition of 1,350 with a signed print for $195.