Book Review: Still Moving
Books on tortured artist Francesca Woodman, photojournalist Dirck Halstead, New York graffiti art and MoMA's movie stills top this month's releases.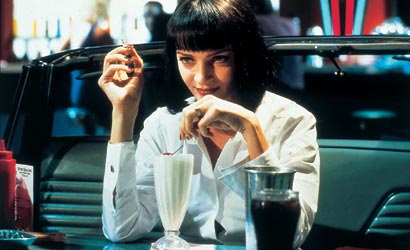 Still Moving: The Film and Media Collections of the Museum of Modern Art
Edited by Steven Higgins
Museum of Modern Art
$65
For all the ways a film can be brilliant, what makes them live on in history is usually that immemorial shot, whatever the genre — be it Marilyn holding down the flapping hem of her dress, or an axe-wielding Jack Nicholson peering with sweaty, maniacal glee through the shattered wood of a hotel bathroom door. And with the help of Hermès, The Museum of Modern Art in New York is publishing Still Moving: The Film and Media Collections of the Museum of Modern Art, the first catalogue of stills from MoMA's extensive film archive. With nearly 500 images chosen by the curator and assistant curator, Steven Higgins and Ronald Maliozzi, the book showcases some of these iconic moments — nymphet Jodi Foster leaning in the New York doorway of Martin Scorcese's Taxi Driver, Ginger Rogers and Fred Astaire side-by-side on the dance floor of George Stevens' Swing Time, Uma Thurman smiling over her milkshake in Quentin Tarantino's Pulp Fiction. The book also showcases many stills that only the most extreme film buffs have probably ever seen. The MoMA collection begins with films dated back to the turn of the century and the advent of film, with D.W. Griffith's battle scenes or Gish girls crouched at the height of melodrama. Ranging from the classics to Last Days of Disco, from Nouvelle Vague to Chelsea Girls, MoMA pairs the esoteric with the popular in a collection that is comprised simply of good cinema, and takes from these films the moments that the films will live by. As a history lesson, it's awe-inspiring, and a tribute to the directors and actors within.
The release of Still Moving has been paired with an ongoing multimedia presentation featuring prints from the collections featured in the book, currently displayed at the Hermès flagship store in New York at 691 Madison Avenue and running until Dec. 31, when it moves to their Beverly Hills location at 434 North Rodeo Drive from Jan. 13 through March 12.