Book Review: Matthew Monteith's Czech Eden
The artist captures the resolute beauty of the Czech landscape and its people with a sense of wonder.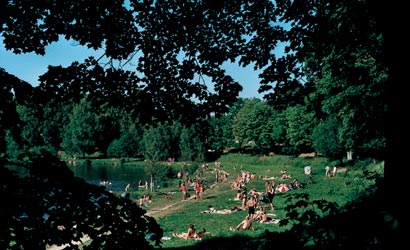 The cover image of Matthew Monteith's Czech Eden shows an idyllic residential block in the Czech city of Ustí nad Labem. Behind the low fence mounted above the wall separating a lot from street level, roses and other flowering bushes frame a small cottage house against a backdrop of high-set green foliage and sprawling mountains; below, a man strolls nude down the street, Adam in a dubious Paradise.
Since first visiting the Czech Republic in the early 1990s, Monteith has been fascinated by the forever-blurred line between reality and idyll in what is still, since the collapse of communism, a nation in search of its identity. The name for his series was inspired by a visit to Ceský ráj, a protected national preserve in Northern Bohemia. "Ceský ráj can be translated as Czech Paradise, Eden or Heaven. The region itself is a sort of a fairy tale universe of forests and castles and little villages. It is also very close to some of the most environmentally damaged parts of the Czech Republic."
Though only two of the images in the book are actually from Ceský ráj, each of the images in Monteith's series reflect that fairy-tale vision; winding paths through mountainous forests like the woodcutter's road in Snow White, a poster peeling off the walls in a faded pink room that might have once belonged to Cinderella. Relics from the Soviet era (iron monuments to industry, or fighter planes parked as memorials in a park) linger against the landscape, reminders of the unfulfilled promise of communism.
In the introduction to the work, renowned Czech novelist Ivan Klima writes, "Taking photographs in a foreign country is always enticing but also difficult… Naturally you are tempted to succumb to the attraction, even the exoticism of the unknown." Approaching the country as a foreigner, Monteith is able to capture the resolute beauty of the Czech landscape and its people with a sense of wonder — his lens often peeking out at them from behind a blanket of foliage as if he's Childe Roland — but he also doesn't miss its loneliness and landlocked isolation, often capturing his subject alone against a stark backdrop.
Klima writes in the introduction, "This Czech heaven is no heaven at all, quite simply because the present-day world itself is far from being a heaven… today's world is a world of lonely people." Monteith seems to have a similar view, but a different take on it — the loneliness is a moment in time captured by the lens, but not necessarily a future. Which is why, rather than "heaven" or "paradise," Monteith says, "I chose to translate Ráj as Eden to show the ambiguity and impossibility in creating a Utopian society."
(Czech Eden, Matthew Monteith. Aperture, May 2007; $40)