Book Review: Francesca Woodman
Books on tortured artist Francesca Woodman, photojournalist Dirck Halstead, New York graffiti art and MoMA's movie stills top this month's releases.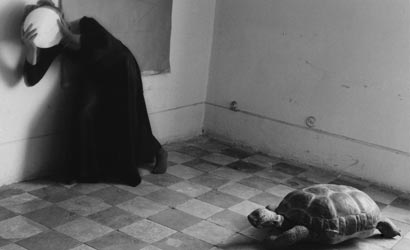 Francesca Woodman
Edited by Chris Townsend
Phaidon
$75
Francesca Woodman's influence over the arts has been as strikingly myriad as it is widespread. Knowing the relevance of her work in photography today makes it seem all the more important to understand her legacy — particularly when it ended so early and abruptly, at the age of 22, when she ended her own life by jumping from the balcony of her New York studio.
This is what Chris Townsend explores in Francesca Woodman. Though collections of her work have been published previously, this is the most comprehensive (as well as the first monograph), with new research by art historian Townsend along with just about 150 pages of the photographer's images in chronological order, beginning with her earliest work. As Townsend points out in the introduction, the vast majority of Woodman's archived work has gone unseen by the public — this offers a glimpse of part of what we have missed. Also included are extracts from her own life — postcards and journal entries, selected with an introduction by her father, George Woodman. Betsy Berne, one of Woodman's closest friends, has also contributed.
The compiled work shows most of all Woodman's power at blurring the lines between reality and the unknown — her ability at appearing in and out of reality, like a ghost — and leaving the viewer always with questions. Fans of Woodward will certainly want to pick up this book, as it offers more insight into Woodman's work and into her life than books previous. But be warned — it reveals nothing of the enigma.