The Bachelor Party Photo Guide
How to avoid embarrassing photos of your big night out.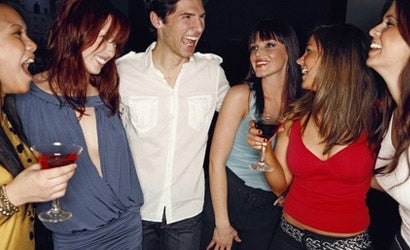 Here at PopPhoto.com, we're in favor of taking your camera everywhere. Well, almost everywhere. There are times when it's really better to leave your snap-shooter at home. A bachelor party is one of those times. Trust us, we know.
But some grooms-to-be and their fun-loving buddies might not take this advice. And somebody in the group is likely to pack a camera along with a mistaken sense of his capacity for alcohol. If that happens, follow this advice:
1. Keep the lights low. Without a flash you can't get much in a dusky party room. Besides, most small cameras don't have much flash range. Camera phones….forget it! But if he does fire off a shot, and everyone is suddenly guffawing around the playback in the LCD, move to Step 2.
2. Take their memory cards. Erasing doesn't really work, and with the right software, those embarrassing shots can be retrieved.
3. But be careful. Some cameras also have built-in memory. Typically, it's enough for up to a half-dozen shots. But the Sony Cyber-shot DSC-T2 has 4GB of built-in storage. That's enough for hundreds of photos as well as a full play-by-play video. In that case, it's time to get desperate and more on to step 4.
4. Sabotage. Everyone has a drink in their hand, right? Just "accidentally" spill yours on the camera, all evidence will likely be destroyed. Unless, he happens to have a waterproof camera like the Pentax Optio W60
If, however, you doubt that you'll be able to thwart your photo-happy companions, there's only one option remaining (other than, of course, behaving yourself)–the "stupidiotic black bar glasses."
image via www.flickrblockrs.com
Your last resort: conceal everyone's identity with black bar glasses.