American Photo Images of the Year Competition
The first annual American Photo Images of the Year Competition is an international contest showcasing of the very best of contemporary photography.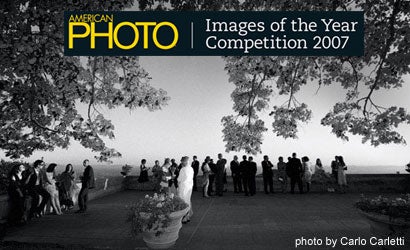 Welcome to an exciting new chapter in the history of American Photo and a major new event in photography. This competition is unique in its scope, showcasing the work of pros, advanced amateurs, and other photo enthusiasts, in a variety of categories. In short, it represents American Photo's commitment to finding and publishing the best photography in the world and to discovering new talent from around the world.
This is not the first photo contest we've held, but it's different from anything we've ever done before.Our entries came from around the globe, from as far away as the Philippines, Sweden, and South Africa, as well as from 40 states. Entries could be submitted in the form of one image or a series of images.
A pre-screening of the entries was done by the American Photo staff in late September, and the final judging was done on Friday, October 13 by a distinguished jury of experts: Anthony Bannon, director of the George Eastman House in Rochester, New York; William Hunt, co-director of the Hasted Hunt Gallery in New York City; Marcel Saba, owner of the Redux photo agency in New York; Natasha Lunn, photo editor of The New Yorker magazine; and Robert Gilson, the director of the School of the Arts at the 92nd Street Y in New York. To all the jurors, we want to offer our sincere thanks for taking the time they contributed and the care with which they contemplated each and every entry.
We asked each judge to use the same criteria: to look for originality, excellence of execution, and overall impact. One entry was picked as a winner in each category, along with honorable mentions. In addition, the jury selected a grand prize winner, whose identity will be revealed at a gala event on December 7 in New York City. The winners will be sharing more than $15,000 in prizes, making this the richest photo competition American Photo has ever held. And now there is nothing left to say but thanks-thanks to everyone who entered this contest. If you're a winner, we are honored to publish your work. If you're not, remember that this is just the first Images of the Year competition. The Call for Entries for our next contest goes out in May 2007.
CATEGORIES & WINNERS
| | | |
| --- | --- | --- |
| PHOTOJOURNALISM Winner Ghada Khunji Honorable Mention Armineh Johannes Dang Ngo David Jacobs Farah Nosh Monika Merva Roger Lemoyne Scott Landis Thomas Lee | ADVERTISING Winner Vincent Dixon Honorable Mention Josh Rothstein Kai Huang Philippe Merle Ted Sabarese | EDITORIAL Winner Julia Fullerton-Batten Honorable Mention Abbie Warnock Andrew Eccles Art Streiber Landreth+Riffle |
| PERSONAL WORK Winner Aaron Hawkes Honorable Mention Alejandra Laviada Aneta Bartos Chris Collins Cole Thompson John Mattison Matt Ogens Monika Merva Rob Fiocca Shawn Ehlers Shen Wei | STUDENT WORK Winner Andrea Huber Honorable Mention Benjamin Lopez Derek Rankins Hrvoje Slovenc Michael Kudelski Pamela Reed & Matthew Rader Tina Maas | WEDDING/PORTRAIT Winner Ted Sabarese Honorable Mention Amy Elkins Bryan Meltz Carlo Carletti Duston Todd Farah Nosh Randy Bacon Stephen Bebb |
| | | |
SPONSORED BY: