The $95 Prop Stop
Anyone can make a beautiful photo of a beautiful subject. But when we gave one photographer $95 to shop at The Home Depot, he gave us a lesson in how to make a stunning picture of just about anything.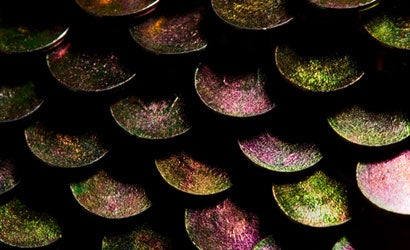 Great subjects are all over. And cheap. Here's proof.
You know you can get great photos if you're shooting on the plains of the Serengeti. Or the streets of Paris. Or the shelves of Tiffany. But what can you get if your subject matter is confined to … well, The Home Depot?
Is it possible to take $95 worth of home-improvement items, bring the stuff into your home studio, and manage to get great photographs?
That's the challenge we put to one of the most creative shooters around — Popular Photography & Imaging's 2005 Photographer of the Year, Michael Soo.
The idea was to prove that the material for outstanding photos is everywhere. You just have to look for it and shoot it creatively. When you approach photography this way, the world becomes your prop shop.
While that's certainly true, where do you start to get images like those shown here?
First, you need to have the right equipment.
"A good macro lens and a studio lighting setup are essential," says Soo. "I took every picture here with a 1:1 100mm f/2.8 Canon macro lens, and all but two were made with a Profoto D4 studio strobe system."
But you can get by with far less-expensive gear. Screw-on macro lenses are sold in kits for less than $30. And basic, two-head, hot-light setups street for less than $100.
Next, for tackling the Home Depot, you need a plan.
"Previsualize," Soo says. "It helps to have an idea about the pictures you're going to make. Otherwise all those aisles can be intimidating."
Start by searching online stock agencies and photo-sharing sites for images of hardware and building supplies that inspire. "As an instructional exercise, I'd flat-out copy one," he says. Narrow your searches to topics such as "hardware," "tools," "PVC piping," or "ceramic tiles," and throw in a term like "fine art" to weed out catalog shots.
Also, visit the store's website. The Home Depot's, for example, has a "Tools and Hardware" section where you can search by "Most Popular." Organize the results by "Price Low to High," and let your mouse do the walking as you search for inexpensive products with high visual potential.
"When you're hunting," says Soo, "imagine how each item will look from all angles, lit from each side, and photographed against a background that's white, black, or a contrasting color." Also imagine how disparate objects might work together. Making aesthetic connections between objects that aren't usually seen together can be the first step to an arresting image.
Look for bold, contrasting colors, rich textures, and eye-catching patterns, as well as intriguing reflective characteristics (super shiny or super matte). Take a single item and visualize it multiplied so many times or magnified so large as to be unrecognizable.
In other words, learn to see objects not for what they literally are, but for what they could become through your creative approach.
Rules for (Shooting) Tools
• Shop, don't shoot: Don't try to photograph in the store. It limits your control over lighting and backgrounds, and could get you tossed out. Buy your subjects and haul them home for photos.
• Must-visit aisles: Gardening, lighting, and tile departments are full of potential subjects.
• Borrow, don't buy: For tools that have a well-worn character, try the rental department.
• Simple setups: Crowded still lifes easily turn into visual clutter.