2008 Digital Wizard Contest
Download these photos, work some magic with your favorite image-editing program and you could win $1,000.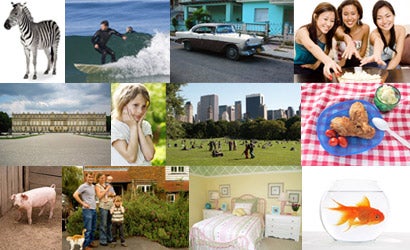 Do you work magic with image-editing software? Think you can spin photographic dross into pure gold using Adobe Photoshop, Corel Paint Shop Pro, Microsoft Picture It!, or other programs? Here's your chance to put your creativity to the test with Pop Photo's 2008 Digital Wizard Contest. You could win the $1,000 grand prize and have your work published in the magazine — and there are cash prizes for runners-up, too! But hurry up — the contest ends March 31!
Download the 12 photos and then prove your wizardry. You must use elements from at least 4 of the shots. You can't add any other images, but you can apply any filters or plug-ins your software can handle.
Then upload your images here. Please read all the contest rules and details. You may begin uploading your entries starting on February 1, 2008.
You can enter as many times as you like. The deadline for entries is midnight (ET), March 31, 2008. The winners will be published in the July 2008 issue and on PopPhoto.com.
Upload DirectionsGo to the Digital Wizard 2008 folder at http://galleries.popphoto.com/ after February 1, 2008.Click on the Register link at the top of the page.Fill out all fields on the form. (Once you are registered, you will need to log in on each return visit in order to upload your photos.)Click on the "Click to upload your own image to the gallery" link. (The gallery system will resize your images for screen resolution. Only .gif, .jpg, and .jpeg files will be accepted)Make sure to add a name and caption for each photo you upload.Photos may not immediately be visible in the online galleries. Please do not re-upload your photos.LINKS:
Download the 12 photos
Contest rules and details
2007 Digital Wizard winners
2006 Digital Wizard winners
2005 Digital Wizard winners
2004 Digital Wizard winners
PC Users – Right Click > Save Target As…
Mac Users – Control + Click > Download Link to Disk
2. Entries must be uploaded as .JPEGS. All entries become the physical property of Sponsor and will not be returned. Entries may be submitted after February 1, 2008, noon (ET) and must be received no later than March 31, 2008, midnight (ET).3. Entries must be sized to exactly 8 inches on their shortest side, at a resolution of 300 dpi. Files should be named with your full name (i.e., JohnSmith1.jpg, JohnSmith2.jpg, etc.). Files will be automatically sized for the web when uploading, but all entrants must keep high resolution files. All finalists will be asked to provide these files.4. Contest is open to amateurs and pros. To be eligible to enter, you must be 18 years of age or older at the time of entry and a legal resident of 50 United States or D.C. Employees of Sponsor, Hachette Filipacchi Media U.S., Inc., publisher of Popular Photography and Imaging magazine and PopPhoto.com web site ("Sponsor") and their immediate families are not eligible to enter or win.5. The staff of Popular Photography & Imaging magazine will judge the qualifying entries and rank them in descending order from the best entry. Entries will be judged equally on creativity, technical expertise, and aesthetic value. The decisions of the judges are final. The top five ranked entries will receive the following cash prizes: #1 ranked entrant — Grand Prize, $1,000; #2 ranked entrant — 1st Place, $300; #3 ranked entrant — 2nd Place, $200; #4 ranked entrant — Third Place, $150; and #5 ranked entrant — Honorable Mention, $100.6. Winners will be notified via e-mail or mail on or about May 12, 2008. Winners may be required to sign and return an affidavit of eligibility, grant of rights, and a publicity and liability release within 14 days of notification, or alternate winners will be selected (alternate will be next highest-ranked entrant). By entering this Contest and/or accepting a prize, you agree to allow Sponsor to use your name, city and state, voice and image in connection with publication of your winning entry and for promotional purposes (except where prohibited), without review, notification or approval.7. By entering this contest, you agree to abide by the rules of this contest and to accept the judges decisions as final. You further agree that your entry is your own original work. Submission of an entry and/or acceptance of a prize grants Sponsor, and third parties authorized by Sponsor, the exclusive, perpetual right to publish, use, edit, adapt, modify, excerpt and/or copy the entry for any and all purposes in any and all media currently in existence or hereafter developed without further compensation to you, which includes, but is not limited, the right to publish the entry in Popular Photography & Imaging magazine and on popphoto.com and to use your entry as we see fit in exhibitions and promotions of Popular Photography & Imaging magazine.8. Income, and other taxes (if any), on the value of the prize are the sole responsibility of the winners.9. NO PURCHASE NECESSARY. A PURCHASE DOES NOT INCREASE CHANCES OF WINNING. VOID WHERE PROHIBITED BY LAW.10. Sponsor, in its sole discretion, reserves the right to disqualify any person tampering with the entry process, the operation of the web site, www.PopPhoto.com, or who is otherwise in violation of the rules. Sponsor further reserves the right to cancel, terminate or modify the Contest if it is not capable of completion as planned due to, for example, infection by a computer virus, bugs, tampering, unauthorized intervention or technical failures of any sort. In the event of early termination of the Contest, winners will be selected from all eligible entries received at the time of termination in accordance with the judging procedures described above. In no event will Sponsor be responsible for any damages or losses arising out of access to and use of the web sites or the downloading from and/or printing material downloaded from said site. Sponsor is not responsible for lost, late, incomplete or misdirected entries. In the event of a dispute concerning the identity of a person submitting an online entry, the entry will be deemed submitted by the person in whose name the e-mail account is registered.11. Winners' List available upon request after May 12, 2008. Send a stamped, self-addressed envelope to Sponsor: Popular Photography and Imaging Magazine — Digital Wizard Contest 2008/Winner's List, Hachette Filipacchi Media U.S., Inc., 1633 Broadway, New York, NY 10019. Residents of VT may omit postage.