The 2007 POP Awards
Photography's Outstanding Products: Our editors pick the 25 best of the year.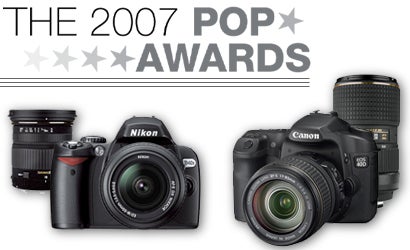 We may earn revenue from the products available on this page and participate in affiliate programs. Learn more ›
Great pictures, like great songs, are hard to get out of your head. Creating them requires the right mix of tools and talent. This year's POP (Photography's Outstanding Products) Awards recognize the best tools of 2007 — the ones that helped photographers take, fix, share, organize, and sell great photos. Out of hundreds of contenders, here are the 25 that the Editors of Popular Photography & Imaging couldn't get out of our heads.
Adobe Lightroom 1.1
Buffalo TeraStation Live
Canon EOS 40D
Epson PowerLite 1715c
Epson Stylus Photo 1400
Fujifilm FinePix S5 Pro
HP Photosmart C7180
Kodak Custom Creations
Kodak EasyShare Z885
Mpix Books
Nik Dfine 2.0
Nikon D40x
Nikon 55-200mm f/4-5.6G DX AF-S VR
Nokia N95
Olympus Evolt E-510
Panasonic Lumix DMC-TZ3
Pentax DA 70mm f/2.4 limited
Ricoh Caplio GX100
Samsung L74 Wide
Sekonic L-758DR Digital Master
Sigma 18-50mm f/2.8 EX DC Macro
Sony Alpha 700 DSLR
Sony Cyber-shot DSC-H9
Tamron 18-250mm f/3.5-6.3 Di II Macro
Tokina 50-135mm f/2.8 Pro DX Af