15 Amazing Summer Vacation Photo Ops
Tips for perfect shots no matter where you spend your time off.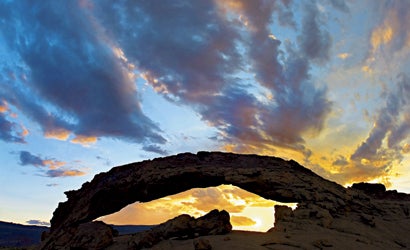 You wait for it all year, those two magic words: summer vacation. How you choose to spend your cherished time off depends on your mood (adventure, relaxation, sightseeing), as much as your budget and how far you want to travel. No matter what the other variables, one thing's certain: You want to come home with fantastic images.
Look no further. We've scoured the country to find five breathtaking landscapes, five fast-paced cities, and five fun-in-the-sun beach towns–all bursting with photo ops. We even walk you through how to get perfect shots at each location. So read on, and then pack your bags for one of these great American photo destinations.
The Dramatic Landscape
Grand Staircase-Escalante National Monument, UT For expansive landscapes, head to the 1.7 million mostly roadless acres of the rugged and beautiful Grand Staircase-Escalante National Monument. This remote region in southern Utah contains bold plateaus, multi-hued cliffs, vast canyons, a petrified forest, waterfalls, and 1,000-year-old petroglyphs.
Since getting around by car isn't an option, grab your adventure gear and explore the backcountry by hiking, rock climbing, and bike riding, while discovering striking photo ops along the way.
• Info: Check out www.ut.blm.gov/monument for maps and schedules of the free monthly "walks and talks" led by local naturalists. Go to www.utah.com/hike/grandstaircase for help in planning solo or group hikes.
How To Shoot…
• The sky: Contributing Editor Tim Fitzharris, who took the photos at Grand Staircase shown here, suggests using evaluative metering and stresses the importance of studying your histogram.
"Make adjustments to center the curve," he says. "If the exposure is still outside the sensor range, then start adding split neutral-density filters over the brightest areas of the scene, which are usually in the sky."
Using film? Be safe and bracket exposures using the neutral-density filters.
Fitzharris packs a polarizer along with 1- and 2-stop split ND filters, in addition to a light tripod and lenses ranging from 14mm through 135mm. A cable release is also a must-have.
If the sky is particularly dramatic, make it the main subject in your photo, as Fitzharris did in the photo on the previous spread. This striking image is the result of framing the aptly named Sunset Arch as a secondary subject to the bold sunset radiating from it.
© Tim Fitzharris, www.timfitzharris.com
• Colors and contrasts: The tried-and-true advice of photographing early and late is especially true for capturing exciting landscapes like these. Fitzharris shoots from a half-hour before dawn to 15 minutes after the sun comes up, and resumes a half-hour before sunset until 15 minutes after it goes down. The only time he'll take his camera out in-between is if broken clouds overhead diffuse the light. Otherwise, it's a matter of contending with harsh shadows and blown highlights.
In some cases, dark clouds are a gift: A stormy sky in the distance can add a layer of interest to the scene, and the lighting in the foreground won't be too harsh or flat.
Want richer colors? Time your shooting for just after a rainfall–the water brings out colors in the rocks.
Expect to spend some time editing your images to get exactly the picture you want. For both the photo on the opening spread and the one above, Fitzharris used a sunlight white balance and a low ISO. Then he finessed the saturation, color balance and exposure by making adjustments in Adobe Photoshop CS2.
• Texture and detail: Capturing texture is particularly important in rocky landscapes. In the waterfall image above, Fitzharris' careful placement of the focus field and framing emphasizes the contrast between the smooth water (use a slow shutter speed and a tripod) and detailed texture of the tree.
Side or oblique lighting helps bring out texture–another reason to shoot early and late.
• The full view: When composing a landscape, Fitzharris tries to include six or seven scene planes: the foreground ("get close enough for revealing detail," he says), midground (which may be the same as the main subject plane), background, horizon, cloud, and sky. He stresses the importance of both the horizon and cloud plane to draw the eye through the photo.
4 More Great Dramatic Landscapes
© Carl Donohue, www.skolaimages.com
Badlands National Park, SD Despite its less-than-flattering name, the Badlands are a landscape photographer's paradise. The region is, in effect, an aboveground cave, complete with 244,000 acres of eroded cones, ridges, buttes, gorges, pinnacles, spires, and fossils. Resist the driving loop around the park and get up close on the quarter-mile trail or, better yet, the 5-mile Castle Trail. Thunderstorms are common during the summer, and the sunlight after a rainfall, especially at dawn and dusk, makes for breathtaking shots. Want black-and-white photos? Set your camera to shoot b&w, but capture RAW files–you get a monochrome preview while saving the full image data in the file. That way, you can convert it to b&w the best way–in your image editor, rather than in the camera. (www.nps.gov/badl)
Palo Duro Canyon State Park, TX Called "The Grand Canyon of Texas" for its 120-mile-long canyon, this park is home to wildflowers (pack a macro lens or extension tube for close-ups), juniper trees, wildlife, and a 75-foot-high shale and sandstone pillar called "The Lighthouse." For a great overview, take the three-mile Lighthouse Trail (by foot, bike, or horseback). Even though the park is in the northern part of the state, summer temperatures can still reach the upper 90s, so shoot early and late in the day when the light is also at its best. (www.palodurocanyon.com)
Red River Gorge, KY Part of the Daniel Boone National Forest, the Red River Gorge Geological Area contains more than 100 natural sandstone arches. Steep slopes and cliffs separate a maze of winding ridges and valleys. There are nine official trails–most of these lead to or near an arch, and some are quite steep. To support both your camera and yourself, try a monopod that doubles as a walking stick. (www.fs.fed.us/r8/boone/districts/cumberland/redriver_gorge)
Wrangell-St. Elias National Park, AK This vast and isolated wilderness is extraordinary even in a state brimming with dramatic landscapes. Casual nature lovers need not apply–while there are short, marked day-trails near the visitor's center, the most photographically rewarding trails are multi-day adventures that take you to remote lakes and valleys, gigantic glaciers, abandoned copper mines, and up and around some of the continent's tallest mountains. (www.nps.gov/wrst)
Wildwood, NJ Nothing says summer vacation like the traditional American beach town. And there's no beach town like Wildwood, NJ. With a two-mile-long boardwalk, more rides than Disneyland, and five miles of wide, white-sand beaches, it's a photographer's playground.
In addition to all of these classic trappings, Wildwood also boasts the country's highest concentration of mid-century "Doo-Wop" architecture, with many themed vintage motels, glittering chrome-and-neon diners, coffee shops, and ice cream parlors.
The best part? Unlike on some photo treks, your family won't be bored while you're shooting.
• Info: Check out www.wildwoodnj.org, 609-522-2444; Doo Wop Preservation League, www.doowopusa.org (download a walking tour map); Doo Wop Mid-Century Architecture Trolley Tour (free), 609-884-5404.
How to shoot…
© Richard McGee, thephotoimagingcompany.com
• The rides: For contrast and drama, twilight is best for shooting the glitter of the boardwalk. You'll get a beautiful cobalt-blue sky and enough natural light that you won't have to bump up the ISO really high.
Gail and Tom Mooney, who photographed Wildwood in the 1990s for the New Jersey tourism campaign, didn't go above ISO 100 for their twilight shots; the blue still in the sky gave depth to the evening scenes. They also used a tripod and slow shutter speeds to get blur from the motion of the rides, which gave their images a sense of energy–exactly what Wildwood is known for.
Since they used film, the Mooneys needed a magenta fluorescent filter to keep the lights from going green. You won't need that with your DSLR, but bracketing the white balance from daylight to fluorescent is a good idea.
Another method is to use your auto white balance and set your camera to the vivid color mode or adjust the colors later in an image editor. (Remember to shoot RAW!)
If you're close enough, experiment with flash ghosting–freezing a moving subject with flash while using a slow shutter speed (say, 1/15 sec) to blur the background and keep a sense of motion.
• The neon: Capture the kitschy old signs in a series of images, and then display them together in a high-energy set. Photographer Brian Evans took this approach, and recommends shooting the whole set at similar angles and exposures. Also, pack a tele, since many signs are several stories up. Evans used a 70-200mm. He shot at night, metering off a midtone in the sign and letting the background go black.
• The motels: Think you can't shoot anything in the midday sun? Think again. Try capturing the colorful patterns of the '50s and '60s motels in bright daylight with a complementing strip of bright blue sky at the top of the frame. A polarizing filter helps cut glare, remove reflections from windows, and pop the sky. When photographing a building with a lot of straight lines, make sure your camera is level and leave room to crop at the edges in case your lens adds distortion there.
• The people: Beachgoers are as colorful as the landscape, and getting people shots is as easy as picking a spot to stand and waiting for your subjects to turn up. "People are very willing to have their portrait taken, it's part of the experience," says Brooklyn, NY-based Svetlana Bahchevanova, who enjoys shooting on the Wildwood boardwalk. Her method? Simply asking passersby if she can take their photos–no one has turned her down.
Cloudy days sap the excitement from the beach, but are perfect for people photos because the light is flattering. If you must photograph people in bright sun, use fill flash, set to -1 EV for a more natural effect.
Is your background distracting? Limit your depth of field (so you get just the people, not what's behind them), by increasing your shutter speed or using a 2-stop neutral-density filter, which lets you shoot at a wider aperture.
4 More Great Beach Towns
© Nikki Brooks, www.nikkibrooksphotography.com
Coney Island, Brooklyn, NY This summer may be your last chance to photograph the classic rides and carnival games at Astroland. After the 2008 season, much of the 46-year-old amusement park is slated to be replaced with luxury apartments and condos. Catch the outrageous outfits (and lack thereof) at the Mermaid Day Parade (June 21) or Burlesque at the Beach every Friday night, complete with fireworks, sideshow freaks, and old-time vaudeville acts. (www.coneyisland.com)
Myrtle Beach, SC Although the 58-year-old Myrtle Beach Pavilion closed in 2006, modern amusement and water parks abound in the area. Beaches? Try 60+ miles of sand. The Sun Fun Festival (June 5-9) is a chance to shoot pageants, concerts, and attempts to build the world's tallest sandcastle. (www.mbchamber.com)
Santa Cruz, CA Modern rides and amusements mix with those from the early 20th century. The wooden Giant Dipper rollercoaster (circa 1924) makes a striking foreground element in sunset shots, and be sure to get close-ups of the hand-carved horses on the 1911 Looff carousel. Pack the tele to catch surfers in action–nearby beaches have some of the world's best waves. (www.beachboardwalk.com)
Saugatuck, MI Forget kitsch and corndogs. This small city on Lake Michigan is a grown-up beach town, with art galleries, upscale restaurants, and quaint inns. Take the hand-cranked chain ferry across the Kalamazoo River for postcard-perfect sunsets on the high dune of Mt. Bald Head, or just stroll along the neon-free boardwalk on the beach. (www.saugatuck.com)
Experience Music Project and other sites, Seattle, WA With Pike Place Market, the Space Needle, and more museums, music venues and coffee houses than you can count, Seattle is a sure bet for a memorable vacation. But to go beyond the usual tourist shots and capture stunning images of sloping glass and steel with dramatic angles and perspectives, focus on the city's contemporary architecture.
The Frank Gehry-designed Experience Music Project (EMP) is 140,000 square feet of multicolored, bending metal on the outside, with an interactive pop-music museum inside. With the backdrop of the Seattle Center, you could spend days snapping away.
While you're in town, don't miss the origami-like glass structure of the Seattle Public Library, designed by Rem Koolhaas, which has almost as many photo ops inside as outside.
• Info: Go to www.cityofseattle.net/html/visitor for a visitor's guide to Seattle; www.empsfm.org for the Experience Music Project.
How to shoot…
• The entire building: Traditionally, architecture photographers have lugged large-format cameras to capture buildings without distortion. But you can achieve the same effect with your DSLR and perspective-correction (also called tilt-shift) lenses.
Seattle-based architecture photographer Lara Swimmer, who took these photos, shot EMP for Architectural Record in 2000 with a 4×5 Linhof Technikardan. But she has since made the switch to digital (Canon EOS-1Ds Mark II) and Canon TS-E (tilt-shift) lenses.
Not ready to invest in new glass? Rent a specialty lens for your trip.
If you're using the lens you already have, set it to the widest zoom setting and move back instead of tilting your camera up at the building–you can crop out the extra foreground later. Or try stitching a panorama series shot at 50mm.
Tourists in the way? Don't worry, says Swimmer. A few people in bottom of your composition add a sense of scale to the picture and give the space life.
© Lara Swimmer, www.swimmerphoto.com
• Architectural details: Getting it all in isn't always the point, though. "EMP is so big, there isn't really a way to get an overview of the building," Swimmer says. Instead, focus on details, try various angles, and, of course, walk around and shoot all sides–you'll get different photos each step of the way. Swimmer uses three zooms covering 17mm to 200mm.
Unlike most architecture, Gehry's buildings aren't comprised of many right angles, so you don't need to worry as much about bowing or other distortion caused by your lens or camera angle–normally an obsession with architectural pros.
• Reflections: Gehry buildings are all about curves, angles, and shiny surfaces, so timing is everything. Midday sun is murder, which means shoot early and late to avoid killer spectral highlights.
Try photographing on an overcast day (remember Seattle's rainy reputation?). When the sun is shining, you can usually shoot only the side facing the sun. But overcast skies let you photograph all around the building in one trip.
Long exposures are often necessary in shooting architecture, especially if the light is low and you're using a small aperture to get more depth of field. Bring a tripod.
Metallic buildings can throw off your lightmeter, so spotmeter for midtones and check the histogram preview for clipping, and adjust exposure compensation accordingly.
Glass buildings, such as Koolhaas' Seattle Public Library, are even better for reflections. But they also look great at twilight when lit inside and out–bracket white balance to handle the mixed light, or shoot RAW and combine exposures later.
• Interiors: A tripod is a can't-live-without tool for architecture photographers, but don't take it in–tripods aren't allowed inside EMP. Photography is allowed in the common areas, such as Sound Lab, Sky Church, and the Roots and Branches, but not in the galleries. So enlist your wide-angle lens and higher ISOs to capture the scale and drama of the larger indoor spaces.
White balance? Forget it inside places with a mix of strong natural and artificial light such as the Seattle Public Library. Shoot RAW.
4 More Cities With Gehry's Architecture
© Trey Ratcliff, www.stuckincustoms.com
Boston, MA Beantown specializes in history. For your fix, follow the 2.5-mile Freedom Trail (www.thefreedomtrail.org), which passes 16 noteworthy sites, including Faneuil Hall, the USS Constitution, the site of the Boston Massacre, and photogenic neighborhoods such as Beacon Hill. For your Gehry fix, visit his controversial Stata Center on the campus of MIT in nearby Cambridge. Columns and walls of the buildings tilt, bend, and convene in random curves and angles with bright color and materials ranging from aluminum to brick. Problem is, it's under repair, so beware of scaffolding in your shot. Luckily, it's great to shoot both inside and out. (www.cityofboston.gov)
Los Angeles, CA Frank Gehry's base, making it the ultimate stop on this Gehry U.S. Architecture Tour. Check out www.you-are-here.com, an online photo gallery of everything Los Angeles, from the city's best graffiti to landmark locations. The site also has an index of LA's architecture, with a list of everything Gehry from past to present (with addresses), including his 1978-designed home in Santa Monica, the Walt Disney Concert Hall, and some of his early boxy, nonreflective buildings. Take a free audio tour of the Walt Disney Concert Hall to get acquainted with the shiny, sloping structure, but you won't be allowed inside, where photography is prohibited. (www.laphil.com)
Minneapolis, MN An overlooked haven of innovative architecture. The Jean Nouvel-designed Guthrie Theater (www.guthrietheater.org) is a slick, blue steel building in the historic Mill District along the Mississippi River. Across the river is Gehry's Frederick Weisman Museum of Art (www.weisman.umn.edu) on the University of Minnesota campus. This brushed-steel design is more cubist than Gehry's other work. Construction on his expansion of the building is scheduled to start this year, so you might have to adjust your framing, but capturing the reflected colors of sunset and dusk on the building's exterior will be worth it. (www.ci.minneapolis.mn.us)
Chicago, IL The windy city has long been at a center of architectural innovation. The Chicago Architecture Foundation (www.architecture.org) offers daily tours during the summer, including a Frank Lloyd Wright walking tour, an Architecture River Cruise, and a tour devoted to modernist master Ludwig Mies van der Rohe. Distorted funhouse shots of the city reflected in Anish Kapoor's 33-foot-high bean-shaped Cloud Gate are another must-have shot. Then there's Gehry's famous Jay Pritzker Pavilion in Millennium Park, shown in Trey Ratcliff's photo, below. (www.gochicago.com)