10 Tips For Family Photo Projects
Make the most of your family gatherings with these simple techniques.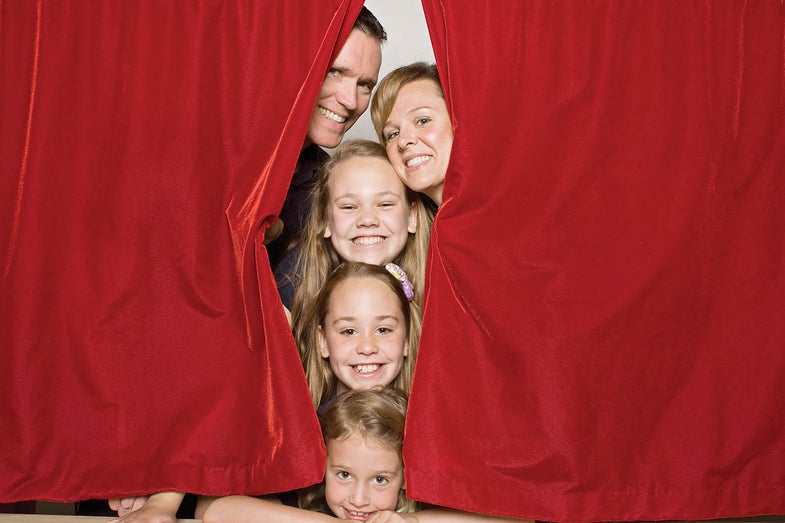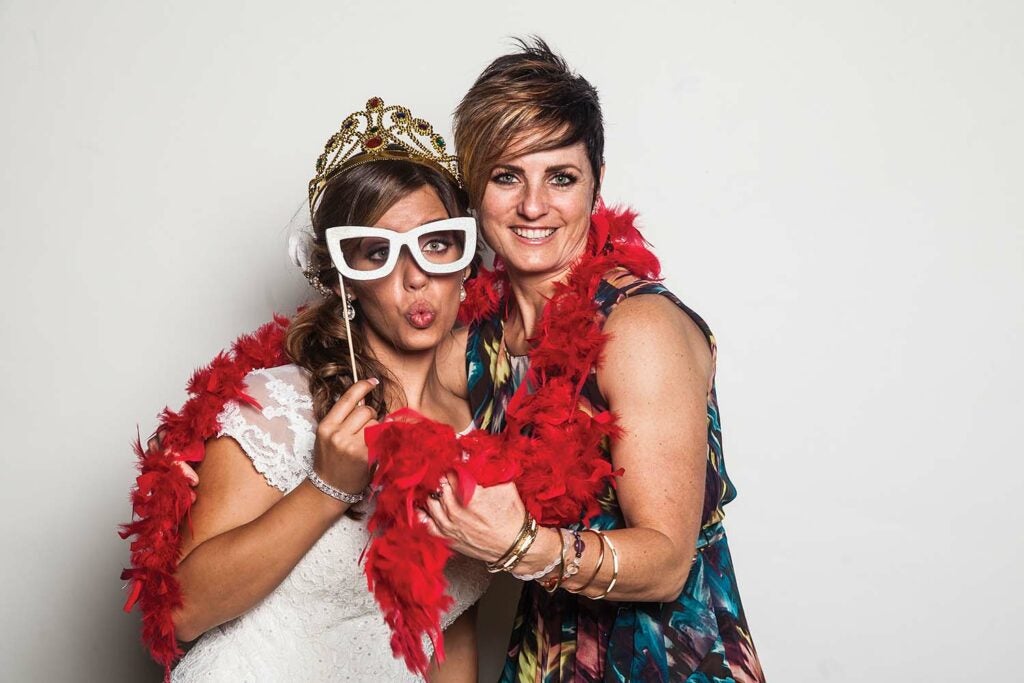 1. Family Photo Booth
A popular choice at weddings and events, photo booths (such as the one photographer Jenny Skibo used to make the images above) are simple to set up and bring out the joy and silliness in even your grumpiest relations. What You Need: To capture everyone, find a big white wall or, better yet, hang a backdrop. Bring a light stand, a flash or strobe, and a big umbrella to bounce the light (a 7-foot parabolic can be had for around $100).
Tip: Gather goofy holiday-appropriate props for added fun. Use a tripod to get yourself in the picture, or take the camera off the tripod and use a zoom lens to get closer or farther depending on the number of subjects.
2. Portraits of All
A twist on the photo booth but scaled down: Rather than the quick silliness of the booth, have each subject sit on a stool (this makes lighting easier on you—less height variation!) and sit for a portrait. When you're done, convert to black-and-white in post and compile them all into a book. What You Need: A backdrop is ideal, but a white wall will do fine in a pinch. Bring a strobe or powerful flash plus a single medium-sized softbox.
Tip: Set your light source above and slightly off to the right or left of your subject. But don't create too much of an angle—if you do, you'll end up with Rembrandt lighting.
3. Dinnertime 360
Want to remember exactly what it was like to gather with your friends and family at the table? Make your centerpiece a 360-degree camera and capture video that will immerse you in the moment for years to come. What You Need: A camera such as the 360Fly 4K or Ricoh Theta S.
Tip: If it can capture a full sphere (as the Theta can), place the camera on the table, dangle it from the chandelier, or mount it on the ceiling. With a single-lens camera like the 360Fly, you'll get better results if you mount it above.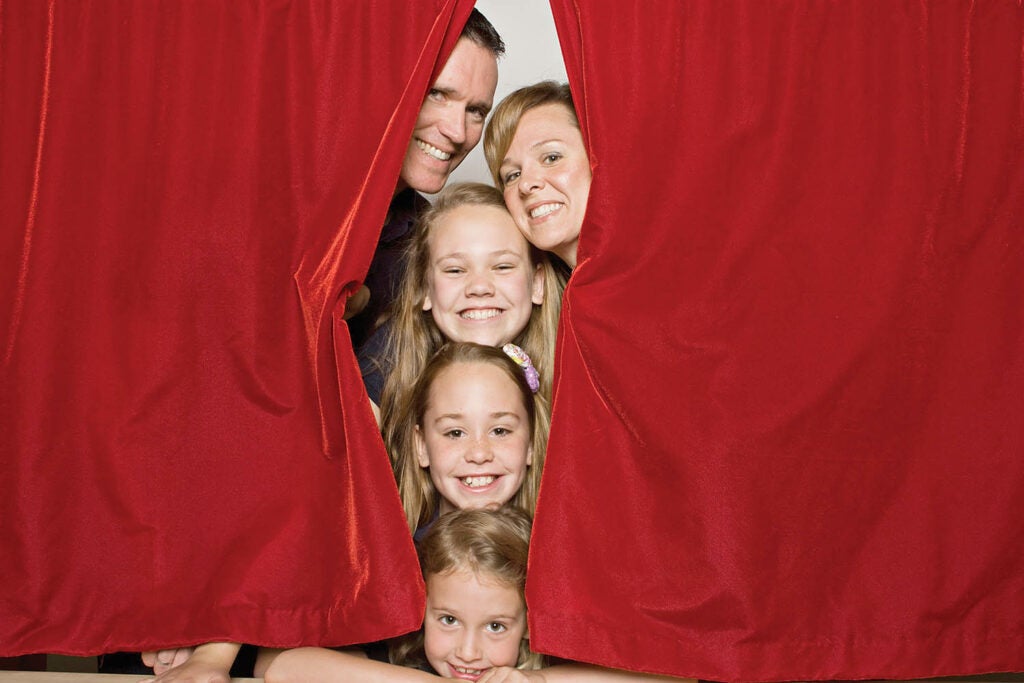 4. Instant Photo Book
Make a one-of-a-kind record of your gathering by combining instant prints and handwritten words in a scrapbook. What You Need: Use a small instant printer to print from a phone (such as the Fujifilm Instax Share SP-2, page 56), or better yet, get an instant camera (see Roundup on page 16); the pictures take on extra magic without the preview. Get a blank album from a craft store and a few pretty pens.
Tip: If you opt for an instant camera, take the pictures yourself or ask one of the party guests to do so. Since it's hard to tell without a screen if you've got yourself in the shot, avoid wasting film on failed selfies.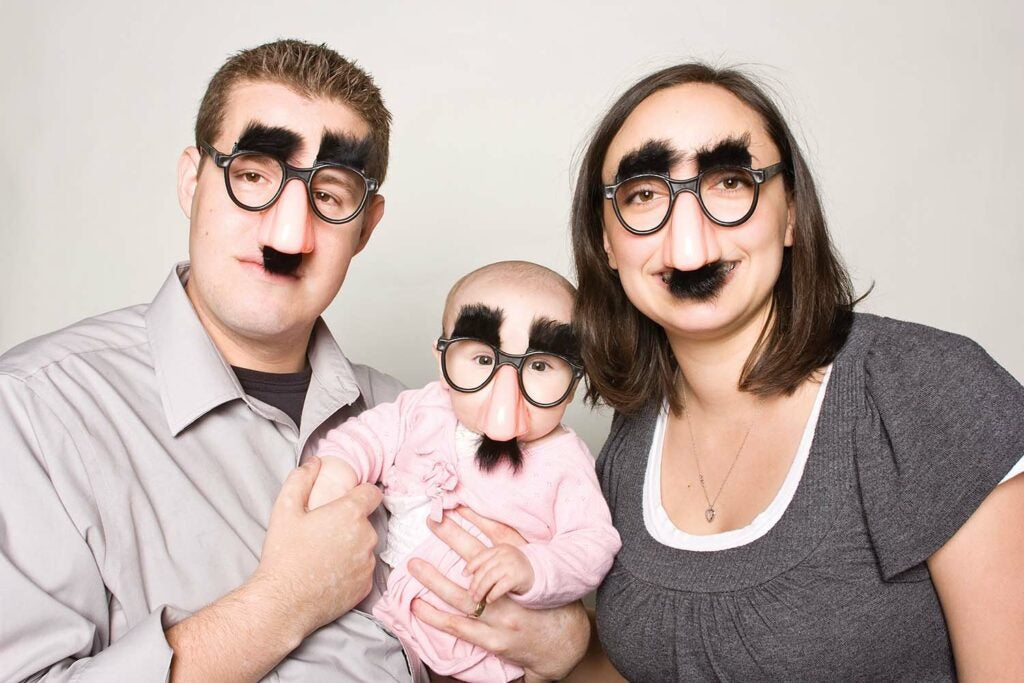 5. Generational Groups
At family gatherings, you can often bring together memorable groups: grandmothers, mothers, and daughters; all the cousins; all the babies. Set up your camera to capture environmental portraits of these subsets. What You Need: Lighting these can be as simple as bouncing a hotshoe flash off the wall or the ceiling. A 50mm lens (or equivalent) is great for these shots because it minimizes distortion but is wide enough to allow you to shoot in smaller spaces.
Tip: Use a chair as a posing device, and have your oldest subject sit down, while younger generations lean or stand around them. Remember to set your lens at f/5.6 or smaller so that you keep all of your subjects sharp. Think in terms of printing when you compose—grandma will inevitably want an 8×10-inch print to frame, so make sure to leave enough room around the edges for cropping.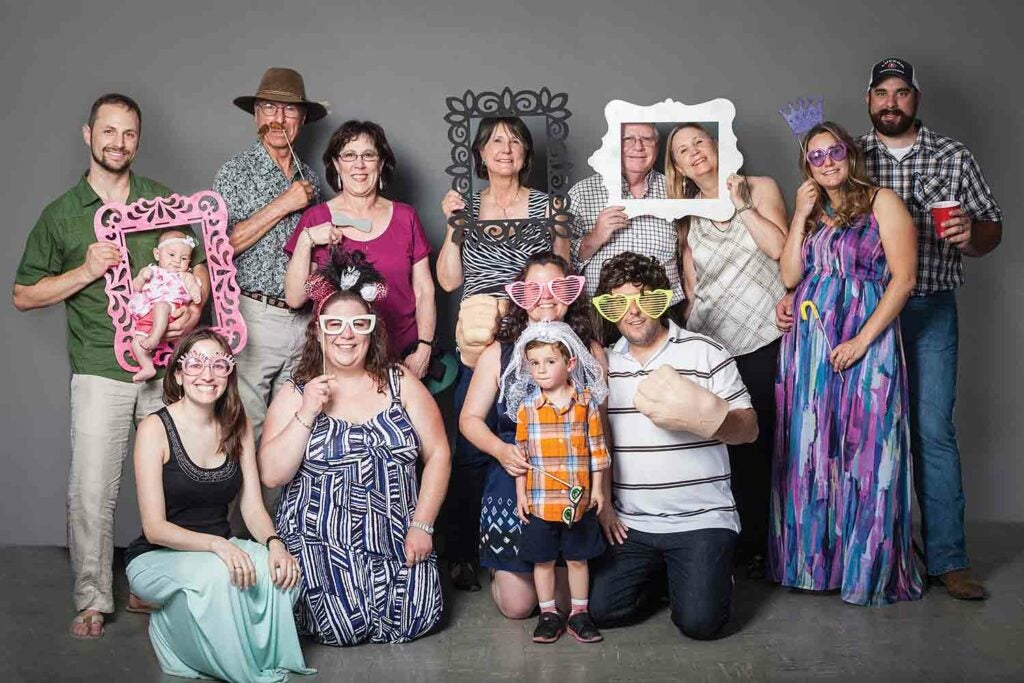 6. Mini Documentary
Use your camera's video function to capture your guests' current mood. Have them sit in front of your camera and ask them each the same three questions. Go cheesy or silly, have them make predictions, or ask them what they remember most about the year that just passed. What You Need: Your quality will vastly improve if you get a lavaliere microphone (usually available for less than $10), which allows you to record sound to your smartphone phone or other audio recorder. Set the camera on a steady tripod.
Tip: Shooting this is a great task to give to the surly teenagers at your gathering.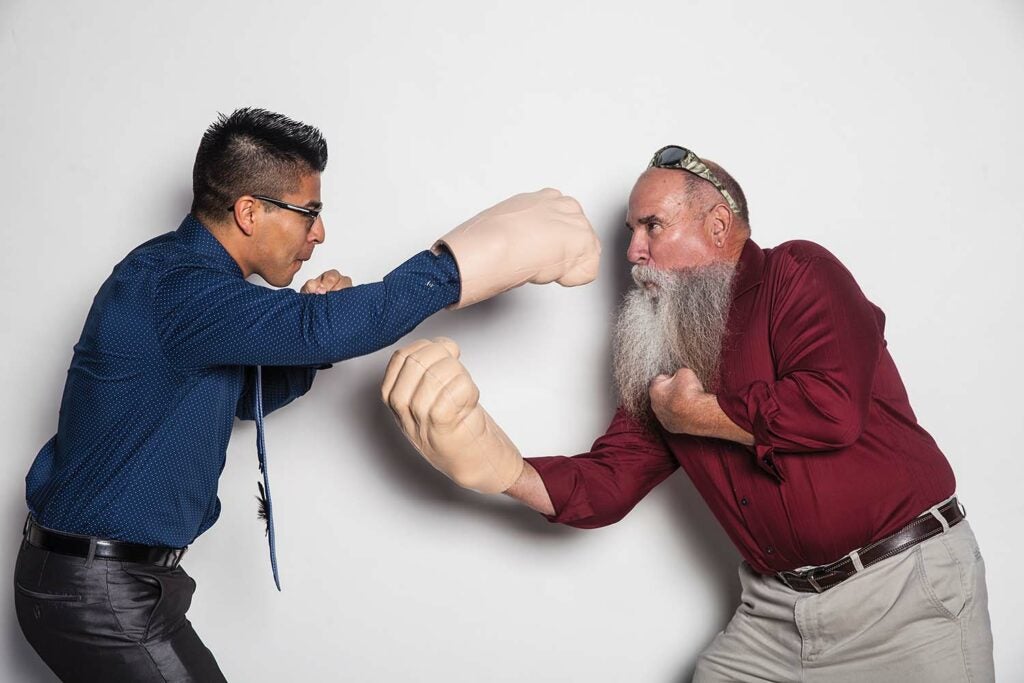 7. The Everyone Panorama
Remember those long, old-timey pictures of huge groups of people all lined up in a row? They were taken using panoramic cameras. You can get the same effect by shooting a bunch of overlapping frames and stitching later. What You Need: Just use your usual camera and choose a lens that doesn't distort much.
Tip: Line everyone up, set your camera to manual, focus, and turn off autofocus. Then walk along the group of guests in as straight a line as you can, taking plenty of overlapping shots. Put them together in postproduction using your favorite stitching software, or use the one that comes with your usual image editor.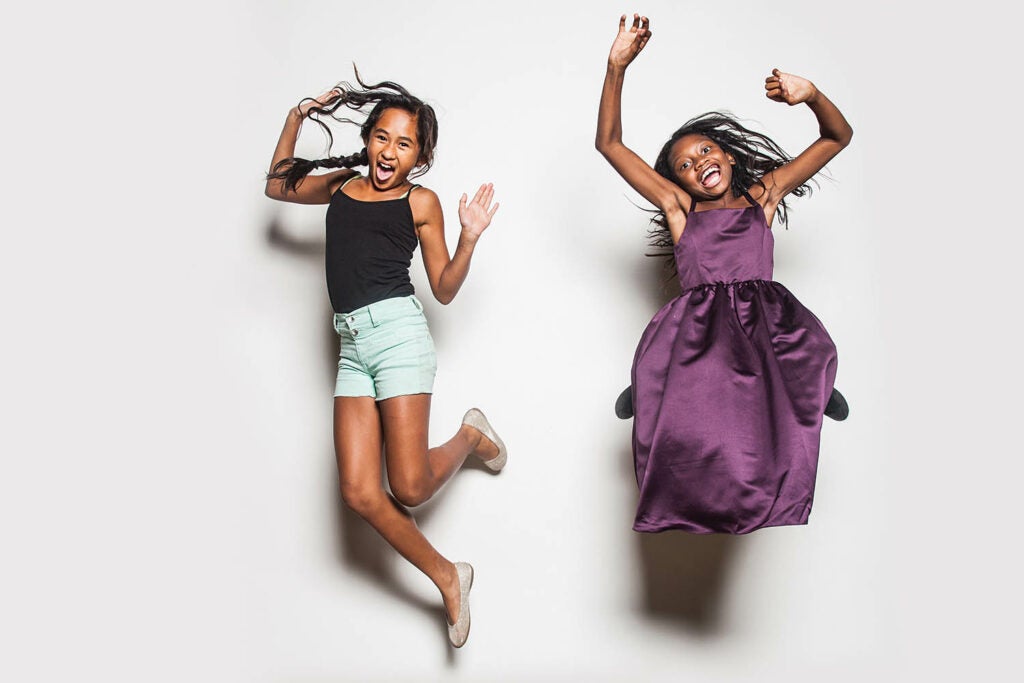 8. Time Lapse
Make a time-lapse video to tell the story of your holiday. You can show a pile of neatly wrapped presents going from order to chaos, candles going from burning bright to burning out, or a buffet going from laden to empty. What You Need: An action cam or an old smartphone loaded with a time-lapse app (so you don't have to let your "real" camera out of your hands for long). You'll also need a small flexible tripod or other mounting device.
Tip: Just mount it somewhere, hit record, and forget about it. If you try to direct, you'll end up taking the fun out of the day. But do run a test to make sure it's working!
9. Pet P.O.V.
Another great use of an action cam? Mount it to your pet for a unique view of your gathering. What You Need: A willing pet—dogs are usually the best bet for this, but any animal friendly enough and large enough to wear an action-cam harness will do. Tips: You don't want to make the animal wear the camera the whole time. Try to choose a moment when something's going on that will interest your pet. For a dog that likes people, consider mounting the camera during the time that guests arrive. For a food-driven pup, start filming during dinner.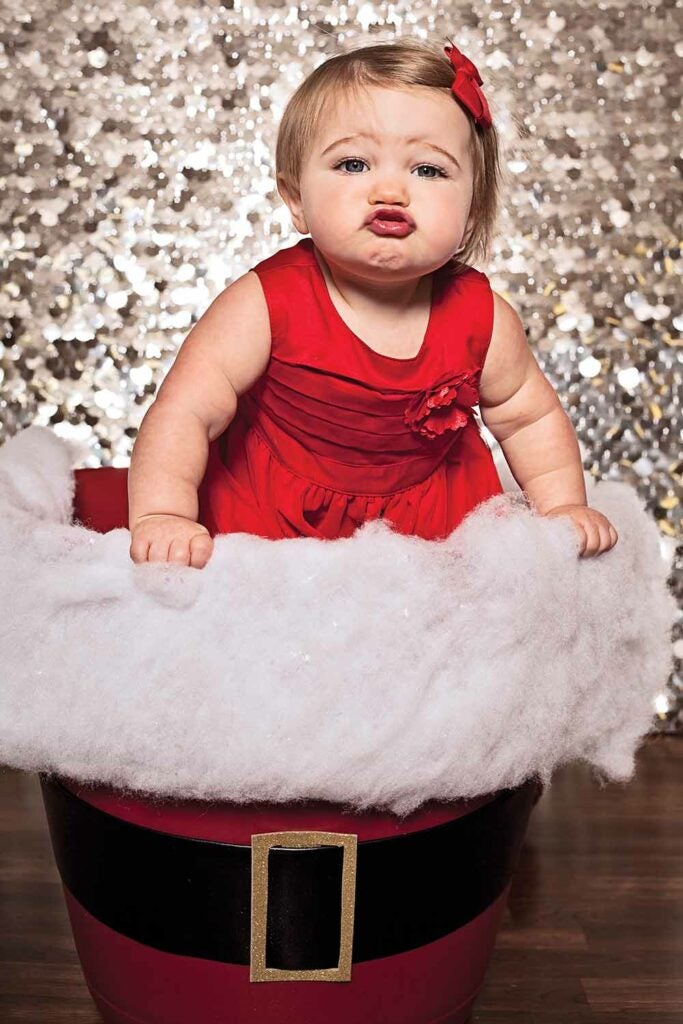 10. #HashtagFamily
Keep track of all the photos your family shares on social media by giving your gathering a hashtag. What You Need: If you want to get fancy, print the hashtag on cards ahead of time. But it's just as easy and efficient to simply text or tell your guests!